More large youth clubs leave Girls DA for All-In ECNL status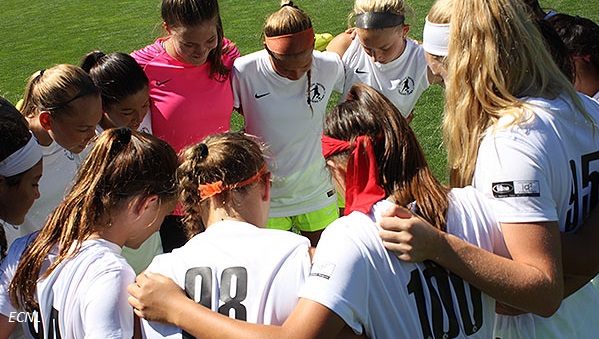 The turf war between U.S. Soccer's Girls Development Academy and its incumbent competitor the Elite Clubs National League rumbles on.
Multiple sources tell SoccerWire.com that three of the nation's largest youth clubs are set to officially announce their departure from the Girls DA on Wednesday, in order to join the ranks of "all-in" ECNL clubs: New Jersey powerhouse Players Development Academy (PDA), Stars of Massachusetts and Michigan Hawks.
[+Games & Thrones: ECNL vs. Girls DA cold war rages]
While they're not the first to make this move, these three "superclubs" may be the biggest and most successful to do so. PDA are a perennial national power, Stars of Mass are considered by many to be the foremost elite girls program in the Boston metro area and Hawks have been a major player for decades in terms of both team results and players advancing to youth national teams.
What's more, other unconfirmed rumors suggest that other major youth clubs are set to follow the trio's lead.
While an ECNL source declined to confirm it explicitly, one youth soccer insider tells SoccerWire that Crossfire Premier and Reign/Seattle United* (Seattle area), Slammers (Southern California) and Eclipse (Chicago area) are also reconsidering their relationships with the Girls DA and may well depart entirely, too.
*Correction: Seattle United have already announced their full entry into ECNL effective next season, signaling the end of the club's partnership with NWSL side Seattle Reign FC.
We all want progress, but if you're on the wrong road, progress means doing an about-turn and walking back to the right road; in that case, the man who turns back soonest is the most progressive.
CS LEWIS

— doug landefeld (@LandefeldDoug) April 18, 2018
SoccerWire previously reported on Virginia Development Academy removing its teams from the Girls DA in favor of the ECNL and Loudoun Soccer, another major Washington, D.C.-area club, declining a Girls DA invite in order to join the ECNL instead. The youth program affiliated with now-defunct NWSL team FC Kansas City has made a similar move, rebranded under the name KC Athletics.
[+VDA to follow Loudoun to ECNL as youth soccer chess game rumbles on]
Since the federation made the assertive decision to launch its own national girls league – which is nearing the conclusion of its first season of play – to mirror the 10-year-old boys DA, the ECNL has taken the move as an existential threat, adopting a combative posture to keep hold of its member clubs, peel off Girls DA clubs where possible.
It's also nudged clubs taking part in both leagues to choose ECNL as the sole destination for their top-level teams. Fielding teams in both the Girls DA and ECNL requires significant numbers of elite players as well as other resources like large coaching staffs and access to fields and other facilities, and may have proved troublesome even for megaclubs like PDA.
USSF declined to start the GDA 10 years ago. The ECNL stepped in. Built something great. Instead of investing in the ECNL, they wanted control over the pathway & decided to compete with it. But they haven't built a better mousetrap, just one with more restrictions & constraints. https://t.co/ir314dJzdg

— Anthony DiCicco (@DiCiccoMethod) April 18, 2018

The general assumption has long been that the federation's superior resources and control of the youth national team programs would sooner or later make the Girls DA's superiority over the ECNL inevitable.
That may well remain the case, but the growing numbers of defections suggest that the management and philosophy of the Girls DA, particularly its restrictions on high-school play and other "outside competitions," has not been universally well received.