Rapinoe kneels during anthem at NWSL game in nod to Kaepernick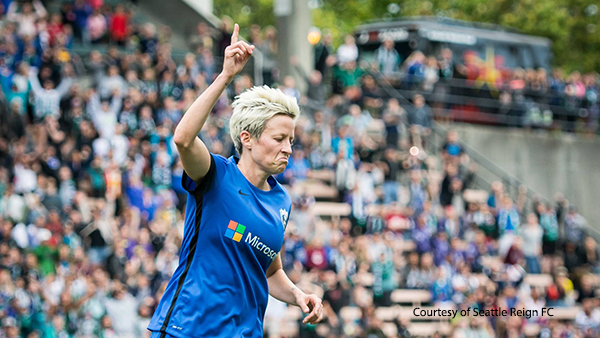 Megan Rapinoe took a knee on Sunday, and in doing so waded into one of the most controversial topics in the United States at the moment.
The U.S. Women's National Team star kneeled during the playing of the national anthem before her club team, Seattle Reign FC, took on the Chicago Red Stars in an NWSL match at Toyota Park in Bridgeview, Illinois.
@JohnDHalloran pic.twitter.com/XJHiOhgbTW

— ❤️NWSL⚽️ (@gbpackfan32) September 5, 2016

Though she'd provided no prior announcement or explanation of her gesture, afterwards she explained that it was in support of Colin Kaepernick, the NFL quarterback who has sparked a firestorm of debate by electing not to stand during the anthem as a statement regarding racial injustice and police killings.
"It was very intentional," said Rapinoe, in remarks originally reported by AmericanSoccerNow.com. "It was a little nod to Kaepernick and everything that he's standing for right now. I think it's actually pretty disgusting the way he was treated and the way that a lot of the media has covered it and made it about something that it absolutely isn't. We need to have a more thoughtful, two-sided conversation about racial issues in this country.
"Being a gay American, I know what it means to look at the flag and not have it protect all of your liberties. It was something small that I could do and something that I plan to keep doing in the future and hopefully spark some meaningful conversation around it. It's important to have white people stand in support of people of color on this. We don't need to be the leading voice, of course, but standing in support of them is something that's really powerful."
The match ended in a 2-2 draw after Chicago scored a late equalizer, a setback for Seattle's hopes of making a late run into the NWSL playoffs.
Like Kaepernick before her, Rapinoe's gesture has prompted both warm support and angry criticism on social media. She later expanded on her stance in a phone conversation with retired USWNT legend and ESPN commentator Julie Foudy.
"I am disgusted with the way he has been treated and the fans and hatred he has received in all of this," Rapinoe told Foudy. "It is overtly racist. 'Stay in your place, black man.' Just didn't feel right to me. We need a more substantive conversation around race relations and the way people of color are treated."
Rapinoe added: "We are not saying we are not one the greatest countries in world. Just need to accept that [it is] not perfect, things are broken.
"And quite honestly, being gay, I have stood with my hand over my heart during the national anthem and felt like I haven't had my liberties protected, so I can absolutely sympathize with that feeling."
Police union says officers working 49ers games may boycott if Kaepernick isn't disciplined https://t.co/NszFaJPSvW pic.twitter.com/3J5MR67B2a

— ABC News (@ABC) September 4, 2016

Kaepernick's stance has become one of the most talked-about issues in America since he introduced it last month. Many law-enforcement groups and conservatives have showered him with criticism, and some NFL insiders have predicted that it will end his playing career. Meanwhile activists and others, including President Barack Obama, have expressed support in him exercising his rights.
"I am not going to stand up to show pride in a flag for a country that oppresses black people and people of color," Kaepernick told the media in explaining his gesture. "To me, this is bigger than football and it would be selfish on my part to look the other way. There are bodies in the street and people getting paid leave and getting away with murder."
"This is not something that I am going to run by anybody," he said. "I am not looking for approval. I have to stand up for people that are oppressed. … If they take football away, my endorsements from me, I know that I stood up for what is right."