Maryland Rush Montgomery Coyotes win Jeff Cup U-14 top flight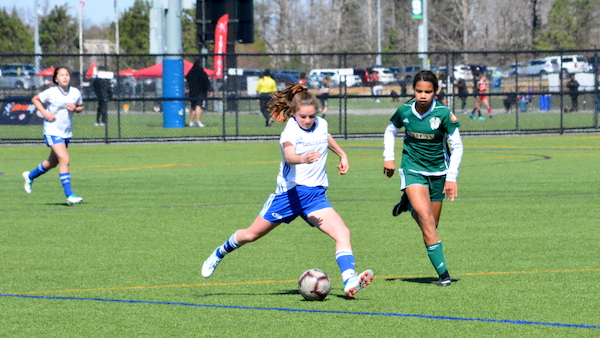 Follow the Jefferson Cup
Twitter | Instagram | Facebook
Results | Website
Jefferson Cup 2019 Championship Division Previews
Girls: U-15 | U-16 | U-17 | U-18 | U-19
The Maryland Rush Montgomery Blue '05 Girls Coyotes made good use of some early set-pieces and held tough defensively to win the Jefferson Cup U-14 Championship Division with a 2-0 victory over McLean ECNL 05.
Annie Faraone gave Maryland Rush Montgomery an early lead when she scored from the spot following a hand ball.
Minutes later, captain Sydney Allen's header found the far post following Lydia Ferro's corner.
McLean settled into its passing game, moving the ball around beautifully, but found it hard to carve out openings thanks to the Maryland Rush Montgomery's compact and organized defense. The Coyotes were both smart at stepping into passing lanes and ruthless in the tackle.
Sydney Allen of @MRMCoyotes after their U-14 Championship Division Final victory! #JeffCup19 pic.twitter.com/GDPsoHlfxL

— Jefferson Cup (@jeffersoncup) March 19, 2019
Much of the organization can be credited to Samantha Schmidt. The Coyotes goalkeeper was in constant communication with her defense and also provided an outlet with her feet when her side was put under pressure in its own end.
McLean continued to attack in waves and forced a few nervous moments, but a gritty Maryland Rush Montgomery performance saw the Coyotes hang on for a clean sheet.
"We were just holding on at the end," Coyotes head coach Kevin Layton said. "It was just, get everyone behind the ball and just tackle in numbers and close the middle down. It was ugly, but we'll take it."
+READ: Jefferson Cup U10-U14 Girls Weekend – Championship Sunday Recap
It might have been ugly, but that didn't mean Layton wasn't extremely proud of his girls and he lauded their determination.
"All the teams were great this weekend," Layton remarked. "I just felt that our girls character and drive to win was really the number one thing because it's the fourth game. Everyone is physically tired. They just had such a great mental toughness that allowed them to see the game out."
Captain Sydney Allen sees winning the prestigious Jefferson Cup as a culmination of the work her side has done this season under Layton and a sign that her team is ready for the bright lights.
"It's a stepping stone so we can reach the national level that we really want to compete at," Allen said after hoisting the prestigious trophy. "It's really important for us as a team because we've had these opportunities before, but we weren't able to capitalize on them previously."
Prior to Sunday's Final win over McLean, the Coyotes came out on top in Group A, overpowering New Jersey side Watchung Hills NJ Elite by a 3-0 margin on Sunday morning, sealing their spot in the Final. All of the Coyotes' victories came via the clean sheet, as they outscored opponents 6-0 during their three-game winning streak to finish the event.
Now that it's all come together on one of the biggest stages, it is perhaps a sign that the Coyotes are primed to be a strong contender at the highest levels of the youth game.