Marshall University women's soccer signs 9 players for 2019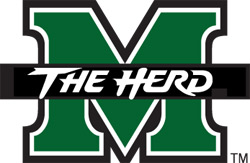 HUNTINGTON, W.Va. (Via Marshall University) – Marshall University women's soccer coach Kevin Long announced the addition of nine players who have signed with the Herd to begin play in the Fall.
Stephanie Cuan (F/M)                
Immaculata La Salle
Sunrise Sting
Cuan attended Immaculata La Salle for four years and played for the Sunrise Spring club team. She helped lead the Sting to a 2018 Regional and National Championship.
"Stephanie is an attacking player. Strong, good pace and can play anywhere on the field. She is good attacking goal with the ball and can finish, along with an ability to run the flank all game long. She brings great size and strength and the attitude of a player who knows how to win (National Champion Club Team)."
Courtney McVicker (GK)
Centennial HS
Maryland United ECNL
McVicker played all four years on the varsity team for Centennial High School. She was the captain for the 2016 and 2017 campaigns and helped Centennial to its first regional championship in over a decade in 2016. McVicker had a 0.73 Goals Against Average for her career and earned all-county honors two times.
"Courtney is athletic, great hands, verbal and has competed at extremely high levels. She possesses the complete package in goal while being extremely skilled with her feet as well. She will compete immediately for time between the posts."
Cara Norlin (M)
South County HS
Braddock Road Youth Club ECNL
Norlin played four seasons at South County High School and played three summers, 2016-18, for Braddock Road Youth Club.
"Cara is a very skilled and elusive player with the ball. She is smooth in possession and will control the tempo of play with her decision making and skill under pressure. I look forward to her vision providing attacking options with both the dribble and linking with attacking options."
Alexa Pecorelli (F)
Jackson Massillon HS
Ambassadors SC
Pecorelli scored 25 goals and helped her team to the regional finals in 2018, her senior season. She also helped Jackson Massillon to the State Final Four her junior season and a pair of Regional semifinals in her sophomore and freshman seasons. In club action with Ambassadors, Pecorelli scored 13 goals and made a State Cup Finals appearance in 2018.
"Alexa is a driven, hard competitor who reads the game very well in attack. She finds herself in the middle of play seeming to always be an attacking option. Defensively, she is relentless in pressure and is able to anticipate play very well."
Elisa Piccirilli (D)
Archbishop Spalding HS
Premier SC
Piccirilli helped lead Archbishop Spalding to a 2016 IAAM State Championship and an undefeated conference season in 2018 as the team finished with the top seed and a 14-0-2 record. Her high school team was ranked fourth nationally. Piccirilli also helped lead her club team to several chmapionships as she helped Premier Navy reach as high as third nationally.
"Elisa understands her role in team defending and individually is tenacious in pursuit of the ball. She brings good quickness and urgency in pursuit of the ball and delivers well-thought distributions and can carry the ball in developing the attack."
Julia Schukle (F/M)
Cambridge HS
NTH Tophat DA
Schukle played just two years at Cambridge High School and was named first-team all-region during her freshman season. She missed her junior and senior seasons to do her commitment to the United State States Development Program. Schukle was Tophat SC's second leading scorer in her first two seasons with the club and helped the team finish as high as fourth in the ECNL Championships.
"Julia is an explosive flank player who can help possess, for sure, but is most dangerous when getting behind defenders on attack. She carries a strong shot, very good vision, and is a handful on both sides of the ball."
Sophie Thompson (GK)
Parkersburg HS
Athletica Fury
Thompson was a four-year letterwinner and starter at Parkersburg High School. She helped lead her team to the state championship game her freshman year. Thompson was named all-state first-team her freshman season and was an honorable mention during her senior year.
"Sophie has faced the region's best and has been among the elite of West Virginia.  She is strong, directs traffic and uses her feet very well. Another West Virginia player who has demonstrated on a regular basis she is ready for the next level."
Maddie Vogler (D)
IMG Academy
IMG Academy DA
Vogler was team-captain of her high school team from 2016-17. She captained her team to the 2016 Florida Premier League Championship, 2016 Major Beach Championship, 2017 NPL Cup Championship, 2017 Florida State Cup Championship and to qualification at the 2017 ESPN Disney Cup.
"Maddie will help anchor our defense. She is a great communicator, poised on the ball, hard in the air and on tackles and carries the ball forward very well. She has played at the highest of levels and will bring a high level of competitiveness with her in everything she does."
Morgan White (F/M)
Fairfield HS
Cincinnati DA
White helped lead Fairfield High School to a 2017 GMC Championship as the team's offensive leader for the season with 18 goals and 17 assists. She also earned several other honors including being named first-team all-GMC, all-southwest Ohio and first-team all-conference for the 2017 season. White also helped her club team to a state title in 2016.
"Morgan is explosive and unpredictable with the ball. She makes it difficult for defenders both on and off the ball. She has good vision and is able to find herself in good attacking positions throughout play…she is a skillful player and is very dangerous on the dribble…"