Marshall men's soccer unveils 10-player recruiting class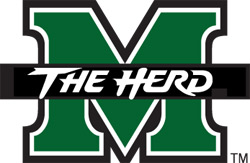 HUNTINGTON, W.Va. (Via Marshall University) – Marshall University men's soccer head coach Chris Grassie announced his 2019 signing class Monday. The Thundering Herd adds 10 players to the roster.
"We are very excited to welcome this years' recruiting class to the Marshall Family," coach Grassie said. "I'm really excited by the prospects for this class, as they represent such a diverse range of soccer educations that span the globe. I think this years' class will add the final piece to the puzzle for us, as they will join an already gifted group of players this season.
"This is another big class for us, as we look to finish the rebuild of the squad and move into our next evolution as a team. I believe that we will have more competition in this roster than we have had before. I look forward to these lads helping us continue to build a culture of excellence here at Marshall and hope that they can live up to the motto that 'Champions play here.'"
The new additions to Marshall are Max Schneider, Adam Lubell, Ryan Gray, Demarre Montoute, Joao Pedro Peterlini Souza, Hunter Shanks, Sanad Yahya, Ali Zolfikar Nasser, Bleno Cruz and Jacob Adams.
Max Schneider comes to the Herd from Cologne, Germany and played for Bayern Leverkusen, one of the biggest German clubs in the German Bundesliga. The defensive midfielder played 36 games and scored two goals. He was also called up to the first team for Bayern Leverkusen for Europa League match. Schneider chose Marshall because, "I want to win championships."
Adam Lubell comes to Marshall from Moreland Hills, Ohio, and played for club ball for the Cleveland Internationals of the U.S. Development Academy where he has played 38 matches with 26 starts. The defender also attended Orange High School. In two years of high school soccer, Lubell scored 17 goals, had 19 assists and helped lead his team to two conference championships. He was also named second team all-district. Lubell chose Marshall because, "I loved the program and the school felt right."
Ryan Gray comes to the Herd from Troy, Mich., and played club soccer for Varder of the U.S. Development Academy. The left-back has played 70 matches with 64 starts during his time with Vardar and has scored two goals. He also attended Tory Athens High School. Gray chose Marshall because, "It was the right fit for me to continue soccer at a high level and mature overall as a person. Marshall stood out because of the strong will to move forward as a program and build. The coaches are also well respected throughout Division I soccer."
Demarre Montoute comes to Marshall from Toronto, Ontario, Canada, and played club soccer for Vaugh Azurri. The center-back attended Chaminade College High School where his team won the TDCSB Championship his freshman year. His club team took home the U19 Ontario Cup, were the U19 OYSL Champions and the Montverde Showcase Champions. Montoute chose Marshall because, "It is a community based school. It has a good culture within fans and athletes. I wanted to play in a hard conference which would push me to my limits as a player."
Joao Pedro Peterlini Souza comes to the Herd from Cuiaba, Brazil, and played for Orlando City of the U.S. Development Academy. The attacking mid/left wing has played in 14 matches this season with Orlando City and had seven starts. Souza names winning a championship in Brazil when his team had to sleep on the ground and barely ate during the day as his favorite moment in athletics. Souza chose Marshall because, "I want to continue my academic and athletic career and try to go to a professional soccer club."
Hunter Shanks comes to Marshall from Austin, Texas, where he played club soccer for Lonestar Soccer Club of the U.S. Development Academy. The center-back has played in 52 matches since 2015 with Lonestar with 43 starts. He started all 25 matches that he appeared in in 2017-18 for the U16/17 team and scored a goal. Shanks attended Rouse High School where he lettered as a freshman and sophomore before turning his full playing attention to the Development Academy. Shanks chose Marshall because, "Of the great culture I know is here. I want to play for a championship team and I know we are capable of becoming one here at Marshall."
Sanad Yahya comes to the Herd from Melvindale, Mich., and was teammates with Gray and Nasser on the Varder squad. The center-mid has played 46 matches over the last three years with Vardar and scored four goals while with the U15 squad. He attended Melvindale High School and spent his final two years at Edsel Ford High School where he will graduate. Yahya was part of a regional championship during his freshman season and won the state cup championship in 2016. He chose Marshall because, "The coach, the players and the location."
Ali Zolfikar Nasser comes to Marshall from Dearborn, Mich., and will continue his playing career with two of his club teammates in Yahya and Gray. The forward has played in 76 matches since 2015 with Vardar and 49 starts. He has scored 17 goals including three goals this season for the U18/19 team. Nasser attended Edsel Ford High School. He participated in the Super Y League and Florida IMG where he had six goals and four assists. Nasser chose Marshall because, "I believe Marshall fits me perfect from their athletic program to the academics. After visiting the first time, it felt like home. The fact that I'm going to continue playing soccer with my childhood friend at a high level defies all odds."
Bleno Cruz comes to the Herd from Recife, Brazil, and played at the Montverde Academy an internationally renowned soccer academy that has been the No. 1 high school team in the country the last four years running. It regularly produces professional players as well as top level Division I talent. The center-forward attended Colegio Equipe before making the move to Montverde. Cruz recalls being selected to play for his state in Brazil for a national competition against the other states. He chose Marshall because, "It was a university that I already knew about and the opportunity to play and study came and I thought that was pretty good to accept."
Jacob Adams come to Marshall from Johnstown, Pa., where he played club soccer with the Pittsburgh River Hounds Academy. The center-mid also attended Westmont Hilltop High School. During his prep career, Adams scored 88 goals with 48 during his senior year. He also recorded 46 assists for his career. His high school team won back-to-back district championships and were the 2018 conference champions. Adams was invited to the Super Y League National Camp and named as an ECNL Player to Watch. He was also invited three times to the National Training Session and a Pathway to Pro Player in 2018-19. Adams chose Marshall because, "The great coaching staff and soccer organization along with the great academic programs."
For all of the latest information on the Marshall men's soccer team, follow the Herd on Twitter @HerdMSoccer, Facebook at Marshall University Soccer and on www.herdzone.com.
To follow all Thundering Herd sports and get live stats, schedules, and free live audio, download the Marshall Athletics App for iOS or Android!