Loudoun Soccer, Arlington Soccer, Beach FC claim Club Champions League overall titles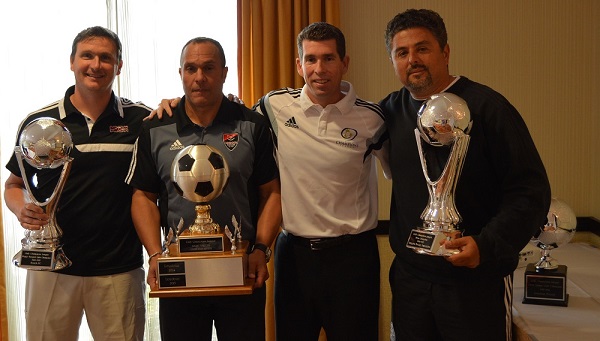 (Via CCL) – The Club Champions League (CCL) announced the league champions for the 2014-2015 season on Wednesday, June 10 in Richmond. Va.
Loudoun Soccer won its second straight CCL Overall Club Championship, now known as the 'Dave Amsler Overall Club Champion' in honor of the league's founding father. Loudoun captured the U16 Boys and U16 Girls Division titles while finishing second overall on the boys side with 86 total Championship Club Points and second on the girls side with 95 points.
"We're very proud to be league champions for a second year in a row, but we're more proud to be a part of this league," said Loudoun Soccer Director of Coaching Darryl Gee. "We really enjoyed the competition as well as the development of our players and teams, not only within our club but throughout the league itself. I want to congratulate all of our players and coaches at Loudoun Soccer, as well as Mark Ryan our Travel Director for the tremendous job that he's done working with all of our teams."
Beach FC won the 'Peggy Borgard Overall Girls Champion' trophy, newly named after the longtime VCCL, CCL and FC Richmond lead administrator and volunteer.  Beach FC girls teams went a combined 82-19-19, racking up 98 Championship Club Points while the club's boys teams finished sixth with a 58-41-21 record and 81 points. The club finished second in the race for the overall Club Champion title with 189 points, behind only Loudoun's 191.
+Read: 'The Dave Amsler Club Champions League Fund' established in honor of league founder
"All credit goes to our Girls Director of Coaching Karl Greaves and Girls Assistant DOC Max Moore, and all the girls coaching staff as well as all the teams in our club that push each other on a daily basis," said Beach Executive Director Steve Danbusky. "The CCL is tight at the top and it's tough to replicate the quality games that we get to play week-in and week-out. This is very exciting for us because it shows we're doing the right things for the development of our club."
Arlington Soccer has won the Overall Boys Championship for a second consecutive season, winning titles in the U12 Boys and U-15 Boys Divisions. Arlington placed in the overall club standings with 166 Championship Club points, finishing seventh on the girls side with a 56-46-18 record and 69 points.
"It's such a difficult league to win in because it's so competitive and every weekend is another huge challenge, so it's exciting for us to be able to repeat," said Arlington Soccer Director of Coaching German Peri. "This league has many of what I would consider the best clubs in the state and region, and on any weekend you could be facing a team that is ranked No. 1 or No. 2 in the country. From the U9s all the way to the U19s, the club culture and club atmosphere is really making this league take off."
+Read: Ellicott City SC becomes first non-CCL member club admitted to CCL II
SOCA had a share of more division titles than any other club with four, winning the U11 Boys, U17 Boys and U-17 Girls Divisions while finishing as Co-Champions with DC Stoddert in the U-14 Boys age group. Stoddert also had its hand in multiple championships, taking the U12 Girls Division. Virginia Legacy won two division championships as well, claiming the U13 Boys and U14 Girls titles.
SYA (U11 Girls), FC Frederick (U13 Girls), Potomac Soccer (U18/19 Girls) and FC Richmond (U18/19 Boys) each earned one division championship.
"We are proud of all of our clubs. Each CCL Director works extremely hard to challenge their coaching staff, teams and players to train and play with a standard of excellence that is second to none," commented Brian Kuk, CCL Executive Director. "By doing this, they are raising the bar in their own club but also every other club in the league. This league is unique because these Directors and clubs are truly committed to working together to build and develop from within."
See below for the full list of 2014-2014 CCL champions:
DAVE AMSLER OVERALL CLUB CHAMPION
Loudoun Soccer
PEGGY BORGARD OVERALL GIRLS CHAMPION
Beach FC
OVERALL BOYS CHAMPION
Arlington Soccer Association
BOYS CHAMPIONS
Under 11 Boys, SOCA
Under 12 Boys, Arlington
Under 13 Boys, Virginia Legacy
Under 14 Boys, DC Stoddert and SOCA; Co-Champions
Under 15 Boys, Arlington
Under 16 Boys, Loudoun
Under 17 Boys, SOCA
Under 18/19 Boys, FC Richmond
GIRLS CHAMPIONS
Under 11 Girls, SYA
Under 12 Girls, DC Stoddert
Under 13 Girls, FC Frederick
Under 14 Girls, Virginia Legacy
Under 15 Girls, Beach FC
Under 16 Girls, Loudoun
Under 17 Girls, SOCA
Under 18/19 Girls, Potomac