'The Dave Amsler Club Champions League Fund' established in honor of league founder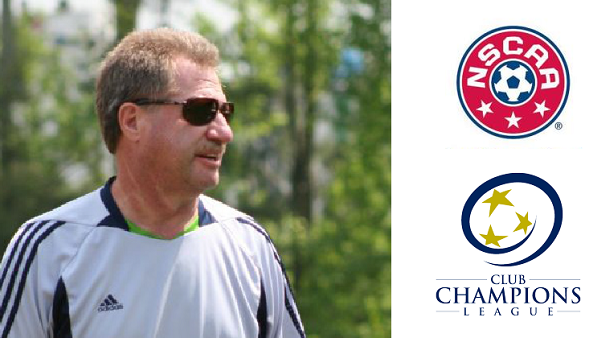 (Via Club Champions League) – The Club Champions League (CCL) has established a National Soccer Coaches Association of America (NSCAA) Foundation endowment fund in honor of youth soccer pioneer and league founder Dave Amsler, who stepped down from his role as league President in January.
The first such endowment for NSCAA, 'The Dave Amsler Club Champions League Endowment Fund' is intended to provide an opportunity for youth soccer coaches committed to grassroots club and player development to attend free NSCAA coaching education diploma courses.
The endowment fund is part of a send-off tribute organized by CCL directors to thank the league's long-time visionary, widely considered the founding father of club-based youth soccer in America.
​"There is no question in my mind that Dave will be looked upon five, 10 or 15 years from now as the visionary who could see what proper youth soccer club development should look like, how to implement it, and how to share it all," commented Brian Kuk, CCL Executive Director. "The great part about the CCL, even after 18 years, is that we are just scratching the surface of the club-based model."
Amsler's legacy includes coaching 500 youth players who have gone on to play college soccer at 98 different schools, 15 eventual national team players, 22 professional players, three professional coaches and the only current FIFA-licensed referee in Virginia.
In 1975, Amsler became one of the first 50 coaches to earn the U.S. Soccer Federation's (USSF) "A" coaching license — U.S. Soccer's highest status. He has served as the Director of Coaching for FC Richmond since 1985, helping grow the club into the prominent 1,500-member organization serving the travel and recreational soccer community in Central Virginia today.
"I am honored by this generous gift and to have had the great privilege of working with all of our great Technical Directors and Directors of Coaching," Amsler said. "The support, teaching and communication between our clubs has reached a level that I don't think has ever been done within a league."
For decades, Amsler's primary focus has been player and club development, which is why leaders at many of the 16 member clubs in Maryland, Washington, D.C. and Virginia believe the CCL is considered one of the highest level regional leagues on the East Coast.
​"The CCL Board of Directors, made up entirely of soccer Technical Directors and Directors of Coaching, will always remember where we came from and who gave us exceptional opportunities," said Kuk. "Dave Amsler has given us the CCL and for that we are humbled and grateful. The Endowment will always be a reminder of Dave and what the CCL stands for, the importance of education to enhance long-term player, coach and club development."
"Dave has always placed high emphasis on coaching education and working toward making it affordable for everyone," said Danny Beamer, Executive Director of Roanoke Star SC, fellow league founder and longtime friend of Amsler. "Dave has always been a pioneer in youth soccer, always on the cutting edge and has great ideas on how to develop players. This endowment will help with the development of coaches and in turn our players, and will be a great way for us to give back to the game."
"It's amazing what the CCL has become, and it's a wonderfully fitting way to honor Dave in this recognition through the NSCAA," said Bo Eskay, FC Frederick Executive Director. "Dave has been a visionary and continues to be a rock of support and understanding of youth soccer dynamics."
Although Amsler has decided to step down from his role with the CCL league office, he plans to continue in his role with FC Richmond for several more years.
For more information on the Dave Amsler Club Champions League Endowment Fund, visit: www.NSCAA.com/foundation