Lindsey Horan and Trinity Rodman win U.S. Soccer Female Player of the Year Awards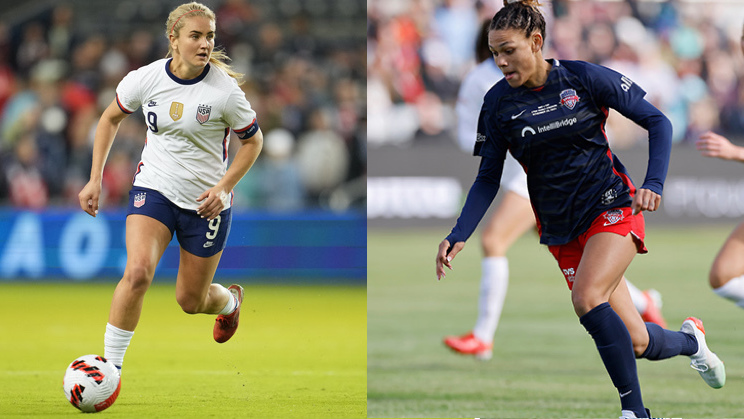 CHICAGO – In a year in which she showed consistent world-class form while playing one of soccer's most challenging positions for club and country, midfielder Lindsey Horan has been voted the 2021 U.S. Soccer Female Player of the Year.
This is the first U.S. Soccer Female Player of the Year award for Horan. She becomes the 18th different WNT player to win the award. Horan also becomes just the third player to win both U.S. Soccer Young Female Player of the Year (which she won in 2013) and U.S. Soccer Female Player of the Year, joining Tobin Heath and Julie Ertz (who has won the Player of the Year twice).
"First and foremost, I want to congratulate the other nominees," said Horan. "They all had incredible years, especially Carli [Lloyd] in her last year with the team. She was outstanding. I really appreciate everyone who voted and who supported me in the past year, which was a difficult year for everyone. I'm not really a player who wins these types of awards, so I'm super appreciative and it's very meaningful to me."
Consistent class all year long 💪

That's why @LindseyHoran was voted the @BioSteelSports Female Player of the Year 🇺🇸 ≫ https://t.co/RV9X0VcUqE pic.twitter.com/7Fzy5NAD8Y

— U.S. Soccer WNT (@USWNT) December 17, 2021
Forward Trinity Rodman was voted the U.S. Soccer Young Female Player of the Year after a standout year with the Washington Spirit, which culminated in a league championship and NWSL Rookie of the Year honors. She joins a long line of talented players to win the U.S. Soccer Young Female Player of the Year Award, which was first awarded in 1998 to current U.S. Soccer President Cindy Parlow Cone.
"To see my name alongside the list of amazing players who have won this award in the past is unbelievable," said Rodman. "It's an honor to receive this award from U.S. Soccer and our amazing fanbase. This year was a journey for me both mentally and physically as I settled into my new life as a professional. I want to thank my family, teammates, coaching and medical staffs for everything they have done for me on and off the field. It truly takes a village. I am so incredibly proud of what my Spirit teammates and I accomplished this season, and I would be humbled to get an opportunity to play for the U.S. again and represent our country in 2022."
Living a teenage dream 😎@trinity_rodman had herself a YEAR!
🏆 @NWSL Champion
✨ @NWSL Rookie of the Year
🇺🇸 @ChipotleTweets Young Female Player of the Year

MORE ≫ https://t.co/RV9X0VcUqE pic.twitter.com/RmTvMxi8fK

— U.S. Soccer WNT (@USWNT) December 17, 2021
The 27-year-old Horan is widely known as the first American player to forgo a college scholarship to turn professional, which she did immediately after high school in signing with French powerhouse Paris Saint-Germain.
This year was Horan's 10th as a professional player, and it was one of her best. She led the USA in minutes played with 1,707, starting 18 of her 22 international games. She finished tied for fourth in goals (6) and tied for second in assists (5), all while playing both defensive and attacking midfielder.
"I've worked very hard to get to this point in my career, and while I know there's so much more work to do and things to accomplish individually and as a team, it's always very nice to be recognized," said Horan. "I wish we had won more team awards this year, but that's professional football, and I know everyone is focused on having a great 2022 and beyond. Finally, I want to thank my trainer, Billy Lagreca, my family, friends and loved ones who have supported me not only through this year, but through my entire life in the game. We're all a product of the people around us, so the biggest thanks goes to my family, my coaches and teammates."
With Ertz injured, Horan played defensive midfielder leading into the Olympics and for the first half of the first Olympic match, distinguishing herself at that position before moving to a more advanced role as the tournament wore on. At the Olympics, she played in all six games, starting five, and was third in minutes played with 499. Horan scored one goal in the OIympics, that coming in her 100th cap during the group stage victory against New Zealand.
Her two assists against Brazil at the 2021 SheBelieves Cup brought her career assist total for the USWNT to 31, making her the 18th player in USWNT history to record 30 or more assists. She tallied her 32nd assist with a dynamic play that led to feeding Carli Lloyd for her first goal in the Olympic bronze medal game. She also scored against Colombia, Jamaica, Mexico, Korea Republic and Australia on the year.
Her goal against Mexico was one of the best of Horan's career thus far and one of the best by a U.S. player of late when she smashed home a full volley to open the USA's 4-0 win on July 5.