U.S. Soccer hires Natalia Astrain as U-17 USWNT head coach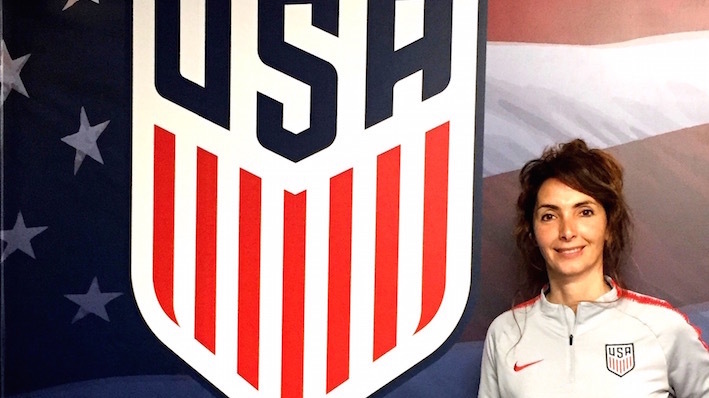 CHICAGO – U.S. Soccer has appointed Natalia Astrain as the new head coach of the U.S. Under-17 Women's National Team.
Astrain joins U.S. Soccer after serving as an assistant coach with NWSL Kansas City this past season and brings a wealth of coaching experience in both the professional and youth ranks. In her native Spain, she served as head coach for FC Barcelona, Club Damm, Club Levante Las Planas and as an assistant with Atletico Madrid and the Spain Women's National Team. She also spent time as technical director of Barcelona's women's academy.
"We're excited to bring Natalia on to lead our U-17 USWNT program," said USWNT General Manager Kate Markgraf. "She brings an impressive resume at every level of the game, both domestically and abroad. That blend of experience in the pro game and the academy system makes her an excellent choice to assist in the development of our U-17 players and help them reach the next level. We're confident Natalia will do a great job preparing the group for World Cup qualifying next spring."
As part of an integrated YNT coaching staff, Astrain will work across age groups with a focus on the Under-17 USWNT.
Astrain has worked in the United States for the last four years, beginning as the girl's director at Rise SC in the U.S. Soccer Development Academy and assistant academy director with the Houston Dash. She has served as an assistant coach with the U-17 USWNT and U-15 Girls' National Team and spent 2020-21 as head coach of FC Bay Area in the Women's Professional Soccer League from before joining Kansas City this season.
"It's an honor to have the opportunity to work for U.S. Soccer," Astrain said. "To be part of supporting and developing these young players at such an important phase in their careers is incredibly exciting. The U-17 cycle is a critical one with the chance to participate in both Concacaf and World Cup competitions. Working with the country's top talents is a great responsibility and challenge and I'm eager to help push them toward excellence as we prepare them for success at the international level."
Astrain will lead her first training camp from Nov. 17-24 in Chula Vista, Calif. The U-17s kicked off the 2022 FIFA U-17 Women's World Cup cycle last month and are continuing preparations for the 2022 Concacaf U-17 Women's Championship, which was recently announced to be held in the Dominican Republic from April 23 to May 8.
In her role, Astrain will oversee all aspects of the U-17 USWNT program and also manage the integration and programming of U-15 and U-16 GNTs to maximize the evaluation and movement of players between the age groups for training camps and matches during the World Cup cycle.
In addition to her UEFA Pro License, Astrain holds a U.S. Soccer "A" License and master's degrees in Sport Psychology and High Performance of Team Sports. She has served as an on-air personality for Olympic soccer on NBC Universo, "Mundo Deportivo" in Spain and for FC Barcelona TV.