Juggling for joy: Pennsylvania 8-year-old uses soccer skills to raise $900 for charity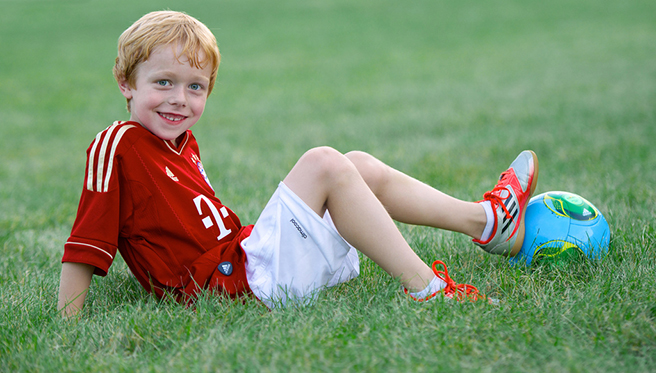 It doesn't matter what part of the world you are in. If you love the sport, you probably consider it a gift to play, watch or experience. The world's beautiful game can bring joy to everybody, and from the car-choked streets of Buenos Aires to those using a soccer ball made of paper in East Africa, it's a game that unites the world.
One child in Gettysburg, Pennsylvania is trying to make that experience better for others as he hones his own skills.
Jack Brown began an interesting project back in April. Aged 7 at the time, he started a juggle journal, juggling a ball for 15 minutes a day, tracking his highest number of juggles in a row.
+ READ: Five thoughts that will change your youth soccer experience for the better
About a month into the juggle journal project, he connected with Charity Ball, an organization that donates "new, quality soccer balls to kids in poverty-stricken communities around the world," according to the non-profit's website, to provide a beloved essential to those who love the game amid humble circumstances.
Jack used his juggling to pick up sponsors, and as a result, he raised $900.
Prior to his juggle journal, the young soccer lover's best sequence was 203 juggles in a row. Jack then tracked his juggles for four months and reached more than 2,000 in a row, 99 percent of it with his feet.
Routinely topping four figures on his daily sessions, he's attained a personal best of 2,266 juggles and developed his ball skills enormously — not that he needs much extra motivation.
"Because I like soccer and other kids could do it," Brown, now 8, told SoccerWire.com as to why he decided to raise funds with his feet. "It was fun."
His key to juggling, he says, is alternating feet. A central midfielder when playing team soccer, Jack looks up to FC Barcelona star Lionel Messi and says that he feels good doing something to help others.
"It's pretty cool," Jack's dad, James Brown, said. "He started learning about fundraising at school. He brought up the idea himself.
"We kind of just hooked up with Charity Ball and it kicked off from there."
Jack's fundraising ended a few weeks ago. His father said word of mouth was key to donations.
He even got the chance to juggle in front of a much larger audience: during a Harrisburg City Islanders USL PRO match.
The City Islanders would go on to mount a Cinderella playoff run in the USL PRO playoffs, upsetting No. 1-seeded Orlando City SC and No. 4 seeds Richmond Kickers to book a spot in the third-tier professional league's championship final against Sacramento Republic FC in California on Saturday (10:30 pm ET).
+ READ: Richmond Kickers fall 3-2 to Harrisburg City in USL PRO semifinals
Could Jack's juggling have inspired Harrisburg's heroics? The evidence is circumstantial, but either way, Jack Brown looks like one to watch for the future.
To see more videos of Jack juggling, visit soccerjuggles.com. If you are interested in donating, visit charityball.org.