Jefferson Cup U10-U14 Girls Weekend concludes on Sunday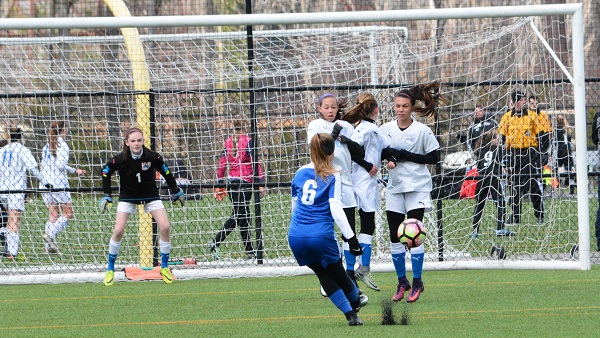 Follow the Jefferson Cup
Twitter | Instagram | Facebook
Division championships were decided on Sunday at the Jefferson Cup U10-U14 Girls Weekend, bringing to a close the second of four weekends for the 2017 event.
A total of 44 teams representing 37 different clubs emerged as Jefferson Cup champions, once again showcasing balanced competition across the age groups.
Six clubs – CASL (North Carolina), Southern Soccer Academy (Georgia), Sting Soccer (Texas), United Futbol Academy (Georgia), WNY Flash Academy (New York) and FC Virginia – had two teams each capture division championships at the U10-U14 Girls Weekend.
The 2017 Jefferson Cup will continue March 24-26 with the Girls Showcase Weekend (2002 – 1998/99), then will conclude March 31 – April 2 with the Boys Showcase Weekend (2001 – 1998/99).
See below for summaries of the U-14 Championship Division, U-14 Elite Orange Division and the U-14 Elite Black Division finals, as well as a full listing of champions and finalists from the weekend.
U-14 Championship Division
Massachusetts side South Shore Select U-14 AP capped off a perfect run at the Jefferson Cup with a fourth straight win in Sunday's championship match against BRYC Elite Academy 03/04. South Shore defeated the Virginia State Cup champions 3-1 in the final, finishing the tournament with another outstanding effort on both sides of the pitch.
Forward Allyson Sentnor was a dominant force for South Shore, showcasing her playmaking and goal scoring abilities while also applying heavy defensive pressure against the opposing back lines as they tried to advance the ball.
Meanwhile, South Shore gave up only two goals over the course of the four matches. Lilly Reale, Hannah Callanan, Kendal McCluskey and Ava Melia each covered significant ground throughout the defensive zone, while also making passes and starting runs into the midfield. Goalkeeper Katherine Lynch was terrific in net when called upon, as she and her teammates held their prolific opponents in check.
South Shore earned clean sheets against ECNL sides Gwinnett Soccer Academy and Maryland United FC in group play, and gave up just one goal each to BRYC and Ohio South State Cup champion Cincinnati United Premier 03 Gold.
U-14 Elite Orange Division
WNY Flash Academy 03 ECNL defeated Richmond United ECNL in penalty kicks to claim the U-14 Elite Orange Division championship, following a scoreless regulation and overtime in Sunday's final at River City SportsPlex.
The Western New York State Cup champions continued their phenomenal defensive effort in the title match, as they held Richmond United – the highest scoring team in Group A with seven goals – off the scoreboard. Erin Weir, Raelyn Stranc, Alejandra Brotherton and Mirann Gacioch all made major defensive contributions, while goalkeeper Madison Crosbie stole the show with her heroic effort between the posts.
Crosbie made several key saves in critical moments as Richmond United's attack generated momentum at various points during regulation and in the overtime periods, and she wasn't done yet. When the game went to PKs, Crosbie stepped up yet again, saving a pair of on-target shots by United to help lead her to team to victory in the shootout.
U-14 Elite Black Division
FC Virginia 03 ECNL won four straight matches to capture the U-14 Elite Black Division title, culminating with a 2-0 shutout of New York side World Class FC 03 ECNL in the final.
FCV's clean sheet effort in the final was the team's third in four games on the weekend. They did not allow a single goal for the remainder of the event after giving up a pair in a 3-2 win over Clarkstown 03 Elite to begin group play. Emily Haugen, Abbey Mansoor, Summer Jakubowski and Abigail Jackson all provided strong defensive performances for FCV, along with goalkeeper Nadia Stupec.
Offensively, FCV piled up 15 goals over the course of the four games, highlighted by multiple-goal efforts from Reese Borden, Isabella Thissel and Madeleine Walker.
A nice team goal from @FC_Virginia … @jeffersoncup #waytouseyournogginIzzy pic.twitter.com/PBJNaSMUDk

— Jeremy Thissell (@JeremyThissell) March 18, 2017
Champions and Finalists
U-10
Championship 8v8 Division
Champions: Loudoun Soccer 07 Red (VA)
Finalists: Hereford Hotspur (MD)
Championship 7v7 Division
Champions: Team Challenger FC 07 Black (OH)
Finalists: FC Europa Elite (PA)
Elite 7v7 Division
Champions: FC Virginia Ashburn Elite 07 (VA)
Finalists: Gunston 07 Red (VA)
Superior 7v7 Division
Champions: McLean Youth Soccer 07 Green (VA)
Finalists: DC Stoddert Blue Metros 07 (VA)
U-11
Championship 8v8 Division
Champions: Sting Dallas 06 Black (TX)
Finalists: Clarkstown 06 Elite (NY)
Elite 8v8 Division
Champions: NTH Tophat 06 Gold (GA)
Finalists: Richmond Strikers 06 Elite (VA)
Superior 8v8 Division
Champions: United Futbol Academy 06 Premier (GA)
Finalists: Greensboro United SA 06 Dynamo (NC)
Platinum 8v8 Division
Champions: PWSI Courage 06 Pre-NPL (VA)
Finalists: PHWM SC 06 Red (MD)
Classic 8v8 Division
Champions: CASL 06 Ladies Red South (NC)
Finalists: Carolina Rapids Burgundy 06 (NC)
Premier 8v8 Division
Champions: Virginia Rush 06 Mercy Black (VA)
Finalists: SAC United Blue 06 (MD)
Gold 8v8 Division
Champions: Lake Norman SC 06 Breakers (NC)
Finalists: Richmond Strikers 06 Elite Black (VA)
U-12
Championship 11v11 Division
Champions: Southern 05 Elite (GA)
Finalists: Michigan Jaguars Green 05 (MI)
Elite 11v11 Division
Champions: Wake FC 05 Blue (NC)
Finalists: Charlotte 04 Torsion Elite (NC)
Superior 11v11 Division
Champions: TFCA 05 Alliance Jr. (NC)
Finalists: CASL 05 Ladies Red North (NC)
Championship 9v9 Division
Champions: PDA Strikers (NJ)
Finalists: Pipeline SC Black (MD)
Elite 9v9 Division
Champions: Century Gold (PA)
Finalists: Loudoun Soccer 05 Red (VA)
Superior 9v9 Division
Champions: Greater Binghamton FC Select 05 (NY)
Finalists: PDA Sounders (NJ)
Championship 8v8 Division
Champions: Charlotte Huntersville Elite (NC)
Finalists: Virginia Rush 05 Black (VA)
Elite 8v8 Division
Champions: SYC Phoenix Red (VA)
Finalists: Maryland United FC 05 Red (MD)
Superior 8v8 Division
Champions: LMVSC Patriots Red (VA)
Finalists: FC Virginia United Premier 05 (VA)
U-13
Championship Division
Champions: Gwinnett SA 04 Premier (GA)
Finalists: World Class FC 04 Pre-ECNL (NY)
Elite Orange Division
Champions: Michigan Jaguars Green 04 (MI)
Finalists: Penn Fusion SA Pre-ECNL 04 (PA)
Elite Black Division
Champions: Sting Dallas 04 Gutierrez (TX)
Finalists: Philadelphia SC Coppa Swarm 04 (PA)
Superior Orange Division
Champions: Oakwood 04 Blue (CT)
Finalists: Connecticut FC South 04 ECNL (CT)
Superior Black Division
Champions: FC Boston Scorpions 04 ECNL (MA)
Finalists: BRYC Elite Academy 04/05 (VA)
Platinum Orange Division
Champions: Southern Chelsea 04 Elite (GA)
Finalists: Atlanta Fire United 04 Elite Black Pre-ECNL (GA)
Platinum Black Division
Champions: WNY Flash Academy 04 Pre-ECNL (NY)
Finalists: Beach FC 04 Red (VA)
Classic Orange Division
Champions: Woodbridge Strikers Blue 04 (CND)
Finalists: Continental FC ECNL 04 (PA)
Classic Black Division
Champions: FC Europa 04 Elite (PA)
Finalists: Lake Norman SC Eclipse Blue (NC)
Classic White Division
Champions: Hulmeville SC Freedom 04/05 (PA)
Finalists: Delaware Football 04 (DE)
Premier Division
Champions: CASL 04 Ladies Red North (NC)
Finalists: Piedmont Triad FC 04 Lady Black (NC)
U-14
Championship Division
Champions: South Shore Select AP (MA)
Finalists: BRYC Elite Academy 03/04 (VA)
Elite Orange Division
Champions: WNY Flash Academy 03 ECNL (NY)
Finalists: Richmond United ECNL (VA)
Elite Black Division
Champions: FC Virginia ECNL 03 (VA)
Finalists: World Class FC 03 ECNL (NY)
Superior Orange Division
Champions: Wilmington Hammerheads FC 03 White (NC)
Finalists: SYA Cardinals 03 Red (VA)
Superior Black Division
Champions: Delaware Football 03 (DE)
Finalists: FC Copa Academy 03 Black (NJ)
Platinum Orange Division
Champions: United Futbol Academy 03 Premier (GA)
Finalists: Keystone FC Premier 03 (PA)
Platinum Black Division
Champions: Beadling 03 Elite (PA)
Finalists: East Meadow 03 Villa ECNL (NY)
Platinum White Division
Champions: Triangle United 03 Gold (NC)
Finalists: Pittsburgh Riverhounds Academy 03 (PA)
Classic Orange Division
Champions: Herndon Youth Soccer Hurricanes Black (VA)
Finalists: Beach FC 03 Red (VA)
Classic Black Division
Champions: Alleycats 03 NPL (NY)
Finalists: Virginia Rush 03 (VA)
Classic White Division
Champions: Arlington SA 03 Red (VA)
Finalists: FC Copa Academy 03 Black South (NJ)
Premier Orange Division
Champions: DC Stoddert Metros Blue 03 (VA)
Finalists: East Meadow NPL Smithtown Flames (NY)
Premier Black Division
Champions: World Class FC 03 NPL (NY)
Finalists: Fredericksburg FC 03 Black (VA)