Jefferson Cup: U-16s show quality, grit over marathon Day 2 marked by weather-enforced double dips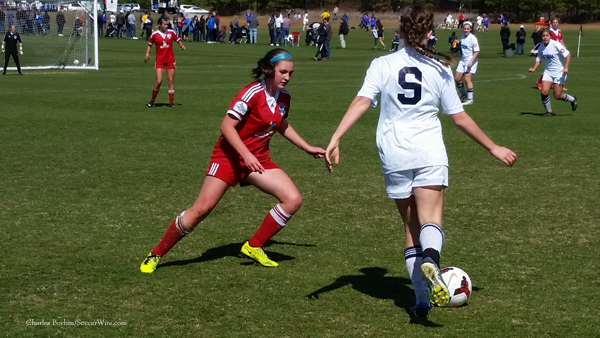 RICHMOND, Va. – The clear skies and mild temperatures that greeted Jefferson Cup girls showcase weekend participants on Saturday appeared to offer an ideal environment for the occasion.
But the standing water and sodden grass at natural-surface venues told a different story – dirtying uniforms, forcing soggy spectators to tiptoe from field to field and reminding everyone how these games were very nearly wiped out by awful weather as the boys showcase weekend had been two weeks ago.
Friday's rain left only synthetic-turf facilities open, and required many teams to play two games on Saturday instead of one in order to get them the three total games that were originally planned.
"Is it perfect? No, because we don't really want to get into playing two games in one day," Richmond United coach Jay Howell told SoccerWire.com on Friday. "But the players came here to play and they want to have the opportunity to be showcased."
Many teams in the Under-16 division stepped up to this new challenge, while others were ground down by the extra exertion and limited recovery time. Those who had put in extra fitness work over the long winter surely saw their discipline rewarded on this marathon Saturday.
Bethesday ECNL Impact 98 2-2 Tampa Bay United Premier 98
With scores of college scouts watching intently, Tampa Bay United Premier and Bethesda United of Maryland battled to a 2-2 draw in U-16 Championship division play.
Sophomore Cameron Murtha and junior Maria Harrington each scored for Bethesda, while sophomores Kailee Raberge and Kristin Kelly scored for Tampa.
"This was a good test for us, a good match that will prepare us for our upcoming ECNL season," said Bethesda assistant coach Haroot Hakopian. "It's been a long and very frustrating winter. It's been tough to get fields that aren't covered in snow and then when you do get them there's so much competition for them that it's hard to train for very long. So even though we were maybe a little rusty, it was good to be outside playing again."
Tampa Bay United coach Jim Cote was pleased with his team's second-half fightback to earn the draw, even if he was frustrated his side didn't find the game-winner.
The third goal "was right around the corner, we just couldn't get on the end of it," Cote said. "[Bethesda] are a very good club, obviously they've been around a long time. We actually played them earlier in the year at CASL [in North Carolina], so it's a good rematch. It was 1-0 them in that game, so it was good to come back and at least get a result.
"We had a good showing today, I think our manager told me 70 coaches watched the game. Two quality teams from quality programs."
FC Virginia 98 ECNL 1-0 Slammers FC
A dramatic late goal saw FCV slip past Southern California visitors Slammers FC in a highly-anticipated East vs. West clash at River City Sportsplex under a gorgeously colorful sunset on Saturday evening.
With both sides feeling their legs at the tail end of a long day, the play was often grindingly direct, with an emphasis on crosses, counterattacks and set pieces. But a bevy of scouts from NCAA Division I programs stuck around for most or all of the contest to gather data.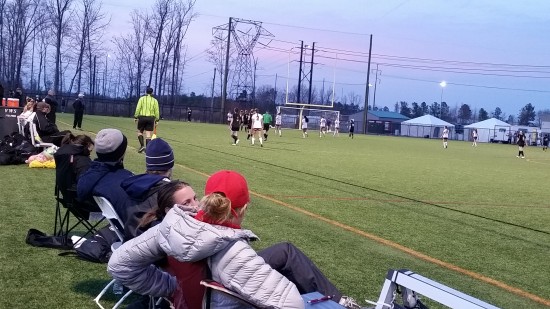 And scoring chances presented themselves all the same, only to be denied by dull finishing and great goalkeeping. Slammers 'keeper Taylor Brown in particular made one jaw-dropping second-half save, throwing herself high and to her right to tip a blistering shot away from the upper corner of the net.
But her hard work would be all for naught, as FCV captain Kaitlyn Small crept in at the back post to poke home a bouncing cross from the right wing just a few minutes from the end.
"It was a good game today. We got the unfortunate end of the stick, that's how soccer is," said Slammers coach Pat O'Brien afterwards. "But it's not about the wins, it's a showcase. So the girls played well, I was very proud."
Albertson Fury ECNL 98 2-0 ASA Azzurri
Albertson's U-16s have struggled to a winless start in Elite Clubs National League play thus far this season. But they'll turn towards their busy spring calendar with renewed optimism after a solid day at Jeff Cup highlighted by a composed 2-0 defeat of Maryland side ASA Azzurri.
Wearing turf-specific boots that helped showcase her array of sole flicks and dragbacks, playmaker Lauryn Shin was influential for the winning side, finding spaces in central midfield to build possession and play her strikers and wingers into dangerous attacking positions.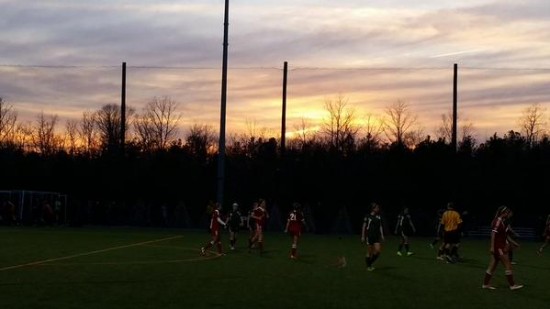 Like many of the club's products, Fury ECNL 98 boasted little in the way of physical size and muscle, but showed an impressive commitment to possession and technique, forcing their Annapolis-based opponents to chase for much of the match.
This Albertson squad is led by veteran coach Paul Riley. But with his duties as head coach of professional side Portland Thorns FC keeping him on the West Coast for the NWSL preseason, assistant Aaron Heffernan has stepped into a larger role. And now that the late-lingering winter snow is finally melting across Long Island, these 98s will look to build and maintain their rhythm with no less than 20 ECNL matches over the next nine weeks.