Jefferson Cup: Spring weather arrives just in time to rescue Boys Weekend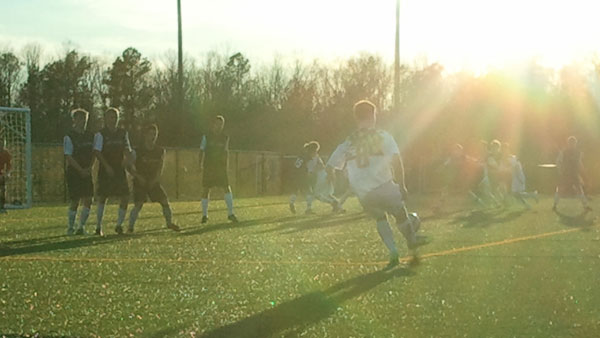 MIDLOTHIAN, Va. – It was a truly bipolar switch, one that encapsulated everything a Mid-Atlantic spring has to offer: From rainy, raw and near-freezing cold on Friday to bright sunshine and mild temperatures approaching 60 degrees on Saturday morning.
And was long overdue for the Boys Weekend of the Jefferson Cup, which had scrambled, then soldiered on after first snow, then rain had threatened to keep the event from happening at all.
"The level of competition here is obviously outstanding," said Nick Finotti, coach of Carolina Elite Soccer Academy Premier 98 Under-15s, who defeated Hota Bavarian's Thunder 98 squad 2-1 on Saturday in a matchup of GotSoccer.com's top-ranked U-15 teams from South Carolina and New York.
"We're happy that we could be here, and that the weather cooperated for us to be able to play."
Field conditions knocked most of the tournament's natural-grass venues out of commission and forced the Richmond Strikers, the hosts of this massive annual event, to cancel several brackets.
But tournament director Chris Friant and his staff shuffled their plans and made maximum use of the synthetic fields at their disposal to make sure the show went on – and finally got a break when the conditions turned out to be ideal for the meat of the weekend.
"This has been such a bad year for tournaments this spring," Friant told SoccerWire.com in reference to the harsh winter. "There hasn't been a tournament that hasn't been affected, that I know of.
"It's just been an abnormal year. None of us put these tournaments together and want them to be canceled … Even if we had 55 turf fields down here, could we have gotten everything done?"
Those complications appear to be the final blow from an historically long, snowy winter that has caused misery across the United States and Canada, negatively affecting the work of countless youth teams accustomed to squeezing in offseason work on milder days that were few and far between this cycle.
"It's been difficult. We've been training on elementary-school gyms, on court floors, futsal balls," said coach Shawn Comegys of Real Colorado, who brought five teams to Jeff Cup Boys Weekend. "We train and we give the kids lots of things to do on their own. Most of these guys train in the mornings, twice a week before school, 6-7 am. So we're training, we're touching the ball and we're fit, but from a tactical standpoint, certainly this is important for us going into the spring season.
"The weather, it's been a good winter for skiing, not a good winter for soccer outside!"
The lush grass fields at Striker Park and the West Creek complex on Richmond, Va.'s west side were originally planned as primary venues, then downgraded to Sunday-only use due to lingering moisture, then ruled out altogether.
So the 12 turf fields at the River City Sportsplex in Midlothian became tournament central for the showcase brackets, while the cluster of four synthetic fields at Ukrop and Stratton parks in Richmond hosted most U-14 and U-15 games.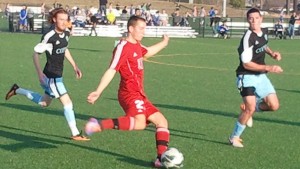 "The facilities are good – you don't have to worry about the surfaces, it's predictable because of the artificial grass," said Finotti, a return customer to Jeff Cup. "The level of competition – not only the level but the variety of teams, geographically we don't get to see these teams unless we see them at Disney or National League, or Jefferson Cup. So we're certainly privileged to be here, and look forward to coming every year."
Dozens of college scouts traveled to Richmond for the weekend and found the usual density and diversity of talent that they've come to expect from the Jefferson Cup.
"It's been really good so far," said University of Kentucky assistant coach Chase Wileman. "For the kids, it's difficult conditions with the cold.
"There's talent out there. For us it's trying to find the right kids for our program. But I think the kids are doing really well, handling the conditions and working really hard."