Jefferson Cup: Girls Weekend begins with intensity despite cold conditions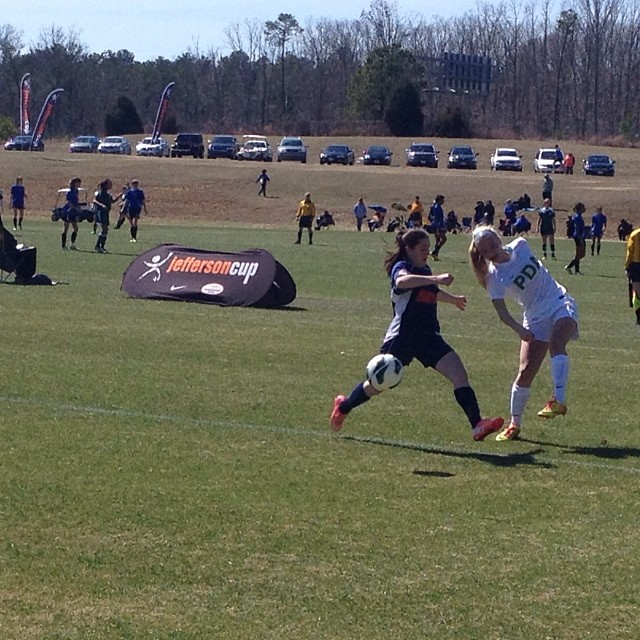 RICHMOND, Va. — Under clear skies but with a stiff breeze that kept temperatures relatively low for the time of year, the Jefferson Cup Girls Weekend opened on Friday with Under-15 through U-18 showcase games featuring teams from across North America played at the impressive River City Sportsplex and West Creek fields.
With hundreds of NCAA coaches in attendance, the competition was fierce and physical as players looked to put themselves forward for a potential college career in one of the biggest youth tournaments in the United States.
In addition to a raft of games across several sites in Richmond, the Jefferson Cup also played host to its first girls Goalkeeper Showcase, as a total of 43 young 'keepers were put through their paces by coaches of the Richmond Strikers and other clubs from across the region.
[ + View photos of today's matches on the Jefferson Cup Instagram account ]
With most age groups due to start on Saturday, Friday was dominated by the older players, most needing to take a day off high school to play, an option afforded them because most schools consider such a prestigious event a "college visit." Matches got underway mid-morning in various competition brackets, with the top level called Championship followed by the Elite, Superior, Platinum, Classic and Premier flights, depending on the level of competition tournament organizers deemed appropriate to each team.
Physicality was the order of the day, with players unafraid of challenges, prepared to put their bodies on the line in a bid to impress the watching college coaches.
The top level of play, U-18 Championship, saw Virginia sides Richmond Kickers YSC and Loudoun Soccer enjoying heavy wins over Quickstrike FC (N.Y.) and Weston FC Premier Black (Fla.), respectively. In the final two games of that bracket, Braddock Road YC drew 0-0 with Tennessee SC, while McLean YS defeated Intense ISA Sting (N.Y.) 2-1.
Elsewhere, in the U-18 Elite group, Ohio Elite and PA Classics both got off to winning starts over TSF Academy Triumph (N.J.) and the NJ Wildcats Lady Strikers, before FC Frederick overcame Yankee United FC Strikers (Conn.) 2-0. Concluding the day's action in that category, Baton Rouge SC drew 0-0 with Maryland United, while at the same time Quickstrike FC Xtreme beat Delaware Rush 1-0 and the PDA Warriors took a tense 4-3 victory over HMMS Eagle FC Force.
In the U-18 Superior tournament, Maryland Rush, FC Copa Academy Aventura and LDC United Futures all enjoyed comfortable wins. However, the big winners in that category were Maryland side SAC Premier Showcase Blue, who took a very convincing 5-0 victory over Jersey Premier Soccer in one of the first games that day.
Things were similarly tight in the U-17 Championship tournament, as the New York Rush Patriots and Match Fit Academy FC played out a tight 2-2 draw, before the Louisiana Fire enjoyed a shock 2-1 win over McLean MPS Force. In the final two fixtures of that bracket, Toms River FC United beat PSC Baltimore 1-0, while VSA Heat Blue beat Sunrise Sting 3-2.
Meanwhile, the U-17 Elite bracket saw the Greater Flemington SC Flames defeat FC Stars of Mass 1-0 in a game featuring a center referee wearing a GoPro camera to record her unique view of the action. PDA Force and PWSI also took victories, while Albertson SC Fury and FC Revolution Blackhawks played out a scintillating 5-5 draw in what was one of the best games of the day.
Of the U-17 Superior teams, Ohio Premier SC, Mount Pleasant SC, United German Hungarians Fevernova, Potomac Hotspur and LA Premier FC all started out with wins, while FASA Elite Impact and the Florida Krush played out an entertaining 2-2 draw.
A raft of fixtures in the U-17 Platinum tournament saw Delaware Rush put five past Council Rock United FC to win 5-0, while the FC Europa Storm hit the same number against Tampa Bay United for the 5-2 victory.
At the Classic level, McLean MPS Force Green took the biggest win of the day across any age group as they beat LDC Lightning 9-0, having already seen FC Frederick and Tennessee SC win in their bracket.
Finally, in the U-17 Premier category, CASL Elite, BRYC Elite, World Class FC and IMG Academy all took wins, with the teams clearly enjoying playing on the grass at West Creek.
It was a slightly later start for the U-16 Championship tournament, but it proved to be a successful one for PDA Arsenal, who overcame the Syracuse Development Academy 3-1 before Ponte Vedra SC beat Crusa FC Bucks 2-1 in their opener. Following those games, FC Virginia drew 1-1 with Maryland Rush Montgomery Coyotes.
At U-16 Elite level, there were wins for Brentwood SC, LA Premier and Richmond Kickers Elite, while in the Superior tournament New York SC, Haverford Premier, Penn Legacy, Mass Premier Soccer, Concorde Fire and Match Fit Academy all got off to a winning start.
In the U-16 Platinum category, Massapequa SC Crush, Beadling Wolfpack, New York Rush Patriots, Winslow Tigers and FC Revolution Falcons also notched opening wins, while the Classic tournament saw Arlington Rowdies, Darlington Fusion, Pittsburgh Riverhounds, Jersey United Spartans, ABGC FC Virginia and Cincinnati United each take a victory going into weekend play.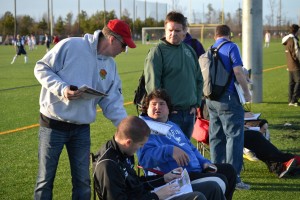 Finally, there were just a handful of matches today at the U-15 age group, with just one coming in the Championship tournament as FC Virginia beat FC Copa Academy Celeste by a convincing 3-0 scoreline.
Elsewhere, Vienna YS lost 3-2 to Buffalo SA Crusaders in the Superior bracket, Charlotte United beat PDA Blues 2-1 in the Platinum category and Chesapeake United Xplosion Elite took a convincing 4-0 win over Ohio Elite Academy in the only Classic match of the day.
With more age groups coming into play tomorrow, and with competition continuing in the older groups, tomorrow's action in the Jefferson Cup promises to be just as intense as teams battle for supremacy.