Jefferson Cup Club Feature: Penn Fusion Soccer Academy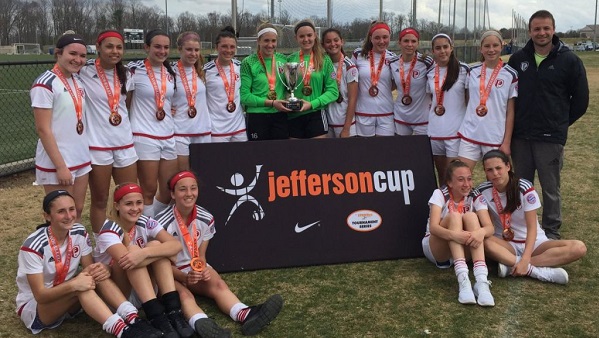 The Jefferson Cup is highlighting some of the top clubs that attend the tournament on an annual basis with a Club Feature Series. In the first edition, learn more about Mid-Atlantic powerhouse Penn Fusion Soccer Academy. 
(Via Jefferson Cup) – Over the past ten years, Penn Fusion Soccer Academy has grown into one of the top clubs on the East Coast by focusing on academics and giving their players a chance at college and at life they have become one of the pre-eminent academies for boys and girls soccer in the United States.
In 2017, the club placed over 50 players into Division I and Division II programs across the United States. On the boy's side some of their most notable alumni include Philadelphia Union and United States Men's National Team defender Keegan Rosenberry, Rochester Rhinos goalkeeper Kyle Morton, Werder Bremen midfielder Isaiah Young, and Princeton freshman defender and Ivy League Honor Roll student Frankie DeRosa. The girl's side also features an array of talented and highly educated players including Orlando City SC midfielder/forward Rachel Hill, Penn State players and Big Ten Distinguished Scholars Marissa Sheva, Haleigh Echard, and Charlotte Williams.
For a club that puts a premium on creating challenges and giving them every opportunity to succeed at the college game, the Jefferson Cup is a natural fit for their goals and aspirations.
"I moved to the East Coast in 2006 and it [the Jefferson Cup] was always promoted to me as the standard," said Penn Fusion General Manager and Boys Director of Coaching Mark Thomas. Thomas has been with the club since its inception and currently holds a USSF "A" License. "This is the event that you book for your club to compete in on the East Coast to really see where you are. For us, we have gone down and played teams like CASL and Bethesda SC. Sometimes you get some West Coast teams, Michigan, the Great Lakes region."
Thomas emphaszied the strength in geographic reach for the competition at the Jeff Cup across all age groups.
"It's good to see that your club in the younger ages can compete against different styles of play across the country," he said. "You don't necessarily get that at a lot of the East Coast events. At the older age groups, at the showcase age groups there are several events up and down the country that get great college coaches. But the Jefferson Cup I think for the several years has been the standard for getting large amounts of coaches."
Penn Fusion Academy was founded back in 2009 with the idea of creating a more consistent program for youth soccer in the borough of West Chester, Pennsylvania and the greater Philadelphia region. While competition is certainly an important part of their work, getting players the chance to play and attend college is their key objective.
"Really the main focus of the program is collegiate player placement," said Thomas. "That is our big sell to the parents and the players and we have been very been very successful at doing that on the East Coast."
So, how is that Penn Fusion are able to consistently pull out quality student-athletes for both their club and colleges down the road?
For Thomas, it is the right mix of quality academics and coaching.
"We stress academics," said Thomas. "We are in Westchester, and in the suburbs of Philadelphia where we have a couple of great school districts in the area that help us with that task. But I think when college coaches observe Penn Fusion players they know the academically nine times out of ten they are going to fit the bill for them. They are going to get players that are dedicated, focused, and will be in the program year-round and usually play the right way and by that I mean we have a consistent style of play and a process that we push on all of our coaches. So year-to-year if a college has recruited a left-back there should be similar characteristics and traits from year to the next which makes it easy for college coaches."
Thomas also credits the Penn Fusion staff for their success, both on and off of the field.
"We are very fortunate to have six full-time staff members, which is quite unique, and we have around 35 independent contractors. In the early stages the turnover of those coaches was quite a lot but I think we have done really well in creating some consistency with our people. While yes we want qualified people in terms of their licensing but what we are looking is if they are good people, if they are loyal, can they deal with parents and kids. I think our staff is probably the strongest that we have had in ten years, top to bottom, across all levels. In some levels we have four teams in an age group. So we are in a very fortunate state right now. "
That mix of academics and quality coaching has not gone unnoticed abroad. The club is currently an affiliate partner with FC Bayern/Global Premier Soccer. FC Bayern/Global Premier Soccer is a partnership arrangement between Bayern Munich and Global Premier Soccer (GPS) that helps local clubs in their pursuit and recruit local players. The top 20-40 players for both the boys and girls sides will get a chance to attend the National Residential Camps and players who show a high enough quality will be invited to train with FC Bayern Munich's Junior Team Academy. Penn Fusion players have gone on to play with FC Bayern USA at the MIC Cup as well as Northern Ireland's Super Cup.
"[The partnership] means different things," said Thomas. "From a club-wide basis we get to wear the uniforms and use their brand. We get to have some of their curriculum, which is shared with us on a monthly basis and we have a six to twelve month curriculum. Myself and other staff members are on a conference call once a month with Sebastian Dremmler [head coach of Bayern Munich's youth teams]. He dials in from Munich and talks about the latest in program development and what they have going on."
At the 2017 Jefferson Cup, four Penn Fusion teams finished at the top of their divisions, and four others earned second place slots. Look out for another strong showing for the club in 2018.
2017 Jefferson Cup – Penn Fusion Champions and Finalists
U-12 Boys Championship 9v9 Division
Finalists: Penn Fusion SA Elite 05
U-13 Girls Elite Orange Division
Finalists: Penn Fusion SA Pre-ECNL 04
U-15 Girls Championship Division
Champions: Penn Fusion ECNL 02
U-16 Boys Premier Division
Champions: Penn Fusion SA Predators 01
U-16 Girls Championship Division
Runner-up: Penn Fusion ECNL 01
U-16 Girls Classic Black Division
Champions: Penn Fusion NPL 02
U-17 Girls Classic Division
Runner-up: Penn Fusion NPL 00
U-19 Boys Championship Division
Co-Champions: Penn Fusion Elite 98