Jefferson Cup: Cleveland (FC) rocks
RICHMOND, Va. — Cleveland is known for its hallowed place in the history of rock and roll, but something else from the lakeside metropolis rolled into the Under-17 girls Elite division of this year's Jefferson Cup: Cleveland FC.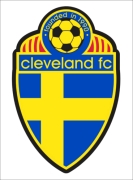 With a crest inspired by the Swedish national team's crest, as well as eight NCAA Division I commits, they arrived at the Jeff Cup to get their legs fresh after their players' high school season finished.
Coach Benard Dargle made his annual trek to Richmond after semifinal runs at US Youth Soccer's Region II Midwest Championship and the Disney Soccer Showcase  last year, results which helped push his team into Ohio's No. 1 spot in some rankings.
Dargle has made that trip across the Appalachians for the past 20 years with this very club, all the way back when it was Cleveland United 15 years ago.
He remembers the earlier tournaments taking place on just a few high school fields and Striker Park.
"We didn't have River City, we didn't have West Creek. The fields have always been good here, though," said Dargle.
With players coming from all over northeastern Ohio, Cleveland FC sits in a rich area of talent. Perhaps too rich — according to Dargle, there are about 30 premier clubs in the area, stretching the talent pool out as much as it can go.
"Sometimes we don't get [good players] until it's too late, and then they've already been wasting away for two to three years when they used to be competitive," said Dargle.
[ +Visit Cleveland FC's website to learn more about the northern Ohio club ]
There was just one problem in Richmond: They could not score a goal in their first two days of competition. CFC's 96/97 squad were shut out in their Friday and Saturday matches by Empire Revolution States Academy 96/97 and PWSI Courage '96 Red.
But they rebounded in dramatic fashion with a 7-1 thumping of Bayside Bolts 96/97 on Sunday, giving Dargle and his players a welcome breakthrough to savor as they made the journey home to the shores of Lake Erie.