Jefferson Cup 2019 Boys Showcase Weekend: Day 3 Recap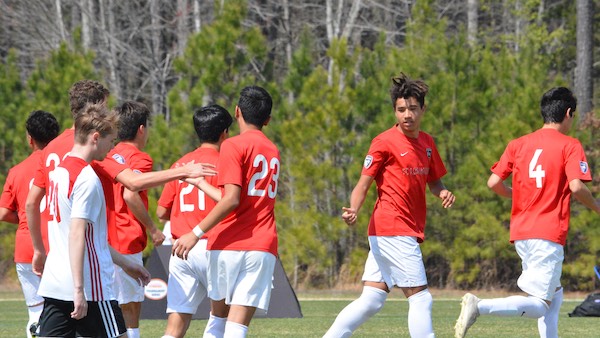 Follow the Jefferson Cup
Twitter | Instagram | Facebook
Schedule | Website | College Coaches
The 2019 Jefferson Cup Boys Showcase Weekend concluded on Sunday, as division championships were decided across the U16-U19 age groups.
Continue reading for a rundown of how the Championship Divisions played out on the final day of competition, along with a full listing of division champions.
U-16 Championship Division
Sometimes all a team needs is a draw to get over the top. That certainly was the case for HMMS Eagle FC 2003 (2-0-1, 24 points), who finished first in the Championship Division after tying Mandeville Elite Lakers 03 (1-1-1, 15 points) 2-2. With their two goals, HMMS finish with the most goals in the Championship Division with seven. As for Mandeville, they finish the showcase on a high note, having earned points in each of their last two matches. They defeated Triangle United SA 03 Gold 4-0 on Saturday.
Syracuse Development Academy 2003 ended their 2019 Jefferson Cup on a high note, coming back from a goal down to earn the 2-1 win over GPS Massachusetts Elite Red 03 Boys at West Creek Park.
Sunday's match didn't start on the highest of notes for Syracuse. After losing 3-0 against BRYC Elite Academy ECNL U-16, the side were hoping for a bit of a spark early. But GPS kept the Syracuse attack at bey. Defenders Peter Martel and Michael Riordan tracked Syracuse's Cameron Stuart very closely, giving him little room to operate. Their best chance at goal came in the 31st minute on a free kick that went under the GPS wall, but was picked up by goalkeeper Nikola Antic.
Before they could settled into the match, GPS struck first, getting a goal in just the fifth minute, and eventually took a 1-0 lead into halftime. The second half was a different story for Syracuse. Midfielder Caden Stafford began to link up with Stuart more frequently, creating scoring opportunities. In the 54th minute, SDA broke through when Stafford found Stuart with space. He made the most of his chance, knocking home the first goal of the match.
After going down a goal, GPS went searching for an equalizer. In the 55th minute, winger Jonathan Klein made a trap off of a free kick just right outside of the Syracuse box. His shot was hit with a bit of pace and was on target, but was denied by goalkeeper Eric Jewson.
Jewson and the Syracuse defense held strong the rest of the way, holding off a hungry GPS attack. The Syracuse offense broke through again for the game-winner, when winger Philip Phillips and Dale Lepper linked up to give Syracuse their second goal of the match.
For Syracuse head coach Shannon Colton, it was the adjustments made at halftime that made the difference. "We were playing a 4-3-3 in the first half and went to a 4-4-2 and played a diamond in the middle instead of having the outside middies," said Colton. "We really wanted to try to win the midfield and to try to take over the game. "
For Colton, having the chance to play against top level competition in the Jefferson Cup will only help the side with their league aspirations.
"It was a great match for us," said Colton. "To come down here and play three games was awesome for us. To play a club of the quality of GPS Red is great for our side. They are a phenomenal team. So for us to come down here and to go down a goal and to have the heart and come back and win it is awesome for the kids."
Impressive comeback victory for @SyracuseDA U-16s to close out play in the Championship Division!

? Hear from SDA Coach Shannon Colton on the win. #JeffCup19 pic.twitter.com/QxKuNeai7k

— Jefferson Cup (@jeffersoncup) March 31, 2019
U-17 Championship Division
Delaware FC 02 Boys (3-0-0, 26 points) not only end the weekend unbeaten, they also end it at the top of the U17 Championship Division. On Sunday they defeated North Carolina FC 02 ECNL to claim top honors. What made Delaware stand out over the weekend was their defense. They allowed just one goal and had two clean sheets in three matches, which was the lowest among all Championship Division sides.
A little Celtic pride can go a long way. After a tough 4-2 loss on Saturday to West Ottawa SS Warriors 2002, Baltimore Celtic 2002 went to work on Sunday, grinding out a 2-1 win over Manhattan SC Titans.
Celtic wasted little time getting on the scoreboard at West Creek Park. In just the third minute, forward Spencer Hanks zigged and zagged around the Manhattan defense, eventually working his way into the Titans penalty area. His low shot was just beyond the reach of goalkeeper Jaiden Pean, giving his side the 1-0 advantage.
Before Manhattan could organize an attack, Celtic struck again. Hanks made a touchline run down the right flank, eventually whipping a pass into the box for midfielder Liam Nesbitt. Nesbitt forced Pean to make the save, but midfielder Alex Grasso was also there, scooping up the rebound and slotting home the second goal.
"It's a long weekend so getting two goals was important because at least it gave us some inspiration to increase our intensity," said Celtic head coach Dave Nesbitt after the match.
After going down two goals, Manhattan played with a sense of urgency and nearly halved their deficit on multiple opportunities. Their best chance came in the 21st minute when defender Derek Martinez hit a cracking shot from distance that forced goalkeeper Caeden Fong to parry the chance over the bar. Although Manhattan had some chances from distance, they were halted from taking close shots thanks in part to some excellent box outs and clears by defenders Cameron Clairmont, Ben Kropp and Hunter Goldberg.
In the second half, Manhattan continued to increase the pressure on the Celtic backline and substitute goalkeeper Matthew Kopsidas. They finally found the breakthrough in the 61st minute after midfielder Eric Affin finished off a pass from Harry Sankey. Affin had been working on the Celtic defense for the previous 10-15 minutes, focusing on their rlght side.
Affin's goal set up a frenetic final few minutes with Manhattan desperately searching for a final goal. They thought they found it in the 73rd minute after forward Marvin Koceku's shot went into the back of the net. However, their hopes were dashed after the goal was called back on an offsides call. Just before the final whistle Koceku had another chance at goal and hit a low shot on target. But Kopsidas made the kick save and defender Jackson Dixon cleared it away to safety.
U-18 Championship Division
Lake Grove Newfield SC United 2001 finished off their Championship Division run in fine form, holding off Clay County SC 01 USA Range 1-0 to finish in first. Lake Grove, who play in USYSA's National League, allowed just one goal in three matches over the weekend, which was the lowest among all sides in the U-18 Championship Division. They also scored seven goals which was tied for fourth most in the Division.
Set pieces proved to be critical in Sunday morning's Jefferson Cup finale for both LA Breakers Elite and Wall Elite Cosmos. Despite going down early, the Breakers used their set pieces wisely, coming back to earn the 4-3 win.
As the scoreline indicates, Sunday's encounter in the Championship Division was anything but a defensive struggle. Both sides came out of the gates swinging using their speed on the outside to force their respective defenses to catch up. Wall midfielder/forward Mickenna Church struck first, breaking past the Breakers defense to give his side the lead in the third minute.
Although the Breakers were down early, they were not out. Led by midfielder Yahir Garcia the Breakers midfield began pressing the Wall defense forcing them at times out of position and having to make professional tackles to perturb goal-scoring opportunities. The problem with that is that the Breakers proved to be very adept at scoring on set pieces. They broke through in the 10th minute after defender Curtis Collazos' free kick was batted down by Wall goalkeeper Joe Weinstein. Garcia was there for the rebound and buried his chance into the back of the net.
The Breakers weren't done yet. Just nine minutes later, Collazos had a goal of his own with his free kick going over the Wall line and into the back of the net. LA extended their lead in the 31st minute when a corner kick taken by Luke Varav was finished by Javier Ramos Garcia. A penalty kick opportunity for the Breakers was saved by Weinstein in the 40th minute. But Pierrick Gould was there for the rebound and made the score 4-1 just before halftime.
In the second half, the wind and the attacking chances seemed to favor Wall who picked away at the Breakers lead. In the 64th minute, forward Chase Sempervive cut the deficit to one, hitting a low shot past goalkeeper Ricardo Cabrera. Their deficit went to one just six minutes later when defender Joseph Schlageter hit a rocket from distance that went into the upper right corner of the net.
Holding on to their slender lead, the Breakers closed out the match by maintaining possession and pushing into the attack whenever possible. Collazos, Pablo Greenlee and Carson Rodriguez retained ball possession rather than making clears and worked to bail one another out when facing pressure. Midfield Samuel Twigg worked to link his defenders with Garcia and Carson Nguyen up top, and although the Breakers weren't successful in getting an insurance goal, they were successful in chewing up clock time.
"It was really a tale of two halves," said Breakers head coach Mike Erush on his side having to adjust to a different style in the second half."Wall is a really good team and it was a 4-1 game and they made it a real battle. Their coach said that he wanted a war and it became a war. I'm proud of my boys for going down a goal and coming back with four."
The @labreakersfc U-18s finish unbeaten in the top bracket after a 4-3 win this a.m. over a strong Wall SC side!

Congrats to Coach Mike Erush and the Breakers! ? #JeffCup19 pic.twitter.com/jeFay5PyYG

— Jefferson Cup (@jeffersoncup) March 31, 2019
U-19 Championship Division
In their final Jefferson Cup, the Richmond Strikers 00/01 Elite are going out as champions. On Sunday, the tournament hosts ended their showcase on a high note, defeating previously unbeaten North Carolina FC 00/01 ECNL 4-0. They end the tournament with 10 goals scored, the most among all sides in the U-19 Championship Division. On the defensive end, they only conceded two goals, which was the lowest among all Championship Division teams.
The Strikers finish their Jeff Cup careers as back-to-back top bracket champions. During Sunday's final match against NCFC, Jin Kim set up Cole Wolford for the first goal of the game. Austin King linked up with Josh Kirkland who tapped in the second goal. Nick Cavallo converted a penalty kick to make it 3-0, and Luke Lowry finished the scoring, as the Strikers showcased their balanced offense with four different goal scorers.
Jefferson Cup Boys Showcase Division Champions
U-16
Championship Division | HMMS Eagle FC 2003
Elite Division | Carolina Elite SA 03B ECNL
Superior Orange Division | Maryland United FC 2003 ECNL
Superior Black Division | Bethesda SC Blue 03
Platinum Orange Division | ACYS 2003 Elite Showcase (FC Elite)
Platinum Black Division | GPS Carolina NASA 2003 Maroon
Classic Division | Americas United Manchester
Premier Division | STA-MUSC 2003B EDP
U-17
Championship Division | Delaware FC 02 Boys
Elite Orange Division | PSA National '02
Elite Black Division | North Carolina FC 02 Elite
Superior Orange Division | Bethesda SC Blue 02
Superior Black Division | Continental FC ECNL '02
Platinum Orange Division | FC Europa '02 Elite
Platinum Black Division | Triangle United SA 02 Wake
Premier Division | Rams FC Arsenal
Classic Division | Quickstrike FC '02 NPL
U-18
Championship Division | Lake Grove Newfield SC United 2001
Elite Division | STA-MUSC 2001B NPL
Superior Division | Westchester Flames 01
Platinum Division | SCS United Black
Classic Division | Penn FC Youth 2001 Freedom
Premier Division | Arsenal Maximus Gunners
U-19
Championship Division | Richmond Strikers 00/01 Elite
Elite Division | World Class FC 00/01 ECNL
Superior Division | Darlington U19 Boys
Platinum Division | Pittsburgh Riverhounds ECNL
Classic Division | Virginia Rush 00