Jefferson Cup 2019 Boys Showcase Weekend: Day 2 Recap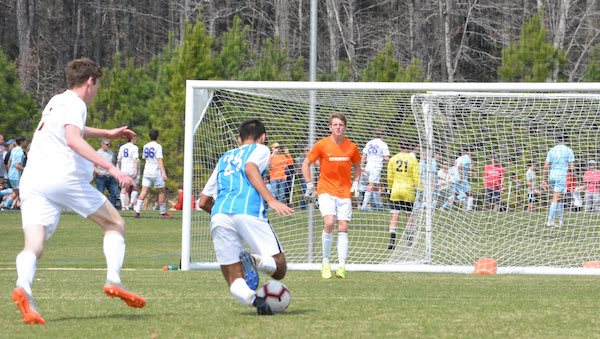 Follow the Jefferson Cup
Twitter | Instagram | Facebook
Schedule | Website | College Coaches
Boys Championship Division Previews:
U-16 | U-17 | U-18 | U-19
The 2019 Jefferson Cup Boys Showcase Weekend continued Saturday, with 352 teams across the U16-U19 age groups battling for position at the top of their division tables.
Continue reading for a rundown of how the Championship Divisions played out on the second day of competition.
U-16 Championship Division
HMMS Eagle FC 2003 (2-0-0, 19 points) are at the top of the Championship Division after two days of action in Virginia. They defeated Triangle United TUSA 03 Gold 3-0 to remain unbeaten at this year's Jefferson Cup. They are also one of just three sides (GPS MA Elite Red 03 Boys and Lake Grove Newfield S.C. DY) to not allow a goal in the Championship Division.
Coming in right behind HMMS in second is Virginia Development Academy (2-0-0, 17 points), who held off United Mount Pleasant USA/M 3-1. That result, coupled with their 2-1 win over Boston Botls 2003 Central E on Friday, has them narrowly ahead of STA-MUSC2003B NPL (1-0-1, 13 points). STA-MUSC and VDA will face one another at 1pm on Sunday while HMMS faces Mandeville Lakers Elite 03.
U-17 Championship Division
Showcase matches are meant to show the best of each player and each side that participates. On day two of the Jefferson Cup, Delaware FC 02 (2-0-0, 18 points) and NJ Stallions Academy 02 Juventus (1-1-0, 8 points) putting on a classic that went 1-0 in Delaware's favor.
This isn't the first time that these two sides have met. Just one week prior it was the Stallions who had gotten the best of their fellow Mid-Atlantic side besting them 1-0 at the Disney Showcase. Both sides seemed geared up for a close match, playing very conservative early on.
Delaware forward Oryem Kilama had the best chance in the first half, breaking free of the Stallions tight marking in the 31st minute. However before he could get a shot off, defenders Matthew Pillari and Christian DiChiaro each made diagonal runs and forced him to go wide, and knock the ball out of bounds.
Just before halftime, Delaware nearly had the game's first goal, after midfielder Luke Nall hit a high-curling free kick into the box. But goalkeeper Billy Schutze was up for the challenge, grabbing the cross from the air before Delaware's attacker on the far post could knock it in. Schutze was tested multiple times in the first half off set pieces, but the junior showed he was up for the task, making multiple stops to keep the score level.
After being quiet for most of the first half, the Stallions attack came alive early in the second. Midfielder/forward Damian Zurawski and Nicholas Zielonka used overlapping runs in Delaware's defensive third to force them out of position. It nearly paid off in the 45th minute when Zielonka laid off a pass for Zurawski. The junior's shot was low and took a bounce but inevitably ended up in the hands of goalkeeper Alex Dolce.
Delaware didn't have many chances on goal in the second half but they did make the most out of their opportunities. In the 60th minute, defender Nicolas Balbierer found forward Hindovei Tucker on the counter-attack with ample space. Tucker raced toward goal and hit a low shot toward the far corner and into the back of the net.
Down a goal with time running out, the Stallions began to press and used their size on set pieces to their advantage. Zielonka hammered a header off a corner in the 61st minute that appeared destined for the back of the net. But center-back Ndeh Tima made the goal-line clearance, heading the shot out of danger. Tima was critical for Delaware late in the match, finding teammates Cody Niggebrugge and Alex Romero on multiple occasions to hold on to possession and force the Stallions to chase.
New Jersey had one final opportunity to equalize late when they drew a foul inside Delaware's penalty area. While Zielonka's shot was placed perfectly towards the corner of the goal, Dolce guessed right and made the diving save to put the 1-0 result on ice.
? @DelawareFC GK Alex Dolce with a huge PK save!

DFC holds on for the 1-0 clean sheet win; 0 goals allowed in their 2 wins so far in U-17 Championship Division play! #JeffCup19 pic.twitter.com/evHxVp2Swq

— Jefferson Cup (@jeffersoncup) March 30, 2019
With the win Delaware keep their hopes of finishing top of the Championship Division alive. They are just narrowly behind CES Strikers Blue (2-0-0, 18 points) and Manhattan SC Titans (2-0-0, 18 points) with a match to play. CES edged Richmond United U17 USDA 2-1 on Saturday while Manhattan defeated West-Mont United SA Premier Blue 3-1 to hold on to second.
U-18 Championship Division
Lake Grove Newfield S.C. United (2-0-0, 18 points) are at the top the of Championship Division after two days of action. On Saturday, they defeated OBGC Rangers Blue 2-1 to keep their undefeated record alive. Following close behind them are Wall Elite Cosmos who put four past Delaware FC 01 Boys in their 4-1 win. They have scored six goals through two days of action, tying them with Lake Grove for the most goals in the Championship Division.
Lake Grove will face Clay County SC 01 USA Rangers Red (8am, West Creek Field #3) while Wall Elite takes on LA Breakers Elite (8am, West Creek Field #4).
U-19 Championship Division
Richmond Strikers 00/01 Elite (2-0-0, 18 points) proved the old adage is true on Saturday afternoon: It's not how you start a match, but how you finish it. Despite going down a goal early, the Strikers found their momentum in the second half and earned the 3-1 win over Toledo Celtics SC 00 (0-1-1, 6 points).
Richmond entered the match on a high note, having defeated McLean 01/00 Boys ECNL to start Championship Division play. But it was Toledo who came out of the gates swinging, with Josh Kidder using his speed to disrupt the Strikers defense. In just the second minute, he hit a bullet of a shot from distance that just went over the bar.
Kidder continued to cause the Strikers problems early on, earning a foul inside of Richmond's penalty area in the 13th minute. On the ensuing penalty, he hammered home his chance, giving the side from Ohio the 1-0 lead.
Even with the goal advantage, Toledo pushed for more. Midfielder Spencer Straka moved his side North and South against the Strikers defense, linking up with Abdi Faqi and Isaac Mendez to create scoring chances. They nearly got a second in the 28th minute, when Faqi hit a free kick into the box that was just inches ahead of Kidder at the far post.
In the second half, the Strikers attack came alive and gave their defense a much-needed respite. Richmond's midfield found their passing rhythm with Luke Lowry and John Flood stringing together several long possessions in the first 20 minutes. Midway through the period, Lowry fed Flood, who found Josh Kirkland. Kirkland then made a pass out to Taha Asir, who hit a low shot into the back of the net, making it 1-1. 
Richmond added a second in the 71st minute with midfielder Austin King making an overlapping run with defender Benjamin Earle. Earle's pass was right in front of goal, a golden chance that King smashed into the back of the net. He added a second minutes later, scoring an Olimpico off a corner kick to give his side the 3-1 lead and the win.
@jeffersoncup @RStrikersClub u19 Boys Game #2 3-1 win over Toledo on Saturday. 2 Goals & 1 assist by @austin_king_18 ; a goal by @asir_taha & Assist by Cole Wolford. Final match vs NcFC at 1pm on Sunday. pic.twitter.com/em0TJSOgYx

— Eric Kirkland (@ek49er) March 31, 2019
After two matches, Richmond find themselves at the top of the Championship Division. Sitting in second are North Carolina FC 00/01 ECNL (2-0-0, 18 points). The two sides will meet Sunday at 1pm at West Creek Field #4.
McLean 00/01 ECNL kept their own Championship Division aspirations alive on Saturday, coming back in the second half to earn the 3-2 win over previously unbeaten Washington United Arsenal.
The match itself had many twists and turns, with their respective attacks taking control for extended periods of time. McLean were up first with Jack Stenzel hitting a shot from distance in the fifth minute that forced goalkeeper Kevin Muhic to make an emergency parry over the bar. Washington wouldn't be as fortunate in the ninth minute, as Stenzel found Maverick McGann for the first goal of the match.
While some sides might not be up for matching an attacking side like McLean, goal-for-goal Washington were up for the challenge. Midfielders Sean McLoughlin and Chad Yates worked in tandem to feed goal-scoring opportunities to forward Uche Wochocha. After a series of chances were denied by goalkeeper John Robertson, they found their breakthrough in the 31st minute. McLoughlin hit a pass with the inside of his root foot to Wochocha. Wochocha then proceeded to rip a shot towards the upper right corner of the goal, putting his side level just before halftime.
In the second half, the two sides traded attacking chances, just narrowly missing out on taking the lead. Washington's best chance came in the 49th minute on a free kick when midfielder/forward Gabe Francesconi's shot just went slightly over the bar. McLean substitute nearly gave his side the go-ahead goal just six minutes later, with a run past the Washington defense and a shot that goalkeeper Devin Pirro had to make a diving save on.
But after a series of close calls, the floodgates did open. Washington took the lead after Justin Rufino broke through McLean's defense and knocked it at the far right post. But winger Kristofer Schulte scored two unanswered goals in the 63rd and the 72nd minute, to put his side ahead. Although Washington did have a couple of chances late, the McLean defense held their ground, making several key clears to get the win.
With the win, McLean moves into fourth place just a point behind Delaware FC 00 Boys (1-1-0, 11 points). They will close out the Jefferson Cup on Sunday against STA-MUSC 200B NPL (11:20 AM West Creek Field #4). As for Washington, they will aim to end the Showcase on a high note as they face Delaware (11:20AM West Creek Field #4).