Illinois State women's soccer adds Rhianna Krutz to staff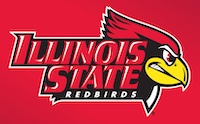 (Via Illinois State University) – A familiar face is returning to the Illinois State soccer staff, as head coach Brad Silvey has announced the hiring of former Redbird soccer player Rhianna Krutz as the team's newest assistant coach on Monday.
"I am honestly ecstatic to have Rhi returning to the Redbird Soccer family as an assistant coach," said Silvey. "She has all the necessary tools to be an exceptional coach. The experience she has accumulated as a former student-athlete, leadership group member, director of operations and assistant coach all at the Division I level will position her perfectly to immediately excel. Rhi is a champion and I have no doubt she will consistently bring a championship approach to our program. I thoroughly enjoyed my time with Rhi while working with her as a student-athlete and now look forward to working with her on my staff."
Krutz comes to Normal after having spent the 2018 season as an assistant coach with the Valparaiso women's soccer program and as the director of operations for the women's soccer team at Dayton during the 2017 season. At Illinois State, she will primarily work with the forward line and team defending, as well as play a significant role within recruitment and many other areas of the program.
A five-year member of the Redbird soccer program (2012-16), Krutz helped Illinois State win three Missouri Valley Conference regular season and four tournament championships during her collegiate career. As a defender, Krutz tallied five assists and scored one goal in her 2013 redshirt freshman season that saw the 'Birds collect MVC regular season and tournament trophies, as well as advance to the second round of the NCAA tournament.
"I am extremely honored and humbled by the opportunity to be a part of the program and staff at Illinois State," said Krutz. "This opportunity is a dream come true and I'm excited to get started! Illinois State has always been a second home and I'm glad to be back."
Krutz graduated in 2016 from Illinois State with a bachelor's degree in therapeutic recreation. A native of Des Plaines, Illinois, Krutz attended Maine West High School and played club soccer for Sockers FC.
For all latest on Illinois State soccer, stay tuned at GoRedbirds.com and follow the team at @Redbird_Soccer (Twitter, Facebook).