id2 training camp in California forms foundation for current id2 age groups cycle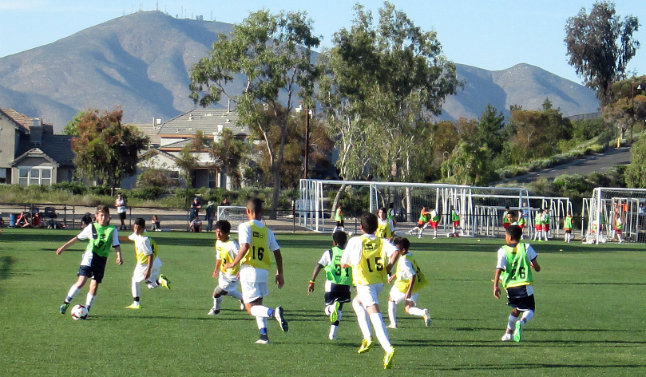 CHARLESTON, S.C. (Via US Club Soccer)– A total of 106 players from 66 clubs across the country participated in the id² Training Camp held at the Olympic Training Center in Chula Vista, Calif., March 26-29. This was the first id2 Training Camp of the cycle, targeting boys born in 2002 and girls born in 2001.
Players were tested physically with high-energy training sessions and games, and they were also challenged mentally with off-the-field presentations discussing developmental and tactical strategies.
id2 Program Directors Gerry McKeown (boys) and Rory Dames (girls) facilitated the player selections and curriculum for the id2 Training Camp.
Staff coaches leading the camp were a mix of some of the best minds in the country. Coaches for the boys side were: Matt Bernard (Placer United SC), Rene Miramontes (San Diego State University), Ian Mork (NorCal Premier Soccer) and Benjamin Ziemer (NorCal Premier Soccer). Leading the girls were: Erik Bushey (Colorado Rush), Jay Howell (Richmond Strikers), Bob Jenkins (Richmond Strikers), Hideki Nakada (Stanford University), Bobby Puppione (Cincinnati United) and Paula Wilkins (University of Wisconsin).
"It's not about getting knocked down," Jenkins told the boys in closing remarks Sunday. "It's how you get back up, because you will get knocked down."
Wilkins expressed similar sentiments, telling the girls: "No matter what your journey and experiences are, it's about the journey. Enjoy your journey.
U.S. Soccer development coach Tricia Taliaferro worked closely with the girls coaching staff during drills and matches. The former id2 Girls Program associate director also gave a presentation Saturday afternoon about what U.S. Soccer scouts look for in potential youth national team selections.
Taliaferro stressed the importance of being honest with yourself, but not overly hard. "Would you be friends with a person who talks to you the way you talk to yourself?" Taliaferro asked. "Always remember that you're not a finished product."
U.S. Soccer scout and UC Irvine women's soccer head coach Scott Juniper attended a training session to complement Taliaferro's presence. On a neighboring field, U.S. Soccer's technical advisor in the Southwest, Todd Saldana, kept a close eye on the boys.
Players received evaluations from their id2 coaches and left camp with tools for personal success and a vision of the potential future for them on the field.
US Club Soccer's id2 Program provides an opportunity for the country's elite youth players to be identified and developed, and scouted for inclusion in U.S. Soccer's national team programs. Player invitations to id2 Training Camps are based on objective scouting and recommendations from id2 directors and a network of scouts throughout the country.
There is no cost to players to be identified for or participate in the id2 Program, an Olympic Development Program open to all players regardless of U.S. Soccer affiliation. For id2 Training Camps, all lodging, meals and training gear are provided at no cost by US Club Soccer and Nike.
The next camp of the current cycle will be held April 13-16 at the WRAL Soccer Center in Raleigh. N.C. Top performers from all four camps, including two in the fall – dates and locations to be announced soon – will be invited to id2 National Selection programming in 2016.
The national selection programming element of the previous cycle for boys born in 2001 wrapped up earlier this month after a 10-day trip through Argentina. The 2015 Nike National Training Camp powered by ECNL and id2 will be held this summer, targeting girls born in 2000.