Dr Pepper Dallas Cup XXXVI: Recaps of Day 1 and Day 2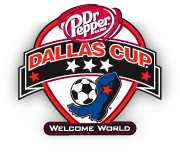 Select highlights from the first two days of Dr Pepper Dallas Cup XXXVI…
Sunday, March 29
Under 13
Bracket B
A 10-man FC Dallas 02B Central Premier could not overcome a red-card ejection, and lost to Angeles Soccer Elite.  Josue Rodriguez scored the gamewinner five minutes into the second half for the lone goal of the game.
Bracket C
Club Mana from Mexico came away with a tie in their game with North Texas' Liverpool FC America 02 Boys Rush. The equalizer was an unfortunate own goal by a Liverpool player late in the first half.
Under 14
Bracket A
Tigres UANL beat TSF Academy of New Jersey in U-14 Bracket A action. Manuel Rodriguez scored two first-half goals to give Tigres the victory in their opening game.
Houstonians FC scored three goals in six minutes, bookended by Kevin Gonzalez's brace, to defeat Academia Venezolanan de Futbol 3-0. Academina Venezolana had a player sent off shortly before the scoring started.
Bracket C
FC Dallas Youth 01 defeated Ravens Wood School from England 1-0. Joshua Stone scored the game winner with only seven minutes left in the game to give his team the full three points.
Under 15
Bracket C
FC Dallas Academy came from behind to defeat Maebashi FC from Japan 2-1.  Maebashi's Uchijima Ryuya found the back of the net in the 11th minute to open the scoring. But FC Dallas Academy tied the score on Brayan Padilla's goal in the 62nd minute.  Jesus Ferreira, son of former FC Dallas star David Ferreira, secured the three points for his team with the game winning goal in extratime.
Bracket D
Two goals, a minute apart, were the difference in Solar Chelsea's Academy 2-1 win over FC Hertha Berlin. Allen Hernandez scored the tying goal in the 57th minute and Trent Dreyer got the game-winning goal in the 58th.
Bracket H
Eddie Sanchez scored the game-winning goal INthe final minute of the game to give his FC Dallas East team a 1-0 victory ove Angeles Soccer Elite from Mexico.
Under 16 adidas Young Champions
Bracket A
At MoneyGram Soccer Park, UNAM Pumas of Mexico secured three points in their opening Bracket A game against Houston Express Navy. Pumas scored a goal in each half to take a 2-0 lead.  A 77th-minute consolation goal by Express player Samuel Adeniron was not enough, and the game ended 2-1 in favor of Pumas.  In other Bracket A news, Chicago Fire Raiders Elite was able to overcome an early goal by FBSL Tuzos Pachuca, for a 2-1 victory.
Bracket B
McAllen Dynamo snuck out a 4-3 victory over New Zealand's Waitakere City FC in a goal-fest. Waitakere led 2-0 after just 13 minutes, but the Dynamo was able to storm back thanks to Erick Jimenez's hat trick.
Bracket E
Virginia's Loudoun SC Red's Dorion Dixon scored in the first minute of the game vs. Simi Valley SC Eclipse to propel his team to a 3-0 victory. Jacob Labovitz also scored twice for the victors.
Bracket F
Four different scorers propelled FC Dallas Premier to a 4-0 victory over Mexican side Dorados Inter Chih. In other Bracket F news, Crossfire Premier Pre-Academy scored on their first three shots on goal to open up a 3-0 first-half lead over SAC Real.  SAC Real got on the scoreboard in the 50th minute, but it wasn't enough as the game ended 3-1.
Under 17
Bracket C
The Dallas Texans Developmental Academy scored twice in each half to secure a 4-0 win over GSA Force FC.
Bracket E
2014 U16 Dallas Cup finalist, FC Dallas Premier, started their 2015 tournament on the right foot by securing a 1-0 win over Coerver Coaching Excellence Squad from Singapore.  Luis ZuaZua scored the game's lone goal.
Super 17s
Bracket A
Mexico's Monterrey Rayados' goal in the first minute was all the scoring they needed, as they defeated FBSL Real Tuzos of Arizona 3-0.  In other Bracket A news, Kansas side Sporting Blue Valley only needed William Boatman's goal in 1st minute of the second half, for their 3-0 victory over England's Liverpool Foundation College.
Bracket B
The two goals in two minutes that Santos Laguna scored were the difference in their 2-0 victory over Arsenal FC Twinstars Academy from Minnesota. Maebashi Ikuei defeated Aomaden FC Mercury Green in the other Bracket B game.
Bracket C
In what was the highest-scoring game of the day, Ohio Premier defeated Gallos Blancos Queretaro FC from Mexico 5-4. Premier held a 5-2 advantage until Queretaro scored two late goals to make it a one-goal game late.
Super 19
Knowsley Youth secured a 2-0 victory over Real Salt Lake Elite to start their tournament. It is the 26th consecutive Dallas Cup tournament for the club from England.
Monday, March 30
Under 13
Malabar Superstars of Trindad & Tobago used a 57th-minute goal by Tristan Robles to defeat Orlando City Purple 1-0. The victory has the Superstars currently in first place in Bracket E.
Under 14
Ravens Wood School from England and Rio Rapids SC played to a 1-1 draw on Monday.  Ravens Wood took the lead in the 38th minute by a Joe Cregeen goal, but Rio Rapids struck back a minute later on a goal from Jayson Baca.
Under 15
Maebashi FC's Sawada Takafumi scored the lone goal in the 56th minute to give his team their first win in the tournament over Staten Island United Gunners.