High-powered offense on display on Day 1 of CCL Winter Showcase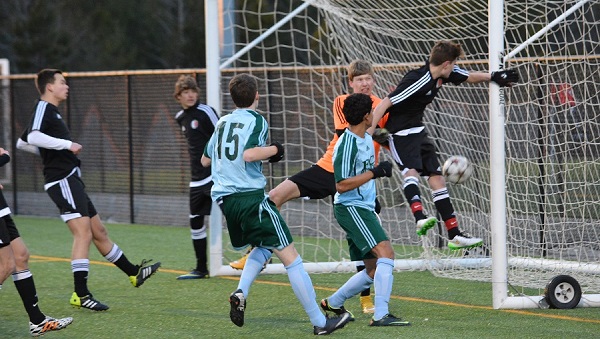 (Via CCL) – The Club Champions League Winter Showcase began on Friday evening in Richmond, Va. with two rounds of league matches kicking off the weekend event. There was no shortage of well-executed offense on display at River City SportsPlex where the U-16 to U-18 age groups competed in front of college coaches from around the Mid Atlantic region.
+Read: Over 120 teams competing in league play at CCL Winter College Showcase
A few highlights from Friday's matches at River City SportsPlex…
U-16 Girls
Virginia Legacy defeated Roanoke 3-0 behind an impressive effort by Stori Carpenter (2017 – uncommitted) and the rest of the Legacy midfield. In the highest scoring match of the day, Fredericksburg FC beat FC Richmond 5-3. Kennedy Culbreath (2017 – uncommitted) and Aubrie Jackson (2017 – uncommitted) scored second half goals to help put the game away for FFC. Lindsey Manning (2017 – uncommitted) was strong in the midfield initiating attacking chances for FC Richmond.
U-17 Girls
In girls U-17 action, Beach FC's Julia Mooney (2016 – uncommitted) scored an equalizer with less than two minutes left to earn a 2-2 draw against SOCA. In the second round of games, Roanoke edged out guest team Hampton Roads Strikers 2-1 on Field 3 in a tightly-contested match.
U-18 Girls
Lauren Davidson (2016 – uncommitted) played a strong match offensively for Beach FC in a 5-0 win over SOCA, winning balls in the attacking side and creating scoring chances for her team. Beach FC remains in close contention for first in the U-18 age group, sitting in third place only four points behind first place Fredericksburg FC.
U-16 Boys
FC Richmond defeated Fredericksburg FC 2-0 with a methodical attack throughout the match, highlighted by a corner kick scored from the corner spot by Merrick Elim (2017 – uncommitted). FC Richmond is now in sole possession of fourth place heading into Saturday's action.
U-17 Boys
Virginia Legacy improved to 8-1-1 and moved within two points of second place with a 2-0 win over Roanoke Star on Friday evening at River City. Goalkeeper Jay Fox (2015 – uncommitted) and central defender Gavin Homan (2016 – uncommitted) was instrumental as Legacy recorded the clean sheet in a team effort and improved to 8-1-1.
U-18 Boys
In a back-and-forth match with great desire from both sides, Roanoke edged Virginia Legacy 2-1, handing Legacy only its second loss of the season. After holding on to a 1-0 lead for much of the contest, Kevin Landeros (2016 – uncommitted) extended the lead to two in the second half for Roanoke. Ben Barrett and Jeff Wolons (2015 – Virginia Tech) were active in the attacking third for Legacy, and Barrett found the net less than a minute after Roanoke took the 2-0 advantage. However, Roanoke's defense held strong in the end.