Over 120 teams competing in league play at CCL Winter College Showcase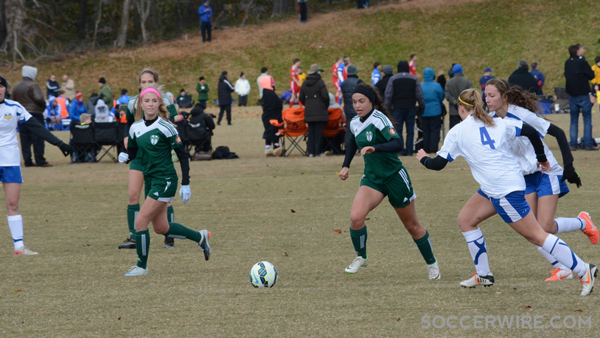 (Via CCL) – Over 120 U-15 to U-18 Club Champions League teams will compete in league play in front of some of the region's top collegiate programs this weekend in Richmond, Va. at the CCL Winter Showcase.
The first two rounds of matches kick off on Friday, Feb. 6 at 5 p.m. and 7 p.m. respectively, followed by a full slate of games on Saturday and through the afternoon on Sunday. All U-16 to U-18 games will be played on turf fields at River City SportsPlex and U-15 games will be played primarily at Stratton Park.
As the CCL showcase level age groups continue with the final leg of their 2014-15 seasons, most division races remain entirely up in the air along with the overall club standings. Entering the Winter Showcase, Beach FC leads all clubs with 290 points, followed closely by Loudoun Soccer with 283, BRYC with 267 and Arlington SA with 260.
Among the closest division races on the boys side is the U-15 age group, where Arlington (9-0-1) holds a slim two-point lead over Beach FC (8-0-2). The two sides will square off Sunday, Feb. 8 at 9:30 a.m. on River City SportsPlex Field 11 potentially with the division lead on the line.
+Read: Lee-Mount Vernon SC joins Club Champions League
In the U-16 boys division, Virginia Legacy (9-1-0) leads Loudoun (8-1-1) by two points, while SOCA (9-0-1) is ahead of Arlington (9-1-0) in the U-17 age group by just one point. On the girls side, Loudoun (9-0-1) holds a three point advantage on BRYC (8-1-1) in the U-16 division, and Fredericksburg FC (9-0-1) is up one point on BRYC (9-1-0) in the U-18 age group.
Four-time MLS Referee of the Year Paul Tamberino will work with CCL referees at the event as part of a referee mentor program. Tamberino will be accompanied by National Referee Assessors Don Torrenti, Arn Manila and Mort Sajadian.
+Read: Former MLS, U.S. Soccer, FIFA referee Paul Tamberino to mentor refs at CCL Winter Showcase
"We want to have a close relationship with our referees and want to make referee mentorship a big part of what we do," said CCL Executive Director Brian Kuk. "Bringing in Paul, Don, Arn and Mort will help provide an environment of not only player and coach development, but also referee development."
+Read: Club Champions League ScrimmageFest features 'street soccer' atmosphere for U9s, U10s
Following up on a strong turnout at the Fall Showcase back in November, many of Virginia's elite Division I college programs will be in full force again this weekend at River City SportsPlex and Stratton Park, along with a wide collection of Division II and III programs from around the Mid-Atlantic region. The CCL Hospitality Tent will once again be open for college coaches and club staff members.
The following colleges are scheduled to have coaches from both their men's and women's programs in attendance: Christopher Newport University, Eastern Mennonite University, Ferrum College, Hood College, James Madison University, Longwood University, Lynchburg College, Old Dominion University, Radford University, University of Mary Washington, Virginia Commonwealth University, Virginia Military Institute, Virginia Tech University and Virginia Wesleyan University.
Additional attending men's college programs include: College of William & Mary, George Mason University, George Washington University, Hampden Sydney and Richard Bland College with the University of Virginia potentially scouting the event as well.
More women's college programs schedule to attend include: Averett University, Bluefield College, Bridgewater College, Campbell University, Catholic University of America, Mount Saint Mary's College (MD), Randolph College and UNC – Greensboro.