Hampton University women's soccer signs 11 players for 2019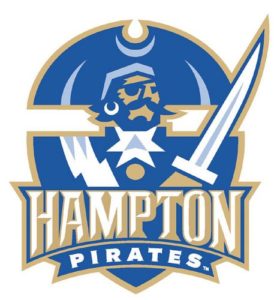 HAMPTON, Va. – Hampton University women's soccer head coach Kevin Darcy announced the addition of 11 newcomers for the 2019 season on Thursday.
"I am excited to welcome these outstanding young ladies to our program," Darcy said. "Pirate soccer is fortunate to land the level of talent, character and club savvy within this class of players which will fit in seamlessly with our returning group and elevate HU soccer as a contender in the Big South for years to come.
All 11 of the newcomers commented on the family atmosphere of not only the soccer program, but the programs at Hampton University as a whole.  "I'm not surprised by the interest in this great academic institution and am pleased that now the top club and high school talent trusts our staff, the direction of our program and shares the goal of becoming a top NCAA Division I program," Darcy said.
With only one player graduating after his first year at the helm, coach welcomes a deep class that he and his staff played a role in identifying and will now integrate into the program.
Savyon Hammond | 5-3| Midfielder | Portsmouth, VA | Portsmouth Christian HS | Richmond United
Before Hampton: Played for Richmond United ECNL as an attacking midfielder…MVP, 1st team all-conference and 2nd team all-state from 2016-18 while at Portsmouth Christian…Member of the ODP state and regional team from 2013-15 and attended national camp in 201
Chose Hampton university because "their amazing medical program and atmosphere. I'm also ready to be a part of the women's soccer program, make history and lifelong friends."
Coaches Comments: "Savyon's playmaking ability and experience gained through her year's in the ECNL National League program will serve Pirate soccer well.  Her creativity and attacking mindset will be a welcomed addition and her presence will change our program moving forward."
Tareya Stokes | 5-8| Forward | Raleigh, NC | Wakefield HS | NCFC Elite 
Before Hampton: Played for NCFC Elite serving as captain during 2015, 2016 & 2018 and leading her team to a state cup title in 2015 and a finalist in 2018…Seattle ECNL Nationals Participant in 2015 & 2018, Baton Rouge Regionals Semifinalist 2014, ECNL Chesapeake Conference champions 2014… Work Horse Award 2016, CAP 8 Conference Champion 2017, NAC 6 Conference Tournament Champion 2018, Offensive Player of the Year Award 2018 while representing Wakefield HS…
Chose Hampton University because "I fell in love with the school the minute I stepped on campus and knew it was where I wanted to go. Hampton's nursing program is one of the best and I am confident that it will prepare me for life after college. Not only that but, the initiative and perseverance of the original young women who fought to get a women's soccer program inspired me. In my heart, I feel as though Hampton is where I am supposed to be and I hope to change the culture of the program and give hope to younger girls who look like me and have similar aspirations to the ones I had.
Coaches Comments: "Adding a forward with a mix of skill, strength, size and attacking prowess will be much needed to boost our play in the offensive third and Tareya definitely brings these qualities. In addition, her experience and ability to combine with others will provide versatility to our line-up and systems of play."
Anita Pope | 5-8| Midfielder | Port Republic, MD | Calvert HS |Calvert Elite SC
Before Hampton:  Played club for Calvert Elite SC…Scored 53 goals and dished out 21 assists over the past four years as a high school player…Offensive Player of the Year 2016, Soccer Regional Championship Award 2016, SMAC Soccer Honorable Mention Season 2015 and 2016, Regional Championship Award 2015
Chose Hampton University because "I believe it's a good fit for me as an athlete and student and a great environment for me to showcase my talents on and off the field. Hampton will help mold me into the person I strive to be."
Coaches Comments: "It took one look and I was sold that Anita is a game changer that can run with serious pace, serve a good ball, likes to go at players and can impact the Division I game at any moment of a match.  As a speedy wide player, she joins a talented class of attackers and will have no problem creating for herself and others."
Mikayla Martin | 5-8| Center Back | Westerville, Oh. | Westerville North HS |Barcelona United FC
Before Hampton: ODP State team member for Ohio…Plays center-back and was third leading scorer senior year with five goals on the season…Team Captain, Junior and Senior Year, 1st Team OCC 2018, 2nd Team All District 2018, 1st Team OCC 2017, 3rd Team All District 2017, Honorable Mention OCC…District Runner Up 2018, City All-star Team member, This Week News: Super 12 honorable mention award
Chose Hampton University because "I love how relatable Hampton was when I came to visit. I connected with the soccer girls and the other recruits very easily and it just felt right and at home. I want to experience just as much as I want to get a good education and Hampton provides all of that for me."
Coaches Comments: "In addition to her playing ability as a true center back, Mikayla is a born leader that will organize and command the teams shape and players around her. Her addition to our roster will only strengthen a backline that grew up quick last year defensively but also with the buildup and playing out of the back."
Kori Beaumont | 5-7| Defender | Lexington, KY | Henry Clay HS |Lexington FC
Before Hampton: Team Captain for two years, three-year Letter winner, 2x 1st team All District, 2x 1st team All region, 2x All City team…All State team Kentucky 2018…ODP regional team 2016…Defensive player of the year 2018 and voted in coaches poll top 10 players in the state 2018 as a back or defensive midfielder.
Chose Hampton University "as the place I will spend the next 4 years of my life – because I love the nursing and soccer program as well as the campus location! Although Hampton is 8 hours from home, I think that it's the right amount of distance for me to be able to gain the full HBCU experience. Knowing that Hampton has a very good soccer program, that will allow me to continue my dreams of playing division 1 college soccer."
Coaches Comments: "Kori is a versatile player capable of playing center back, on the outside or in midfield. Her commitment to the game is unmatched and I expect that she will step in and challenge for a spot in our line-up."

Nyle Nwainokpor | 5-6| Forward | Raleigh, NC | Grace Christian HS |NCFC Elite
Before Hampton: All-Conference, four-time All-State selection from 2014 to 2018…Conference Champions 2016 and Best Offensive Player, MVP 2017…West Ham United EPL Recruit…team captain 2016-17, Leading scorer 2016-2017 with over 70 goals & 30 assists
Chose Hampton University "as I felt like I was a part of the HU family the first time I stepped on campus. I was warmly welcomed by everyone I was introduced to and was considered a priority throughout my entire decision-making process, from the admissions team to my coaches and future teammates. Having gone to a private school for eleven years, I have grown to appreciate my education and the personal connections I am able to make in the classroom. I find those same qualities at Hampton. As a private HBCU, Hampton provides a quality learning experience all while molding lifelong connections, and that is something I look forward to taking part in as a pirate! "
Coaches Comments: "It was evident that she has a passion to score goals and to compete each time I saw her play. Can play as a target, get in behind defenses and combine with others and most definitely challenge our player pool to crack the lineup from the start."
Courtney Moss | 5-6| Defender | Waldorf, MD | North Point HS | Calvert Elite
Before Hampton: Three time All-County selection…All-Southern Maryland Athletic Conference awards…played center defensive midfield or along the backline for CESC in regional leagues and showcase events
Chose Hampton University "In deciding on where I wanted to further my education, I wanted a school that would be a great academic and athletic fit. Hampton University not only met but exceeded my expectations. Hampton allows me to pursue my exact degree needed, play the sport I love at a competitive level, for a reputable University, all while living on a beautiful campus. The coaching staff is amazing, knowledgeable, and excited about me joining the team… What more can I ask for? I'm excited and look forward to the amazing things to come! Let's go HU!"
Coaches Comments: "Courtney has high level athleticism, a competitive spirit and can play many roles in our system.  Her ability to defend and her urgency to get forward into the attack will mesh real well with our style of play and offensive mindset."
Zariah Pickett | 5-6| Defender | Haymarket, VA | Battlefield HS | VSA NPL
Before Hampton: Virginia ODP district and regional team…Two-year starter on varsity at Battlefield…been with VSA 01 NPL Girls for four years as the starting outside back, played with SYA for two years before VSA…known for late heroics on five last minute goals coming off of the left back or wide midfield
Chose Hampton University because "I was looking for a good fit and school that had both soccer and HBCU status. Hampton is a good fit because I am able to enjoy my favorite sport while getting a good education in a great environment."
Coaches Comments: "Hard working player that is solid all around athletically, technically and in her understanding of the high-level game.  Will challenge for a spot in the back or midfield and be a big part of the future of Pirate soccer."
Nadia Bensarghin | 5-4| Goalkeeper |  Laurel, MD | Marriotts Ridge HS | Bethesda SC
Before Hampton: Plays in the goal as well as field…2015 SAC Columbia Invitational Finalist, Maryland Presidents Cup Champion…2016 Neptune summer Kickoff Champion, Mid-Atlantic Cup Finalist…2017 Baltimore Mania Finalist, Discovery Cup Finalist & Rush for the Cup Champion
Chose Hampton University for "its diversity, culture, and traditions. Everything about it was perfect from the size of the school, certainly not small but not overwhelming at the same time compared to other universities. The location of the school being in such a beautiful, historic town, right on the water, and the perfect distance away from home were meaningful factors to me. The sense of community Hampton encourages throughout its' student body, I did not experience at any other school. Lastly, being given the opportunity to continue my love for the game of soccer at the highest college level, and in a very competitive conference, is something I could not pass up. I cannot wait to take full advantage of the opportunities and resources Hampton University provides to accomplish my future goals."
Coaches Comments: "It's not often you can get a player that can play in the goal or in the field, as her ability to play with her feet will be a big plus when we play out of the back and switch the point of attack. Good shot stopper and smart in her distribution choices."
Heather Wynne | 5-8| Midfielder | Columbia, MD | Atholton HS | SAC Elite  
Before Hampton: Second team all-county as a junior, coaches award as a senior, three-year varsity letter award winner… helped team reach programs first county championship sophomore year and regional championship junior season…working back to form from injury that kept her out last season
Chose Hampton University because "the extraordinary education, along with the rising athletics, and the beautiful campus and people. I find great pride in being part of an institution filled with likeminded individuals, who share the same culture as I do. Hampton is the standard of excellence and I am excited to be a part of Onyx12."
Coaches Comments: "Strong ball winning presence and player that can play make from a deep central position.  Good size, toughness and savvy on the ball that can sure up a midfield and be a welcomed addition to Pirate soccer."
Grace Council | 5-5| Midfielder | Voorhees, NJ | Eastern Regional HS | GPS 00G  |  
Before Hampton: Most Valuable Player, Group 4 Sectional & State Champions at Eastern Regional HS…played club for Vorhees SC, Synergy, FC Rangers Premier, ECPS & GPS as a center defender, midfielder and forward
Chose Hampton University "I want a school that can offer a good business curriculum as well as a strong soccer program and campus life.  I've always wanted to attend an HBCU, and although some other options, Hampton really accommodated everything I wanted and needed, making me feel at home."
Coaches Comments: "Well rounded player that can impact the game in all positions. Will look for Grace to fit in with our returning and incoming pool of players while pressing for a place on the field."