Group pairings set for U.S. Soccer Girls Development Academy Playoffs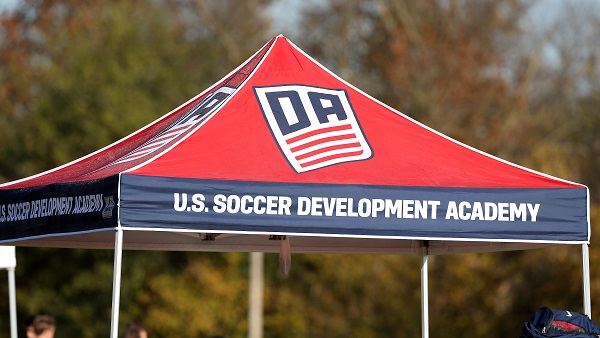 CHICAGO (Via U.S. Soccer) – The U.S. Soccer Development Academy conducted the first ever Girls' Academy Playoff Draw on Thursday, June 14, at Soccer House, U.S. Soccer's Chicago headquarters.
For the 2017-2018 season, the U-15 and U-16/17 Academy Playoff teams were drawn into eight groups of four teams each, while the 16 U-18/19 teams were drawn into four groups of four teams. For the first time, elite female players from top youth clubs from across the country will now prepare for the Academy Playoffs and Quarterfinal Knockout Round. Games are set to kickoff from June 23-30 at the SoCal Sports Complex in Oceanside, Calif. The coastal city located in northern San Diego County will also play host to the Girls' U-18/19 Semifinals and Championship.
At the start of the U-15 and U-16/17 draws, the top eight seeds (Pot 1) from each age division, based on the final standings of points per game average from regular season play (PPG), were drawn into Groups A through H, similar to the FIFA World Cup. Seeds 9-16, 17-24 and 25-32 (Pots 2, 3, 4) were then drawn to fill out each group, one pot at a time. If drawn with a divisional opponent, teams were placed back into their respective pot, resulting in a new selection, to keep same-division opponents separate (if possible) in order to generate variety of competition. For the U-18/19 age group, the same principles of an Academy Playoff Draw were applied, except with four teams per pot and the top four seeds (Pot 1) drawn into Group A, 5-8 (Pot 2) into Group B, 9-12 (Pot 3) into Group C and 13-16 (Pot 4) sorted into Group D.
MORE: How it Works: The U.S. Soccer Development Academy Playoff Draw
The complete playoffs draw for each of the three age groups is below:
The group stage of the 2018 Girls' Academy Playoffs marks the beginning point of the Academy postseason, featuring the top teams from the three oldest divisions. The U-15 and U-16/17 Knockout Round, Quarterfinals are set to take place June 19 and 30, respectively, when the eight group winners will stay in Oceanside and vie for one of four spots in the Academy Semifinals, set to kickoff at Swope Soccer Village in Kansas City, Mo. on Sunday, July 9 with the championship games to be played on July 11.
After the Girls' U-18/19 group stage games conclude, the four group winners will remain in Oceanside to play in the semifinals on June 27. The semifinal winners have a scheduled rest day and will then look to make history on June 29 as the first ever Girls' U-18/19 Academy Champions will be crowned.
The Playoffs will be played in conjunction with the 2018 Summer Showcase, where all U-14 Academy clubs, and the remaining U-15 and U-16/17 teams which did not crack the top 32 playoff spots, will play three Showcase games. The Summer Showcase provides Academy teams meaningful games against a variety of competition from throughout the country. The event focuses on player, coach and referee development and also serves as a premier opportunity for talent identification of players.
The 2018 Development Academy Summer Showcase and Playoffs will also include competition formats from the three oldest age groups of the Boys' Academy, which is completing its eleventh season of programming.
In total, between Boys' and Girls', the Summer Showcase and Playoffs will feature 634 games at SoCal Sports Complex from June 18-30, and the Development Academy will emphasize the quality of clubs and players with select Feature Games streamed live on ussoccerda.com and U.S. Soccer YouTube and U.S. Soccer Facebook. To be announced at a later date, the Feature Game matchups will be selected based on competitive games and clubs that exemplify the Academy philosophy.
27 CLUBS QUALIFY FOR MULTIPLE AGE GROUPS
Of the 42 clubs to qualify at for at least one age group of Girls' postseason play, 11 Academy programs made the Playoffs at all three age groups, 11 at U-15 and U-16/17, four at U-15 and U-18/19 and one at U-16/17 and U-18/19. After a year of having a more deliberate focus on individual player development in training sessions and players learning how to adjust to playing games with international standards, the 2018 Academy Playoffs will be especially interesting to see how each multiple-qualifying clubs' playing style is executed across the different age groups.
U-15, U-16/17 and U-18/19 Academy Playoff Qualifiers
Boston Breakers Academy
Concorde Fire
Crossfire Premier
La Roca Futbol Club
LAFC Slammers
Legends FC
NTH Tophat
Penn Fusion Soccer Academy
Real Colorado
Sky Blue – PDA
Solar Soccer Club
U-15 and U-16/17 Academy Playoff Qualifiers
Beach Futbol Club
Charlotte Soccer Academy
Eclipse Select Soccer Club
FC Dallas
FC Fury NY
FC Virginia
LA Galaxy San Diego
New York City FC
Oakwood Soccer Club
Reign Academy
San Jose Earthquakes
U-15 and U-18/19 Academy Playoff Qualifiers
Michigan Hawks
NC Courage
San Diego Surf
SC del Sol
U-16/17 and U-18/19 Academy Playoff Qualifiers
Real So Cal
FIVE NWSL AND FIVE MLS AFFILAITED TEAMS TO TAKE PART
A combine total of ten professional-affiliated clubs qualified at least one team to the Girls' Academy post-season: five from NWSL and five from MLS. All of the professional affiliates participating in the inaugural Girls' Development Academy season have raised the standards for player development around the country.
NWSL Affiliate playoff Academy Playoff Qualifiers
California Thorns FC, U-15
NC Courage, U-15, U-18/19
Reign Academy, U-15, U-16/17
Sky Blue – PDA, U-15, U-16/17, U-18/19
Washington Spirit – Virginia, U-16/17
MLS Affiliate Academy Playoff Qualifiers
FC Dallas, U-15, U-16/17
LA Galaxy San Diego, U-15, U-16/17
LAFC Slammers, U-15, U-16/17, U-18/19
New York City FC, U-15, U-16/17
San Jose Earthquakes, U-15, U-16/17
U-15 AND U-17 YOUTH NATIONAL TEAM PLAYERS TO WATCH FOR
With over 90% of Women's Youth National Team call ups in 2018 coming from Girls' Development Academy Clubs, there will be no shortage of international-level talent on display in Oceanside. Most recently, the U-17 WNT took home its fourth Concacaf U-17 Women's Championship by defeating Mexico 3-2, two days after a 3-2 semifinals victory over Haiti sealed the team's qualification to the 2018 FIFA U-17 World Cup.
15 players from the Concacaf U-17 Championship roster are expected to make their way to Oceanside:
Michela Agresti, FC Stars
Hannah Bebar, Eclipse Select Soccer Club
Croix Bethune, Concorde Fire
Isabella D'Aquila, So Cal Blues Soccer Club
Talia DellaPeruta, NTH Tophat
Julia Dohle, New York City FC
Mia Fishel, San Diego Surf
Smith Hunter, Seattle Reign Academy
Sophia Jones, San Jose Earthquales
Payton Linnehan, FC Stars
Samantha Meza, Solar Soccer Club
Diana Ordonez, FC Dallas
Kennedy Wesley, So Cal Blues Soccer Club
Astrid Wheeler, Concorde Fire
Kate Wiesner, LAFC Slammers
From the U-15 Girls' National Team's recent trip to the Netherlands earlier this month, which included a pair of friendlies against the host country, 17 players called into that camp are likely competing in the Academy Playoffs or Summer Showcase:
Courtney Boone, Legends FC
Nadia Cooper, Shattuck-Saint Mary's
Emma Egizii, Beach Futbol Club
Tatiana Fung, LAFC Slammers
Riley Gleason, So Cal Blues Soccer Club
Amelia Horton, Sporting Blue Valley
Simone Jackson, LAFC Slammers
Andrea Kitahata, San Jose Earthquakes
Carina Lageyre, Weston FC
Devin Lynch, Eclipse Select Soccer Club
Arianna Manrique, NTH Tophat
Aidan McConnell, Michigan Hawks
Makhiya McDonald, Solar Soccer Club
Ayo Oke, Concorde Fire
Kellie Pagador, Placer United Soccer Club
Jillian Shimkin, FC Fury NY
HOME FIELD ADVANTAGE
San Diego-based clubs Albion SC (U-15), LA Galaxy San Diego (U-15, U-16/17) and San Diego Surf (U-15, U-18/19) will look to take advantage of the local travel so they can rest up and make a deep playoff run.