Girls ECNL 2018 Final Four to take place in Richmond, Va.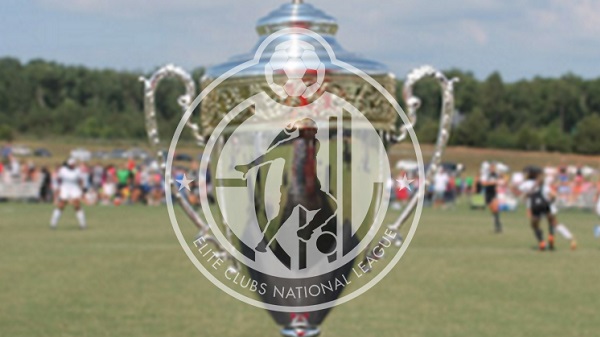 RICHMOND, VA (Via ECNL) – The Girls ECNL 2018 Final Four will take place July 6-7 in Richmond, Virginia at the West Creek Complex. For the first time ever, the U14 age group will join the final four alongside the U15, U16 and U17 age groups to play a semi-final and national championship match in the 2018 Girls ECNL National Finals.
Girls ECNL teams qualifying for the Girls ECNL Final Four will receive complimentary hotel rooms and a travel subsidy from the Girls ECNL to attend the event as the league continues its efforts to reduce costs of elite competition. Teams will arrive on July 5th, with an Opening Ceremony and Live Draw held that evening to determine the matchups in the semi-finals the next day. The Girls ECNL National Champions will be crowned on July 7th. All games at the 2018 Girls ECNL National Finals will be streamed live by StreamSports.
"The Girls ECNL National Finals will showcase the highest level of girls' soccer in the U.S. We are thrilled to welcome these elite athletes, their families, and coaches to the Richmond Region this summer," said Richmond Region Tourism Senior Sports Development Manager Danielle Vincenti. "Showcasing our destination to elite athletes at a national-championship level has a tremendous positive impact on the community."
+READ: Girls ECNL welcomes Scottsdale Blackhawks as new member club
The Girls ECNL National Finals are the culminating and most prestigious event of the Girls ECNL season. The road to the Girls ECNL Post Season is the most challenging competition for elite female players in the world, with the best teams in American soccer competing for the Girls ECNL National Championship.
"The Girls ECNL is excited to bring the National Finals back to Richmond, Virginia," said ECNL Commissioner Jen Winnagle. "Each season the battle to be crowned National Champion grows more intense, as elite players across the country work to qualify for the final stage of competition. The excitement that the Final Four has brought to the league over the past two seasons is unmatched, and will continue to build as the U14s join the event."
Preceding the Girls ECNL National Finals, qualifying teams from around the country will participate in the Girls ECNL National Playoffs June 21-26 in Redmond, Washington in three competition divisions. In the top competition, the Girls ECNL Champions League qualifiers will be fighting to be crowned Girls ECNL National Champions. The Girls ECNL U18/U19 National Champions will be crowned in Redmond, while the U14, U15, U16, and U17 Champions League participants will be going head-to-head for a berth in the Girls ECNL National Final Four in Richmond, Virginia.