Girls' DA adds four clubs, announces Regional Divisions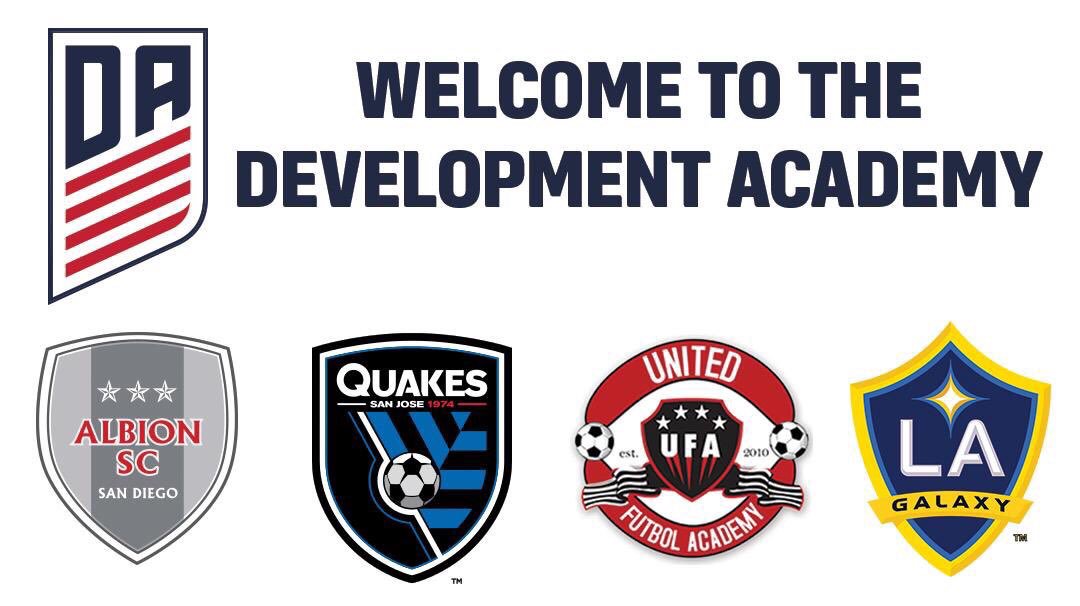 CHICAGO (Via U.S. Soccer) – Four additional clubs have made a commitment to join the Girls' Development Academy, along with the initial group of clubs that were announced on June 30, July 8, and August 17. Three clubs will be added in the West market: Albion SC (San Diego, Calif.), LA Galaxy (Carson, Calif.), and San Jose Earthquakes (San Jose, Calif.). In addition, United Futbol Academy (Cumming, Ga.) will join in the Southeast market.
The Development Academy program will include 74 clubs in six regional divisions.
The Academy will provide member clubs with a consistent schedule of league and showcase games as part of a balanced program built on an appropriate training-to-game ratio. The overall schedule is designed to provide meaningful games and a variety of competition.
+NCAA Women's Soccer Commitment Announcements: October 2016
The six Academy divisions will serve as the foundation for each club to play an appropriate amount of home and away games against divisional opponents. Each respective market division will have a unique schedule designed by U.S. Soccer based on the amount of travel and the number of available weekends.
U.S. Soccer Development Academy Divisions for inaugural 2017-18 season:
NORTHEAST

SOUTHEAST

MID-AMERICA

Boston Breakers (Watertown, Mass.)
Boca United FC (Boca Raton, Fla.)
Cincinnati Development Academy (Cincinnati, Ohio)
Cedar Stars – Monmouth (Tinton Falls, N.J.)
Capital Area RailHawks (Raleigh, N.C.)
Eclipse Select Soccer Club (Oak Brook, Ill.)
East Meadow SC (East Meadow, N.Y.)
Charlotte Soccer Academy (Matthews, N.C.)
Empire United Soccer Academy (West Henrietta, N.Y.)
FC Fury NY (Bay Shore, N.Y.)
Concorde Fire (Atlanta, Ga.)
FC United (Northfield, Ill.)
FC Stars (Acton, Mass.)
IMG Academy (Bradenton, Fla.)
Indiana Fire Academy (Westfield, Ind.)
FC Virginia (Chantilly, Va.)
NTH Tophat (Marietta, Ga.)
Michigan Hawks (Wixom, Mich.)
Oakwood Soccer Club (Glastonbury, Conn.)
Orlando Pride (Orlando, Fla.)
Midwest United FC (Grand Rapids, Mich.)
PA Classics (Manheim, Pa.)
United Futbol Academy (Cumming, Ga.)
Nationals (Pontiac, Mich.)
Penn Fusion Soccer Academy (Westtown, Pa.)
United Soccer Alliance (Jacksonville, Fla.)
Shattuck-St. Mary's Rev SC (Faribault, Minn.)
Sky Blue – PDA (Bernardsville, N.J.)
West Florida Flames (Brandon, Fla.)
Sockers FC Chicago (Palatine, Ill.)
Virginia Development Academy (Woodbridge, Va.)
Weston FC (Weston, Fla.)
Western New York Flash (Elma, N.Y.)
Washington Spirit Maryland (Boyds, Md.)
Washington Spirit Virginia (Fairfax, Va.)
World Class FC (Orangeburg, N.Y.)

FRONTIER

NORTHWEST

SOUTHWEST

Colorado Rush (Littleton, Co.)
Burlingame Soccer Club (Burlingame, Calif.)
Albion SC (San Diego, Calif.)
Dallas Texans Soccer Club (Plano, Texas)
California Storm (Sacramento, Calif.)
Beach Futbol Club (Torrance, Calif.)
FC Dallas (Frisco, Texas)
Crossfire Premier (Redmond, Wash.)
Eagles Soccer Club (Camarillo, Calif.)
FC Kansas City (Prairie Village, Kan.)
De Anza Force (Campbell, Calif.)
LA Galaxy (Carson, Calif.)
Houston Dash (Houston, Texas)
Eastside FC (Issaquah, Wash.)
LA Galaxy San Diego (Carlsbad, Calif.)
Houston United DA (Spring, Texas)
La Roca Futbol Club (Kaysville, Utah)
LAFC Slammers (Costa Mesa, Calif.)
Lonestar Soccer Club (Austin, Texas)
Lamorinda Soccer Club (Moraga, Calif.)
Legends FC (Chino, Calif.)
Real Colorado (Centennial, Co.)
Portland Thorns (Portland, Ore.)
Los Angeles Premier Futbol Club (La Canada Flintridge, Calif.)
Solar Soccer Club (Allen, Texas)
PSV Union Football Club (Palo Alto, Calif.)
Pateadores (Costa Mesa, Calif.)
SPORTING Blue Valley (Overland Park, Kan.)
San Jose Earthquakes (San Jose, Calif.)
Real So Cal (Woodland Hills, Calif.)
Sting Soccer Club (Addison, Texas)
Seattle Reign (Seattle, Wash.)
San Diego Surf Soccer Club (Del Mar, Calif.)
Texas Rush Soccer Club (The Woodlands, Texas)
SC del Sol (Phoenix, Ariz.)
TSC Hurricane (Jenks, Okla.)
So Cal Blues (Laguna Hills, Calif.)
West Coast Futbol Club (Laguna Hills, Calif.)