Georgetown wins 2021 BIG EAST Men's Soccer Championship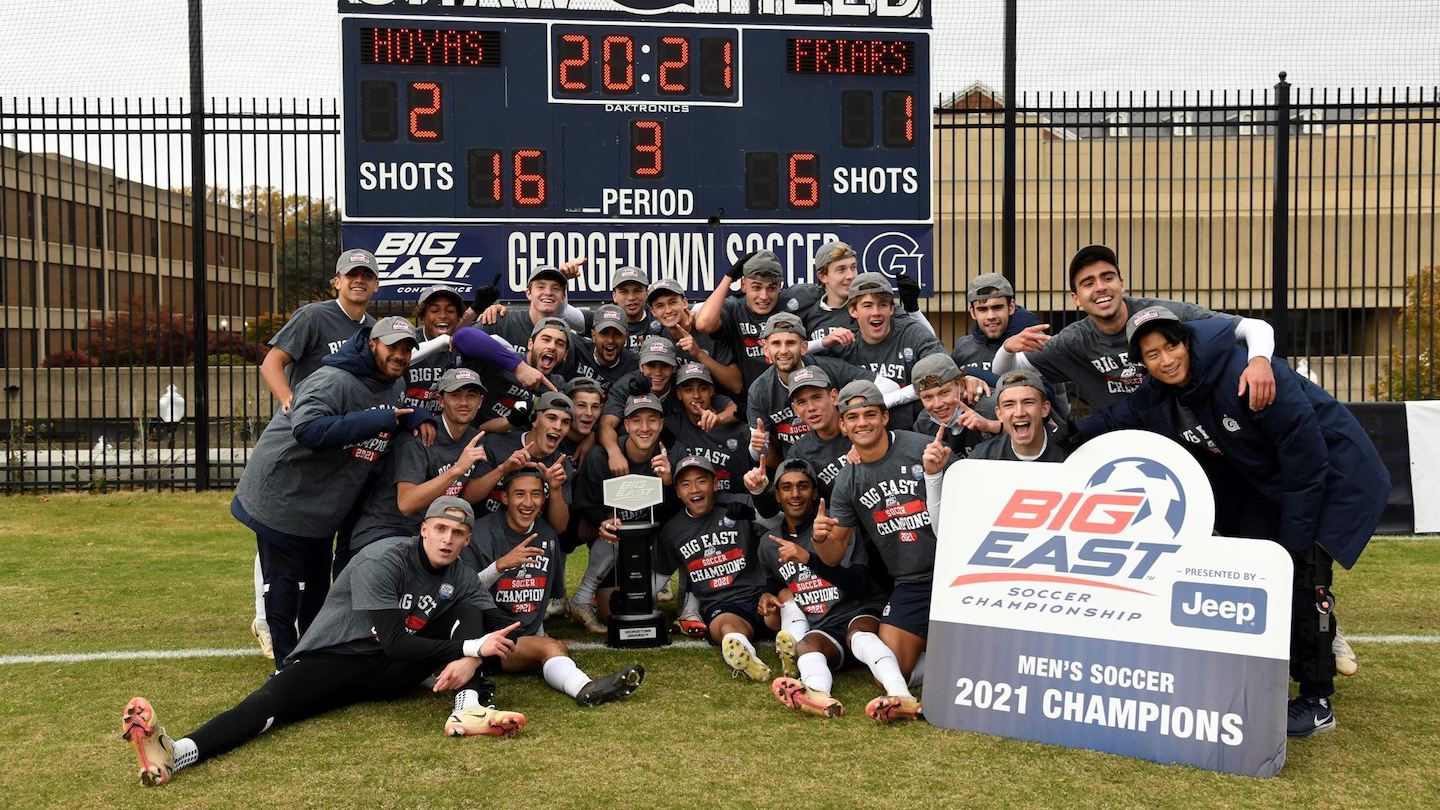 WASHINGTON, D.C. – No. 1 seed Georgetown defeated No. 2 seed Providence 2-1 Sunday afternoon in the BIG EAST Men's Soccer Championship Final at Shaw Field in Washington, D.C.
With the win, the Hoyas earn the BIG EAST's automatic berth into the 2021 NCAA Championship. The NCAA Championship Selection Show is slated for Monday at 1:30 p.m. ET on NCAA.com.
After a late goal by the Friars forced overtime in the nation's capital, it was Georgetown's Stefan Stojanovic who sent the home crowd into jubilation with a golden goal in the 96th minute.
With a pair of goals in the contest, Stojanovic was named BIG EAST Championship Most Outstanding Offensive Player at the end of the match. Georgetown goalkeeper Giannis Nikopolidis was named Most Outstanding Defensive Player, registering three saves over the weekend, none bigger than a save on a penalty kick in the 64th minute.
Fellow Hoyas Joe Buck and Sean Zawadzki joined their teammates on the All-Tournament team. Providence saw Lukas Burns, Gevork Diarbian and Brendan McSorley recognized, while Butler's Griffin DeBolt and Rhys Myers, and Villanova's Josh Belluz and Carson Williams were also All-Tourney selections.
After a scoreless opening half, it was Georgetown who struck first in the 52nd minute after being awarded a penalty kick.
Stojanovic pocketed the ball into the corner, just past the outstretched hand of Burns, as the Hoyas jumped in front 1-0.
With a penalty kick later granted to Providence in the 64th minute, Nikopolidis made a diving save to deny Paulo Lima's attempt, while the Georgetown defense swiftly attacked the box to prevent a goal scoring opportunity off a rebound.
With just under six minutes remaining in regulation, McSorley tallied his second goal of the BIG EAST Championship, after Lima flicked a throw in by Gil Santos to the sophomore forward for the equalizer.
At the 95:34 minute mark, Georgetown's Dante Polvara sent a long pass into the box toward Stojanovic, which the junior forward corralled before burying home the match-winner, his BIG EAST leading fourth of the season and ninth goal overall.
The runner-up position is the fifth in program history for Providence, while Georgetown locked up its fifth BIG EAST Championship title.
With the result, Georgetown prepares for the NCAA Tournament with a 16-2-0 (8-2-0 BIG EAST) record and No. 3 in the RPI. Meanwhile, Providence is 10-4-4 (5-2-3 BIG EAST) on the year and is No. 15 in the latest RPI.
The rest of the BIG EAST, along with Providence, will wait to see if they earn an at-large selection. Three other teams sit among the top-30 in the RPI, with Creighton at No. 26, Villanova at No. 28 and St. John's at No. 29.
Most Outstanding Offensive Player
Stefan Stojanovic, Georgetown
Most Outstanding Defensive Player
Giannis Nikopolidis, Georgetown
All-Tournament Team
Griffin DeBolt, Butler
Rhys Myers, Buter
Josh Belluz, Villanova
Carson Williams, Villanova
Lukas Burns, Providence
Gevork Diarbian, Providence
Brendan McSorley, Providence
Joe Buck, Georgetown
Giannis Nikopolidis, Georgetown
Stefan Stojanovic, Georgetown
Sean Zawadzki, Georgetown
2021 BIG EAST Men's Soccer Championship 
Presented By Jeep
First Round – Nov. 6 – BEDN
No. 6 Butler 0, No. 3 St. John's 0 (Butler Advances on PKs, 4-2)
No. 5 seed Villanova 2, No. 4 seed Creighton 1
Semifinals – Nov. 11 – BEDN (Washington, D.C.)
No. 1 seed Georgetown 1, No. 5 seed Villanova 0
No. 2 seed Providence 2, No. 6 seed Butler 0
Final – Nov. 14 – FS2 (Washington, D.C.)
No. 1 seed Georgetown 2, No. 2 seed Providence 1 (OT)
All times Eastern