Georgetown men's soccer program signs eight incoming recruits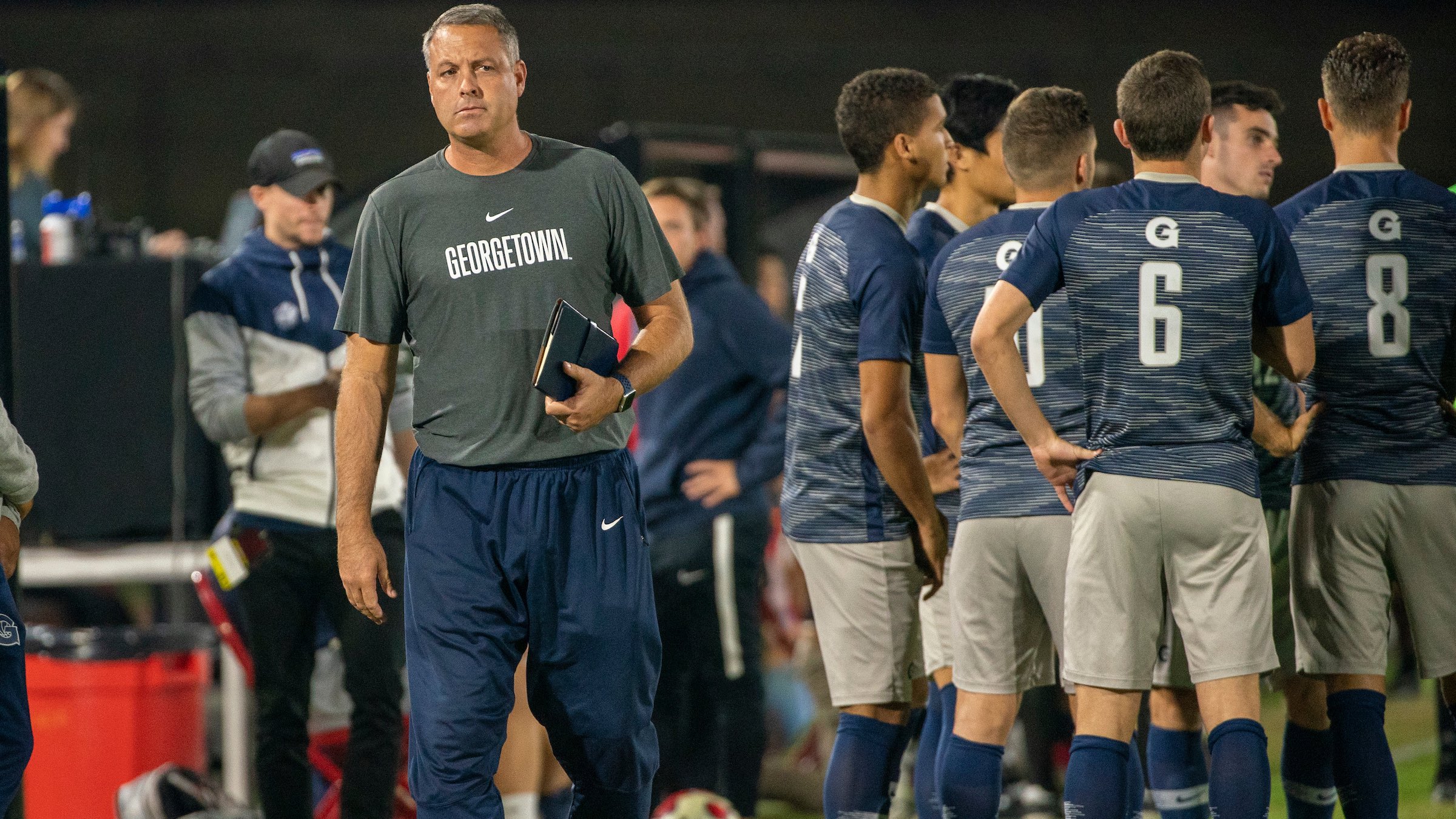 WASHINGTON – Georgetown University Head Men's Soccer Coach Brian Wiese announced the signing of eight student-athletes to National Letters of Intent to play on the Hilltop.
The Class of 2025 ranked in the Top 20 in the nation by TopDrawSoccer.com as the Hoyas continue to bring in top-tier talent.
"The 2021 recruiting class is one that covers us across almost every position on the field," said Wiese. "Mike Casper and Connor Klekota have worked hard to help put together a group that will be expected to continue to evolve and grow our program, and to be great leaders on and off the field. We got to know five of these young men at our camps before COVID shut down recruiting, and we feel really good about the quality and character of the group."
JOE BUCK
Midfielder
6-0 / 165
Arlington, Mass. / Arlington / New England Revolution Academy
Prior to Georgetown: A four-year starter and three-year captain playing club with both the New England Revolution Academy and the Boston Bolts … Named the U-17 Best Midfielder in New England by New England Soccer Journal after his sophomore season with the Bolts … His Revs team advanced to the Development Academy Winter Cup playoffs … Scored 11 goals as a sophomore.
Wiese on Buck: "Joe is a big center midfielder with very good feet and vision on the ball. He is versatile and smart enough to play anywhere up the middle of the field, and we feel he can best give us options as a center mid and center back with our style of play."
RONAN DILLOW
Forward
6-0 / 180
West Hartford, Conn. / Kingswood Oxford School / Oakwood SC
Prior to Georgetown: A four-year starter and served as captain of Oakwood SC his senior year … Team advanced out of the first round of the Development Academy Cup … Named to the 2020 Top 11 First Team in New England by the New England Soccer Journal … Was the leading goal scorer (24) for the Oakwood Soccer Club from 2018-20 … Parents Tommy and Deirdre are both Georgetown alums, his father played on the men's soccer team from 1989-92.
Wiese on Dillow: "Ronan is very familiar with Georgetown as he will be following in the footsteps of his father, Tom (C'93) who played here. Ronan is an athletic and aggressive front runner with good feet who we expect will be good for us on both sides of the ball."
MAXIMUS JENNINGS
Defender
6-0 / 170
Montclair, N.J. / The Hotchkiss School / Black Rock FC
Prior to Georgetown: A two-year starter at The Hotchkiss School … Named to the 2019 WNEPSSA All-Star Game and to the New England Soccer Journal Founders League Best XI … Also played football, lacrosse and ran indoor track during high school … A four-year starter and one-time captain with his club team … Played for the 2015 ODP Region 1 National Team … On the Senior Class Council … Club Head of Prism and a board member of the MOCAH Club … Sisters Kayla and Jillian both played soccer at Boston College.
Wiese on Jennings: "Max is an exciting athlete for us to be able to plug into our back line, and he's a little different that the other defenders on the roster. He isn't going to back out of a tackle, but will be comfortable on the ball when we have it."
DIEGO LETAYF
Midfielder
5-10 / 170
Southlake, Texas / Carroll / FC Dallas Academy
Prior to Georgetown: A three-year starter and captain with FC Dallas … Team was the runner-up for Liga MX International Tournament in 2017 … Represented Mexico on five occasions as a part of the Youth National Team … Most recently played club with the U-20 Tigres UANL squad.
Wiese on Letayf: "Diego is a vintage Georgetown center midfielder. He was the player that pulled the strings on one of the best FC Dallas Academy teams I've seen, and I feel his instincts for the position will make it easy for him to adjust to our system."
BLAINE MABIE
Midfielder
6-0 / 155
Winnetka, Ill. / New Trier / FC United Academy
Prior to Georgetown: A four-year starter and three-year captain with FC United … Team went to the USSDA playoffs in San Diego in 2019 and has been ranked inside the Top 20 teams in the nation for the past three years by TopDrawerSoccer.com, currently sitting at No. 9 … Squad competed in the Development Academy Cup in 2019 where he scored 19 goals … Trained with and played against the AFC Ajax Academy in the Netherlands in 2017 … A four-year member of the honor roll … A member of the Tri-Ship Club that raises money for community charities and scholarships.
Wiese on Mabie: "Blaine is a midfielder with a great engine and can cover ground. He is highly versatile, positionally, and knows how to score goals which is a great trait for a midfielder to have."
COLE PARETE
Midfielder
5-11 / 160
Brunswick, Ohio / Brunswick / Cleveland Force SC
Prior to Georgetown: A four-year starter and three-year captain at Brunswick High School … Earned four all-conference selections and the 2020 conference player of the year … A three-time All-Great Akron, and four-time all-county honoree … Named to the Medina County Team of the Decade … Earned all-district as a sophomore and junior … Named All-Ohio in 2018 … Holds his high school's records in career points (167), goals (56) and assists (55) … A four-year starter and two-time captain with his club team … Squad won the 2019 US Club Ohio State Cup as well as the Blue Chip Showcase … Won the Greater Cleveland Conference Scholar-Athlete Award … A leader and the commissioner in Link Crew … Father Patrick played soccer at Cleveland State.
Wiese on Parete: "Cole is a big, imposing midfielder with good feet and a nose for goal. We feel he will be someone that can create chances for himself or teammates from a little bit of a deeper position."
KIERAN SARGEANT
Defender
6-0 / 153
League City, Texas / Clear Creek / Houston Dynamo Academy
Prior to Georgetown: A four-year starter for the Dynamo Academy … Named the Player of the Season for the U-17 group in 2019-20 … That same season, team won its super group at the Generation adidas Cup … A four-year Super Intendant Scholar and a member of the National Honor Society … Father Glen was a professional Australian Football Player.
Wiese on Sargeant: "Kieran is an active and mobile left back. We really like his competitiveness and passing ability with the ball, and feel he can fit the mold of a long line of successful outside backs to come out of our program."
LUCA ULRICH
Goalkeeper
6-2 / 178
Chevy Chase, Md. / Bethesda-Chevy Chase / Bethesda SC
Prior to Georgetown: A four-year starter with Bethesda SC serving as captain as a senior … Held the best GAA/shutout ratio in the Development Academy Eastern Region in spring 2019 … Attended six U.S. Youth National Team Training Camps … Signed an amateur USL contract with Loudoun United in 2020 … Has trained with 1.FC Koln, Union Berlin, Schalke 04, 1.FC Nurnberg, Fortuna Dusseldorf, and SC Paderborn … Received a contract offer from Union Berlin, U19 Bundesliga … An AP Scholar with Distinction … Holds dual citizenship in the United States and Germany, speaking fluent German … A member of the Environmental Service Science Club and held an adidas Student Internship in Herzogenaurach, Germany in 2018 … Volunteers with Sunday Dinner for the homeless at Our Lady of Lourdes and has been volunteering to deliver PPE to local hospitals during the pandemic … Father Christian played volleyball in France and Germany … Mother Trina played basketball at the University of Kentucky.
Wiese on Ulrich: "Luca is local goalkeeper who we know well that plays with a great presence in goal. He is technically very sound and has the foundation in place to be a top-level goalkeeper."