Georgetown defeats Xavier 1-0 in 2022 BIG EAST Women's Soccer Championship Final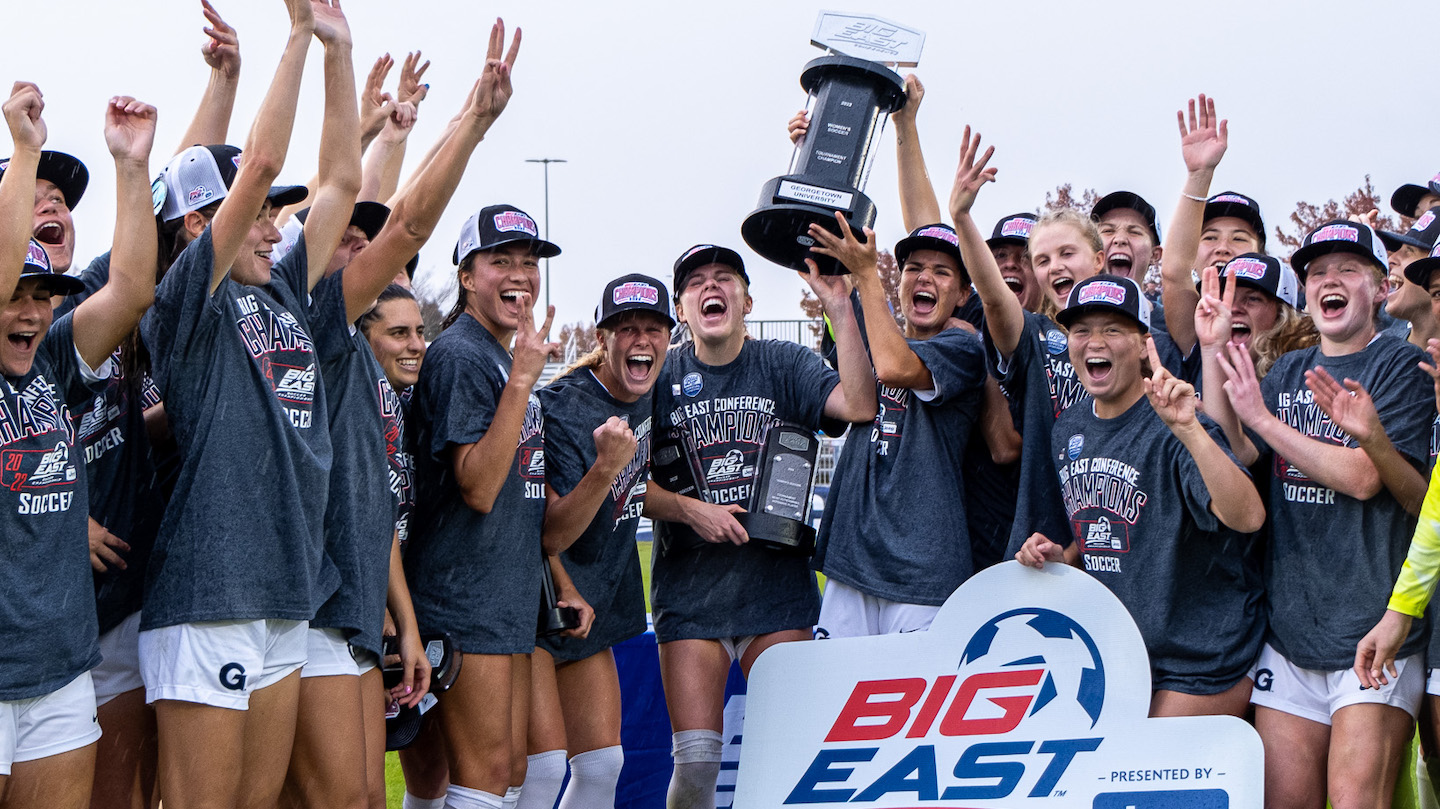 BOYDS, Md. – No. 1 seed Georgetown defeated No. 2 seed Xavier 1-0 Sunday afternoon in the BIG EAST Women's Soccer Championship Final at the Maryland SoccerPlex in Boyds, Md.
With the win, the Hoyas earn the BIG EAST's automatic berth into the 2022 NCAA Championship. The NCAA Championship Selection Show is slated for Monday, Nov. 7, at 4 p.m. ET on NCAA.com.
Tatum Lenain provided the match's lone score and was named BIG EAST Championship Most Outstanding Offensive Player at the end of the contest. Georgetown's Julia Leas was named Most Outstanding Defensive Player for the second consecutive season and was named to the 11-person All-Tournament Team.
What a strike from Lenain to give Georgetown the lead! #HoyaSaxa pic.twitter.com/tnrYrjhl8V

— Georgetown Women's Soccer (@HoyasWSoc) November 6, 2022
Fellow Hoyas Allie Augur, Maya Fernandez-Powell and Maja Lardner, who had the assist on Lenain's goal, were also named to the All-Tournament Team. Xavier saw Emma Flick, Molly McLaughlin and Chloe Netzel named to the team, while Creighton's Gabby Grimaldi and Abigail Santana, and St. John's Melina Couzis and Katherine Turner were also all-tourney selections.
All-BIG EAST First Team member Gia Vicari passed the ball out of the box to Lardner, who then sent the ball over the middle to Lenain. The junior midfielder settled the ball in the box and sent it into the right corner of the net in the 59th minute. Xavier's best opportunity came in the 79th minute when Netzel had the Musketeers' only shot on goal that was saved by Augur. In addition to Netzel's shot on goal, Xavier had three total shots in the final 30 minutes.
The Hoyas improved to 14-1-5 with the win, while the Musketeers moved to 13-3-5. Xavier claimed its first runner-up trophy in conference history.
This BIG EAST title is Georgetown's third-straight and sixth in the last seven years for head coach Dave Nolan's squad. The Hoyas clinch their 11th consecutive NCAA Championship berth and 13th national postseason bid overall.
CHAMPS‼️#HoyaSaxa pic.twitter.com/HNlug0dMpu

— Georgetown Women's Soccer (@HoyasWSoc) November 6, 2022
Xavier and the rest of the BIG EAST will wait to see if they earn at-large selections. The Musketeers entered the postseason ranked No. 24 in the NCAA RPI. The BIG EAST has three other teams in the RPI top-100 with Connecticut at No. 89, Creighton at No. 96 and St. John's at No. 97.
Most Outstanding Offensive Player
Tatum Lenain, Georgetown
Most Outstanding Defensive Player
Julia Leas, Georgetown
All-Tournament Team
Gabby Grimaldi, Creighton
Abigail Santana, Creighton
Allie Augur, Georgetown
Maya Fernandez-Powell, Georgetown
Maja Lardner, Georgetown
Julia Leas, Georgetown
Melina Couzis, St. John's
Katherine Turner, St. John's
Emma Flick, Xavier
Molly McLaughlin, Xavier
Chloe Netzel, Xavier
BIG EAST Women's Soccer Championship
Presented by Jeep
First Round – Oct. 30 (home sites)
No. 3 seed St. John's 1, No. 6 seed UConn 1 (SJU advances 4-2 on PKs)
No. 5 seed Creighton 1, No. 4 seed Butler 1 (CU advances 6-5 on PKs)
Semifinals – Nov. 3 – Boyds, Md.
No. 2 seed Xavier 3, No. 3 seed St. John's 1 (2OT)
No. 1 seed Georgetown 1, No. 5 seed Creighton 0
Final – Nov. 6 – Boyds, Md.
No. 1 seed Georgetown 1, No. 2 seed Xavier 0