George Washington men's soccer announces incoming class for 2021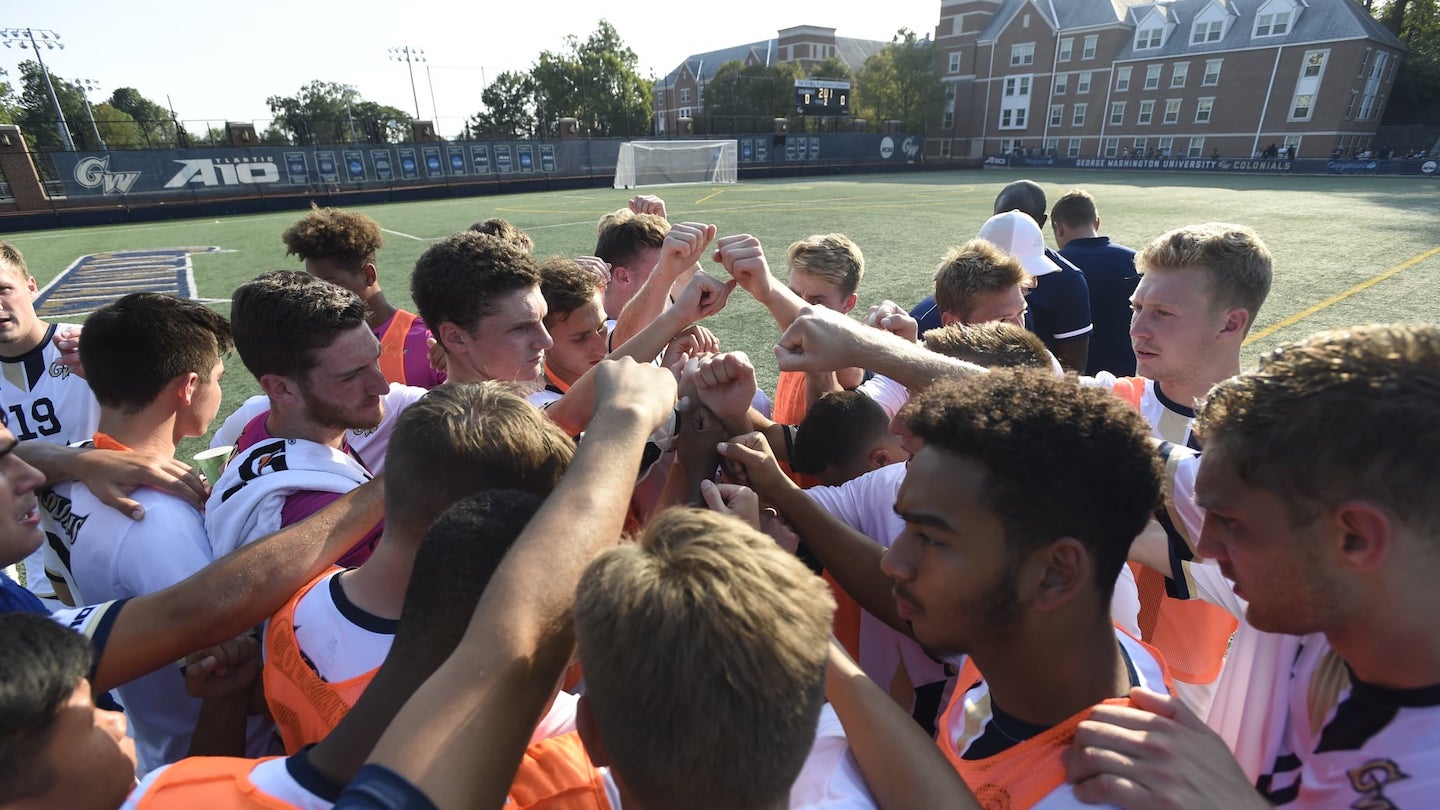 WASHINGTON – Head Coach Craig Jones has announced that Nico Krueger, Richard Raupp and Sean Vaghedi have signed to join GW men's soccer for the fall 2021 season.
Krueger is a forward out of Philadelphia, while Vaghedi (Reston, Va.) bolsters the midfield and Raupp (Center Moriches, N.Y.) joins the goalkeeping corps. All three have previously played together under Jones as part of the U.S. Youth Soccer Olympic Development Program.
Krueger, Vaghedi and Raupp will be first-years in the fall, adding firepower to a veteran squad that advanced to the Atlantic 10 Championship final during the spring season.
"I was fortunate enough to work with Sean, Richard and Nico when they represented the East Region Olympic Development Program almost three years ago," Jones said. "On our trip to Spain to play in the renowned Mediterranean International Cup, they all had a significant impact on a successful run before we eventually lost to Villarreal CF, one of several professional clubs who sent youth teams to the tournament.
"I knew then that how they applied themselves on and off the field would be a great asset to any program they joined, and fortunately for us, they chose GW. I'm looking forward to seeing this class push for time and continue to raise the level of the program, both on and off the field."
Forward
Philadelphia
William Penn Charter School/FC Delco
Two-time All Inter-Ac forward at Penn Charter, including a first-team selection as a junior in 2019…Played with FC Delco on club circuit as a member of its MLS Academy squad…Also represented Eastern Pennsylvania ODP, Region 1 ODP and earned invite to U.S. Youth Soccer national training camp…Played in the 2019 Mediterranean International Cup in Barcelona, Spain…Member of the Honor Roll at Penn Charter.
Krueger on picking GW: "I picked GW because on the athletics side of things the program has shown great growth in the right direction, and from a school aspect, I really liked the international feel and how connected to everything it is being in D.C."
Goalkeeper
Center Moriches, N.Y.
Center Moriches High School/Lake Grove SC
Named to United Soccer Coaches All-State First Team (NY) and Newsday All-Long Island First Team for his work in net as a senior in 2021…Selected as 2021 League 5 MVP…Two-time Suffolk County Goalkeeper of the Year (2019 & 2021)…Named MVP of 2019 NYS Championships final…Played with Lake Grove SC and Long Island Rough Riders in club competition…Represented Region 1 ODP (three years) and Eastern New York ODP (five years)…Played in the 2019 Mediterranean International Cup in Barcelona, Spain…Won Eastern New York State Cup championships in 2018 and 2019…Member of the National Social Studies Honor Society at Center Moriches High.
Raupp on picking GW: "I chose GW because it offers both a high level of academics and a great soccer program."
Midfielder
Reston, Va.
Langley High School/Loudoun Soccer
Two-time All-Liberty District performer at Langley High School, including a first-team selection as a senior in 2021…Served as a captain with Loudoun Soccer in ECNL club competition…Represented Virginia ODP and Region 1 ODP…Played in the 2019 Mediterranean International Cup in Barcelona, Spain.
Vaghedi on picking GW: "I chose GW because it was the perfect balance between academics and athletics for me with a chance to pursue both at the highest level. I also love the city campus and the many opportunities and connections that come with being in D.C."