Full list of 189 registered players announced for the 2022 NWSL Draft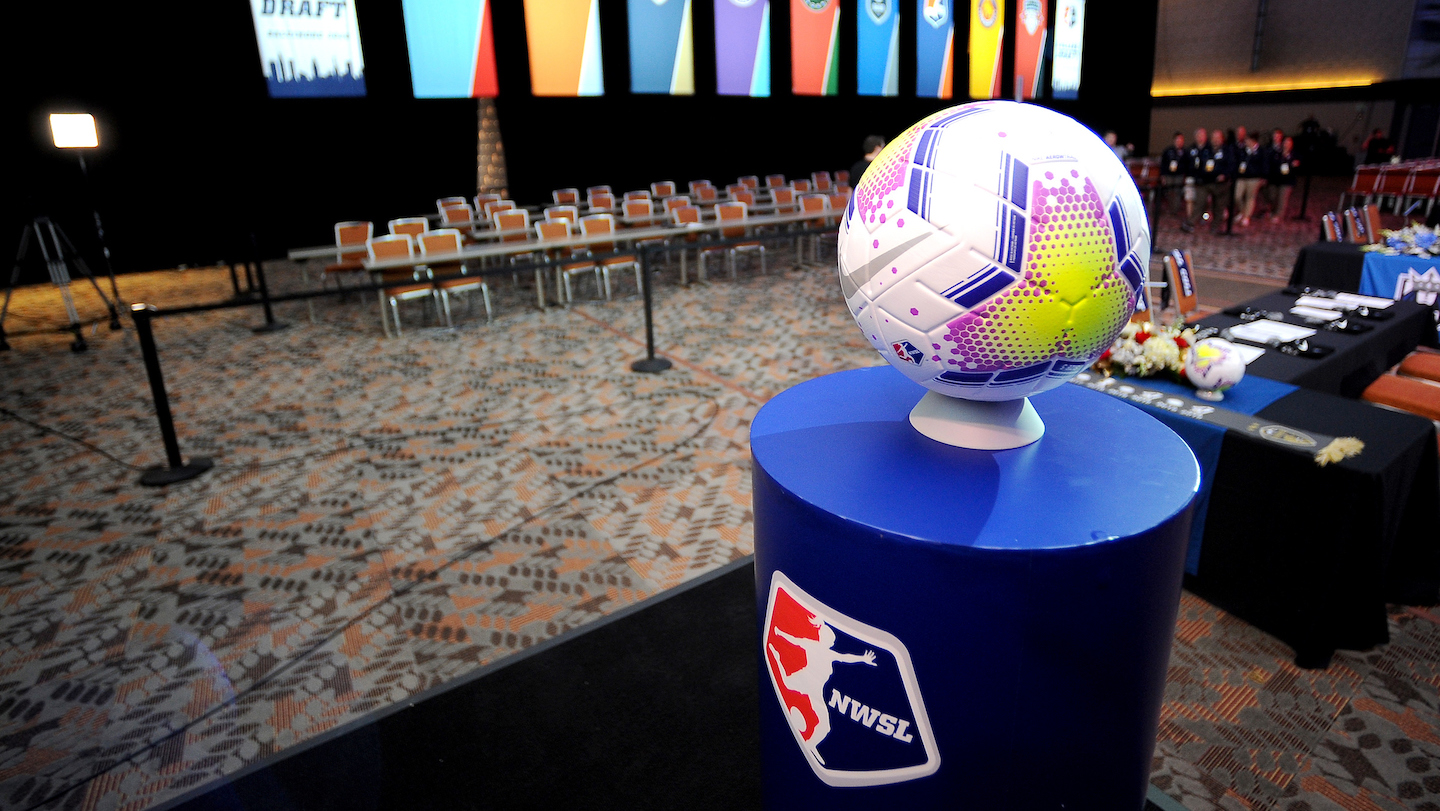 CHICAGO  – The National Women's Soccer League has released the full list of 189 players who have registered for the 2022 NWSL Draft. The draft will be hosted virtually on Saturday, December 18 at 2 p.m. ET.
As previously announced, the board of governors voted to increase the number of draft-eligible players ahead of the 2022 NWSL Draft.
Registration was not required for the 2021 NWSL Draft due to the pandemic-altered NCAA soccer schedule. Those players who were draft-eligible, but went undrafted, were therefore NWSL discovery-eligible in 2021, even if they retained NCAA eligibility. The updated rules for the NWSL 2022 Draft allow players who are otherwise eligible, but currently on a NWSL team's discovery list, the choice to either remain on that team's discovery list or be removed in order to register for 2022 NWSL Draft. Impacted players have been notified of this update.
The 2022 NWSL Draft will stream live on Paramount+, the CBS Sports HQ Twitch channel and on the CBS Sports HQ and NWSL YouTube channels. CBS Sports HQ will also stream the draft from 2-4 PM, ET. Both drafts will stream internationally outside the U.S. on the NWSL's Twitch channel.
The latest draft order and more event details can be viewed here. Final draft rules can be viewed here.
Final list of players registered for the 2022 NWSL Draft, in alphabetical order:
| | | | | | | |
| --- | --- | --- | --- | --- | --- | --- |
| Last Name | First Name | School/University | Position(s) Played | Hometown | Youth Club | Citizenship |
| Adams | Haileigh | University of Colorado – Boulder | Defender | Pasadena, California | Golden State | United States |
| Adams | Leslie | Siena College | Goalkeeper | Collegeville, PA | Reading Rage | United States |
| Alexander | Tinaya | Louisiana State University | Forward, Midfielder, Defender | Reading, England | Arsenal Women Youth Academy | United Kingdom |
| Anderson | Taylor | University of Richmond | Midfielder | Peachtree Corners, Georgia | Concorde Fire | United States |
| Arthurs | Carli | Stephen F. Austin State University | Forward, Defender | Lewisville, Texas | Solar Soccer Club | United States |
| Aviza | Shannon | St. John's University | Midfielder, Defender | Medway, Massachusetts | Boston Breakers | United States |
| Bardes | Erica | Central Connecticut State University | Midfielder, Defender | Montvale, New Jersey | World Class FC | United States |
| Bass | Jasmine | New Jersey City University | Forward, Midfielder | Middletown, New York | TOWS (Town of Walkill Soccer Club) | United States |
| Beckman | Natalie | University of Denver | Forward, Midfielder | Aurora, Colorado | Colorado Rapids (Colorado Storm) | United States |
| Beletic | Isabella | University of Incarnate Word | Midfielder, Defender | Corpus Christi, Texas | Classics Elite / Athenians | United States |
| Belisle | Mollie | University of Georgia | Forward | Atlanta, Georgia | Concorde Fire | United States |
| Bennett | Elysa | Washington State University | Forward | De Pere, Wisconsin | FC Wisconsin Eclipse (ECNL) | United States |
| Bentick | Aysha | University of Louisiana – Monroe | Midfielder, Defender | London, England | Millwall Lionesses | United Kingdom |
| Berry | Olivia | Benedictine College | Goalkeeper | Cedar Hill, Missouri | WC St. Louis | United States |
| Bike | Jenna | Boston College | Forward | Trumbull, Connecticut | Connecticut Football Club | United States |
| Bloomer | Jordyn | University of Wisconsin – Madison | Goalkeeper | Hartland, Wisconsin | FC Wisconsin | United States |
| Bostard | Haley | Grand Canyon University | Midfielder, Defender | Discovery Bay, California | West Coast Wild | United States |
| Bova | Marisa | Purdue University | Goalkeeper | Hartland, Wisconsin | SC Waukesha (SC Wave) | United States |
| Breslin | Hope | University of Illinois | Forward, Mifielder | Massapequa, New York | East Meadow Soccer Club | United States |
| Briede | Belle | Stanford University | Forward, Midfielder | Alpharetta, Georgia | Tophat Soccer Club | United States |
| Brown | Ryanne | Wake Forest University | Forward, Midfielder, Defender | Indianapolis, Indiana | Indiana Fire | United States |
| Brummett | Gabi | University of Portland | Forward, Midfielder | Bow, New Hampshire | FC Stars of Massachusetts | United States |
| Bruster | Kayla | University of Georgia | Defender | Smyrna, Georgia | Tophat Soccer Club | United States |
| Caffey | Tiana | Louisiana State University | Midfielder, Defender | Port St. Lucie, Florida | Space Coast United | United States |
| Cahalan | Claire | University of Toledo | Forward, Mifielder | Ann Arbor, Michigan | Michigan Hawks | United States |
| Camberos | Scarlett | University of California – Irvine | Forward, Midfielder | Chula Vista, California | Albion Soccer Club | United States/Mexico |
| Campbell | Raenah | Drexel University | Forward | Skaneateles, New York | Syracuse Developmental Academy | United States |
| Canales | Marley | University of California – Los Angeles | Midfielder | San Diego, California | San Diego Surf | United States |
| Cardozo | Ashley | Utah State University | Forward, Midfielder | Salt Lake City, Utah | La Roca | United States |
| Cavanaugh | Meghan | University of South Florida | Forward, Midfielder | Clifton Park, New York | New York Elite FC | United States |
| Chang | Lauren | University of South Carolina | Midfielder | Alpharetta, Georgia | Tophat Soccer Club | United States |
| Cherry | Mackenzie | Coastal Carolina University | Midfielder, Defender | Canton, Georgia | Atlanta Concorde Fire ECNL | United States |
| Cleverley | Daisy | Georgetown University | Midfielder | Auckland, New Zealand | Western Springs Club AFC | New Zealand |
| Coleman | Gabriella | Oklahoma State University | Forward | Keller, Texas | D'Feeters Soccer Club/ DKSC | United States |
| Cook | Ava | Michigan State University | Forward | Battle Creek, Michigan | Midwest United – Kalamazoo | United States |
| Correa De Oliveira | Julia | Chicago State University | Forward, Midfielder | Canoas, Brazil | EC Pelotas Phoenix | Brazil |
| Cosme | Caitlin | Duke University | Defender | New Hyde Park, New York | Albertson Fury 98 | United States |
| Cowart | Jessika | University of Washington | Midfielder, Defender | Redwood City, California | Palo Alto Soccer Club | United States |
| Cummings | Sydney | Georgetown University | Defender | Millstone Township, New Jersey | FC Copa Academy | United States |
| Curran | Chardonnay | University of Oregon | Midfielder, Defender | Ewa Beach, Hawaii | Hawaii Rush | United States |
| DeMarco | Giovanna | Wake Forest University | Midfielder | Gwynedd Valley, Pennsylvania | Match Fit Academy | United States |
| DeMelo | Savannah | University of Southern California | Forward, Midfielder | Bellflower, California | Beach Futbol Club | United States |
| Dennis | Chyanne | University of South Florida | Midfielder, Defender | Sunrise, Florida | Orlando City ECNL | United States/Jamaica |
| DePriest | Peyton | Middle Tennessee State University | Forward, Midfielder | Franklin, Tennessee | Tennessee Soccer Club | United States |
| Dickey | Claudia | University of North Carolina – Chapel Hill | Goalkeeper | Charlotte, North Carolina | Charlotte Soccer Academy | United States |
| Dierickx | Natalie | Western Washington University | Goalkeeper | Kirkland, Washington | Crossfire Premier FC | United States |
| DiGenova | Marissa | Temple University | Forward, Midfielder, Defender | King of Prussia, Pennsylvania | FC Delco | United States |
| Diwura Soale | Wasila | Louisiana State University | Midfielder | Accra, Ghana | Hasaacas Ladies FC | Ghana |
| Doyle | Darby | Western Washington University | Midfielder | Spokane, Washington | Spokane Shadow G98 | United States |
| Doyle | Julie | Santa Clara University | Forward, Midfielder, Defender | Newport Beach, California | San Diego Surf Soccer Club | United States |
| Edwards | Hannah | Grand Canyon University | Defender | Aurora, Colorado | Colorado Storm ECNL | United States |
| Elwell | Madison | Vanderbilt University | Forward, Midfielder, Defender | Ambler, Pennsylvania | YMS Xplosion | United States |
| Enciso | Sabrina | University of Arizona | Defender | Moreno Valley, California | SoCal Blues | United States |
| Fishel | Mia | University of California – Los Angeles | Forward, Midfielder | San DIego, California | San Diego Surf SC | United States |
| Fisher | Samantha | University of Notre Dame | Forward, Midfielder | Simi Valley, California | Real So Cal | United States |
| Fregulia | Kaitlin | Cal State University – Long Beach | Forward, Defender | Torrance, California | Beach Futbol Club | United States |
| Frerker | Andrea | Southern Illinois University of Edwardsville | Midfielder, Defender | Maryville, Illinois | Loufusz Soccer Club | United States |
| Gareis | Ryan | University of South Carolina | Forward | Naperville, Illinois | Sockers FC Chicago ECNL | United States |
| Gee | Tatum | Princeton University | Forward, Midfielder, Defender | Long Beach, California | Beach Futbol Club | United States |
| Girma | Naomi | Stanford University | Defender | San Jose, California | N/A | United States |
| Golob | Lana | Virgina Commonwealth University | Defender | Recica ob Paki, Slovenia | ŽNK Nona Pomurje | Slovenia |
| Grant | Jazmin | University of Houston | Forward, Midfielder | Atascocita , Texas | Texas Rush | United States |
| Gray | Emily | Virginia Tech University | Midfielder | Sewell, New Jersey | Penn Fusion Soccer Academy | United States |
| Green | Deanna | University of South Alabama | Midfielder, Defender | Madison, Mississippi | Mississippi Rush | United States |
| Griffith | Sarah | Purdue University | Forward, Midfielder | Naperville, Illinois | Team Chicago | United States |
| Grosso | Julia | University of Kentucky | Midfielder, Defender | Sunrise, Florida | Sunrise Sting | United States |
| Guion | Renee | Clemson University | Defender | Simpsonville, South Carolina | Carolina Elite Soccer Academy | United States |
| Halvorsen | Kaile | Santa Clara University | Forward, Midfielder | Honolulu, Hawaii | Surf Hawaii | United States |
| Hancuff | Hensley | Clemson University | Goalkeeper | Edmond, Oklahoma | Orlando Pride DA Club | United States |
| Hand | Jacqueline | Colorado College | Forward, Midfielder | Auckland, New Zealand | Auckland Football Federation | New Zealand |
| Hansen | Taylor | University of Montana | Defender | Cardiff by the Sea, California | San Diego Surf Soccer Club | United States |
| Harber | Jojo | Stanford University | Forward, Defender | Bellevue, Washington | Eastside FC/Crossfire ECNL | United States |
| Harding | Audrey | University of North Carolina – Wilmington | Forward, Midfielder | Akron, Ohio | Ohio Premier | United States |
| Harkleroad | Emma | University of South Dakota | Goalkeeper | Geneva, Illinois | Strikers Fox Valley | United States |
| Harr | Jordie | Texas Tech University | Forward, Midfielder | Sachse, Texas | Sting Soccer | United States |
| Harriot | Madiya | Vanderbilt University | Midfielder, Defender | Davie, Florida | Sunrise Sting | United States |
| Harris | Tiana | Kent State University | Defender | Whitby, Canada | FC Durham Academy | Canada |
| Heckman | Isabel | Murray State University | Defender | Powder Springs, Georgia | Southern Soccer Academy | United States |
| Hopcroft | Shanade | University of Colorado – Boulder | Forward, Midfielder | Aylesbury, England | Middlesex U17's | United Kingdom |
| Howell | Jaelin | Florida State University | Midfielder | Lone Tree, Colorado | Real Colorado | United States |
| Hussen | Ameera | University of Washington | Forward, Midfielder | Federal Way, Washington | Crossfire Premier FC | United States |
| Hylton-Pelaia | Jayda | Arizona State University | Defender | Brampton, Ontario | Woodbridge Soccer Club | Canada |
| Ikeda | Angelique | Southern Illinois University of Edwardsville | Midfielder, Defender | Saint Charles, Missouri | Loufusz Soccer Club | United States |
| Irwin | Jamie | University of New Hampshire | Defender | Roxbury, New Jersey | STA Morris United | United States |
| Jacobs | Karen | San Bernardino Valley College | Forward | Redlands, California | Pateadores Soccer Club | United States |
| Jacobsen | Eden | University of Utah | Midfielder | North Salt Lake, Utah | La Roca | United States |
| Kajan | Zsanett | St. John's University | Forward, Midfielder | Budapest, Hungary | Ferencvarosi Torna Club | Hungary |
| Kearse-Thomas | Olivia | Arizona State University | Forward, Midfielder, Defender | Phoenix, Arizona | Del Sol | United States |
| Kelley-Lusk | Hannah | West Texas A&M University | Forward | Farmington, New Mexico | N/A | United States |
| Killman | Jenna | Western Washington University | Forward, Midfielder | Olympia, Washington | Washington Premier FC | United States |
| Kirton | Alexa | University of New Mexico | Midfielder | Sammamish, Washington | Eastside FC | United States |
| Knox | Alexus | Georgia State University | Defender | Powder Springs, Georgia | BUSA ECNL | United States |
| Kowalski | Amanda | Butler University | Midfielder, Defender | Arlington Heights, Illinois | Eclipse Select Soccer Club | United States |
| Kouzelos | Gabrielle | University of Louisville | Goalkeeper | Wadsworth, Ohio | Internationals Soccer Club | United States |
| Kuehn | Athena | Lousiana State University | Forward, Midfielder, Defender | Colorado Springs, Colorado | Colorado Pride Predators | United States/Germany |
| LaMacchia | Elaina | University of Wisconsin – Milwaukee | Forward, Midfielder, Defender, Goalkeeper | Mequon, Wisconsin | SC Waukesha | United States |
| Lampe | Brooke | University of North Texas | Forward, Midfielder, Defender, Goalkeeper | Mansfield, Texas | Solar Chelsea ZuaZua | United States |
| Laurendeau | Marika | The College of Saint Rose | Goalkeeper | Sainte-Julie, Canada | CS Longueuil | Canada |
| Layne | Emerson | Loveland High School | Forward, Midfielder | Fort Collins, Colorao | Real Colorado | United States |
| Leal | Amanda | Cal State University – Stanislaus | Goalkeeper | Mountain House, California | West Coast Soccer Club | United States |
| Lee | Shannon Claire | George Mason University | Defender | Haymarket, Virginia | McLean ECNL | United States |
| Lewis | Sofia | Minot State University | Forward, Midfielder | Minot, North Dakota | Minot Soccer Association | United States |
| Livingstone | Kelly Ann | Georgetown University | Midfielder, Defender | Glen Ridge, New Jersey | Match Fit Academy | United States |
| Loughman | Raleigh | University of Michigan | Midfielder | San Diego, California | MVLA Soccer Club | United States/Argentina |
| Lucci | Carolina | Chowan University | Forward | Monaca, Pennsylvania | North United | United States |
| Lundgren | Jenna | Western Illinois University | Forward, Midfielder, Defender | Elmhurst, Illinois | Oak Brook Soccer Club, Eclipse | United States |
| Martin | Molly | University of Mississippi | Forward, Midfielder | Memphis, Tennessee | Memphis Lobos/BUSA | United States |
| Mayer | Anna | Missouri Western State University | Goalkeeper | Duluth, Minnesota | East Select Soccer | United States |
| McCarthy | Robyn | Cal State University – Fresno | Midfielder, Defender | Brentwood, California | West Coast Soccer Club | United States |
| McClure | Megan | Arkansas State University | Goalkeeper | Webster Groves, Missouri | St. Louis Scott Gallagher (ECNL) and United Women's Soccer (UWS) | United States |
| McLaughlin | Christine | Christendom College | Forward, Midfielder, Defender | Fauquier, Virginia | Virginia Soccer Association | United States |
| McManus | Mikenna | Northeastern University | Defender | Lake Forest, California | West Coast Futbol Club | United States |
| McMillan | Caylon | Stephen F. Austin State University | Midfielder | Forney, Texas | FC Dallas 98G ECNL | United States |
| McNally | Natalie | Western Carolina University | Defender | Grayslake, Illinois | Greater Libertyville Soccer Association | United States |
| McNulty | Hannah | Providence College | Forward | Warwick, Rhode Island | Bayside FC | United States |
| Medina | Jodi | Alabama A&M University | Goalkeeper | Coral Springs, Florida | Coral Springs United FC | United States |
| Menta | Jenna | Wake Forest University | Forward, Midfielder | Somers, New York | New York Soccer Club | United States |
| Miagkova | Alina | Syracuse University | Defender | Lipetsk, Russia | Lokomotiv Moscow | Russia |
| Mitchell | Alexis | University of South Dakota | Midfielder | Lee's Summit, Missouri | Sporting Blue Valley ECNL | United States |
| Morgan | Charmé | Oklahoma State University | Midfielder, Defender | Frisco, Texas | Dallas Texans | United States |
| Moser | Louisa | George Mason University | Forward, Goalkeeper | Fairfax, Virginia | SC Freiburg | Germany |
| Murnin | Madison | University of Central Florida | Midfielder, Defender | Jacksonville, Florida | Jacksonville FC | United States |
| Myers | Erica | University of Tennessee – Martin | Goalkeeper | Holland, Ohio | Metro FC Toledo | United States |
| Nabet | Lily | Duke University | Midfielder | Los Angeles, California | Real So Cal | United States |
| Nasello | Sydny | University of South Florida | Defender | Millstone Township, New Jersey | FC Copa Academy | United States |
| Ochoa Rodriguez | Paola | Missouri Valley College | Forward, Midfielder | Sioux City, Iowa | South Sioux Soccer | United States |
| Ordoñez | Diana | University of Virginia | Forward | Prosper, Texas | FC Dallas | United States |
| Palacios | Randi | Liberty University | Goalkeeper | Ashburn, Virginia | Football Club of Virginia | United States |
| Pantaleao | Ermelinda | University of Louisiana – Monroe | Defender | Belo Horizonte, Brazil | N/A | Brazil |
| Pedroza | Siera | Hope International University | Forward, Midfielder, Goalkeeper | Tustin, California | Wolfpack | United States |
| Perez | Maia | University of Hartford | Goalkeeper | Kentwood, Michigan | Midwest United  FC Women | United States |
| Peters | Sarah | University of Kansas | Goalkeeper | Lee's Summit, Missouri | Sporting DA | United States |
| Peterson | Karstyn | Utah State University | Forward, Defender | West Haven, Utah | La Roca | United States |
| Philpotts | Rachel | University of Wisconsin – Milwaukee | Midfielder, Defender | Linden, Michigan | Nationals Soccer Club | United States |
| Potts | Nicola | Ball State University | Forward, Midfielder | Nuneaton, England | Aston Villa Women | United Kingdom |
| Proulx | Lysianne | Syracuse University | Goalkeeper | Boucherville, Canada | AS Varennes | Canada |
| Provenzano | Gabby | Rutgers University | Midfielder, Defender | Sergeantsville, New Jersey | Players Development Academy | United States |
| Pulver | Sydney | Washington State University | Midfielder, Defender | Parker, Colorado | Real Colorado | United States |
| Pursey | Valentine | Western Carolina University | Forward, Midfielder, Defender | Ticehurst, England | Brighton and Hove Albion | United Kingdom |
| Rabot | Iris | James Madison University | Midfielder | Lyon, France | Olympique Lyonnais | France |
| Reiss de Araujo | Thais | University of North Florida | Forward, Midfielder, Defender | Jacksonville, Florida | U-17/U-20 Brazilian National Team | Brazil |
| Reyes | Calista | Pepperdine University | Forward, Midfielder, Defender | Las Vegas, Nevada | Eagles Soccer Club | United States |
| Ries | Taryn | University of Portland | Forward | Ridgefield, Washington | FC Portland | United States |
| Ritchie-Williams | Chiara | Louisiana State University | Midfielder, Defender | London, England | Arsenal Women's Football Club | United Kingdom |
| Rockwell | Jenna | University of the Cumberlands | Defener | London, Kentucky | Lexington FC | United States |
| Rodriguez | Izzy | Ohio State University | Midfielder, Defender | Canton, Michigan | Michigan Hawks | United States |
| Roelfsema | Mijke | Rice University | Midfielder, Defender | Schoonhoven, Netherlands | ADO Den Haag | Netherlands |
| Ross | Julianne | Northeastern University | Defender | Cumberland, Rhode Island | Boston Breakers/NEFC | United States |
| Salvador | Romane | California Baptist University | Goalkeeper | Lyon, France | Paris Saint-Germain PSG | France |
| Santos | Ashley | Illinois State University | Midfielder, Defender | Naperville, Illinois | Team Chicago Academy | United States |
| Sapp | Mercedes | University of North Florida | Goalkeeper | Orlando, Florida | Orlando City Elite | United States |
| Schill | MacKenzie | University of Wisconsin – Milwaukee | Forward, Midfielder | Pewaukee, Wisconsin | SC Wave | United States |
| Schimmer | Marleen | Grand Canyon University | Forward, Midfielder | Mainz, Germany | TSV Schott Mainz | Germany |
| Sever | Jelena | University of Wisconsin – Milwaukee | Forward, Midfielder | Milwaukee, Wisconsin | United Serbians Soccer Club | United States |
| Shepherd | Lucy | Hofstra University | Forward | Worcester, England | Aston Villa Women | United Kingdom |
| Silva Santos | Ana Paula | WIlliam Carey University | Midfielder | Sao Paulo, Brazil | N/A | Brazil |
| Skiba | Bridgette | Oregon State University | Goalkeeper | Portland, Oregon | Westside Timbers | United States |
| Sodoma | Sarah | Arkansas State University | Midfielder, Defender | St. Louis, Missouri | Lou Fusz Soccer Club | United States |
| Stackpole | Haleigh | University of Mississippi | Forward, Midfielder | Bowling Green, Kentucky | NC Courage Academy | United States |
| Stauffer | Annie | Transylvania University | Midfielder, Defender | Owensboro, Kentucky | Indy Fire Juniors ECNL | United States |
| Steigleder | Regan | Northwestern University | Forward, Midfielder, Defender | Iowa City, Iowa | Michigan Hawks | United States |
| Steinwascher | Cecelia | Grand Valley State University | Midfielder, Defender | Sterling Heights, Michigan | N/A | United States |
| Stephan | Dani | Michigan State University | Midfielder, Defender | DeWitt, Michigan | Michigan Hawks | United States |
| Stevenson | Erin | University of Maryland – Baltimore County | Midfielder, Defender | Sellersville, Pennsylvania | FC Bucks | United States |
| Suarez Quevedo | Sara | Chicago State University | Forward, Midfielder | Las Palmas, Spain | Union Viera | Spain |
| Talbot | Madeline | Stephen F. Austin State University | Goalkeeper | Shreveport, Louisiana | Shreveport United | United States |
| Talley | Jada | University of Southern California | Forward | Corona, California | So Cal Blues | United States |
| Taylor | Miriael | Hofstra University | Forward, Midfielder, Defender | Kent, England | Chelsea Women, Arsenal Women | United Kingdom |
| Thomas | Haley | Boston College | Midfielder, Defender | Kennewick, Washington | Three Rivers Soccer Club | United States |
| Thompson | Jordan | Gonzaga University | Defender | Sumner, Washington | Washington Premier FC | United States |
| Thompson | Kayla | Brown University | Goalkeeper | Austin, Texas | Lonestar Soccer Club | United States |
| Thron | Julietta | Northwestern University | Midfielder, Defender | Caldwell, New Jersey | Matchfit FC | United States |
| Tripp | Amber | Utah Valley University | Forward, Midfielder | Draper, Utah | Utah Avalanche | United States |
| Van der Jagt | Olivia | University of Washington | Midfielder | Kent, Washington | Eastside FC | United States |
| Villagrana | Yossimar | Butler Community College | Midfielder | Wichita, Kansas | Wichita Kansas Rush | United States |
| Walker | Ellie | University of Portland | Defender | Vancouver, Washington | FC Portland | United States |
| Wandt | Jennifer | Baylor University | Goalkeeper | Brookfield, Wisconsin | FC Wisconsin | United States |
| Weaver | Camille | Colorado College | Midfielder, Defender | Bend, Oregon | Bend FC Timbers | United States |
| Wegener | Emory | University of Georgia | Goalkeeper | Alpharetta, Georgia | Atlanta Fire United | United States |
| West | Alex | University of Vermont | Midfielder, Defender | New York, New York | Albertson Fury | United States |
| Westin | Emma | University of California – Berkeley | Forward, Midfielder | Stockholm, Sweden | Boo FF Sweden | Sweden |
| Whitmore | Lindsey | Southern Methodist University | Forward, Midfielder | Henderson, Nevada | Heat FC | United States |
| Winebrenner | Jenna | Texas Christian University | Defender | Kansas City, Missouri | Futura FC | United States |
| Wiseman | Ebony | James Madison University | Midfielder | King's Lynn, England | Norwich City FC | United Kingdom |
| Wolfbauer | Madison | Bowling Green State University | Forward, Midfielder | Canton, Michigan | Michigan Hawks | United States |
| Zamiela | Chloe | University of South Florida | Forward, Defender | Stuart, Florida | Sunrise SC | United States |
| Zerva | Theoni | University of Louisiana – Monroe | Midfielder, Defender | Kalamata, Greece | PAOK | Greece |
| Zullo | Luciana | University of South Carolina | Forward, Midfielder | Flemington, New Jersey | PDA | United States |
| Zuniga | Jenna | Cal State University – Stanislaus | Midfielder, Defender | Manteca, California | Davis Legacy | United States |