Forty-eight players called to U.S. U-14 Boys National Team camp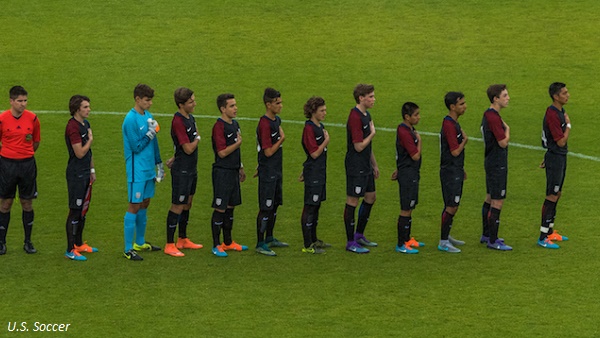 CHICAGO (Via U.S. Soccer) – U.S. Under-14 Boys' National Team Head Coach Clint Peay has named a 48-player roster to the team's final camp of 2017, set to take place from Nov. 11-18 at the Chula Vista Elite Athlete Training Center in Chula Vista, Calif.
"This camp is a chance to bring in a bunch of guys together to see where they are for the next cycle," Peay said. "The main goal of the camp is to use it as another evaluation to see where they are after a year. We'll get the chance to see how they've progressed and it gives coach Shaun Tsakiris, who will take them at the U-16 level, an opportunity to come in and see a big pool of guys all in one place."
During the camp, the U-14 BNT (birth year 2003) will play a total of five games, including one intra-squad match, games against U.S. Soccer Development Academy clubs San Diego Surf (a mix of birth year 2001-2003) and Albion SC U-17 (birth year 2001), and two matches against Club Tijuana, who will field a combination of U-16's (birth year 2002) and U-15's (birth year 2003).
+READ: USSDA Boys East Conference Recap – November 4-5, 2017
Out of the 48 players on the roster, 46 have played at least one season in the U.S. Soccer Development Academy and all players were born in 2003.
The camp marks the fifth and final U-14 Boys' National Team programming of 2017 and the last of the 2016-2017 cycle, which began in November 2016. Beginning in 2018, the 2003 birth year players will move up to the U-16 Boy's National Team for the 2018-2019 player cycle.
Roster by Position

GOALKEEPERS (4): Andrew Cordes (Colorado Rapids; Denver, Colo.), Eliot Jones (New England Revolution; New Britain, Conn.), Gavin Krenecki (Sacramento Republic; Fair Oaks, Calif.), Jacob Morris (Real Colorado; Parker, Colo.)
DEFENDERS (14): Adrian Aguilar (LA Galaxy; Los Angeles, Calif.), Niklas Dossmann (De Anza Force; Belmont, Calif.), Andrew Durkin (Richmond United; Henrico, Va.), Marcus Ferkranus (LA Galaxy; Santa Clarita, Calif.), Isaiah Foster (Bethesda SC; Frederick, Md.), Reece Fragle (FC Dallas; Plano, Texas), Jacob Greene (DC United; Crofton, Md.), Noah Hall (Columbus Crew; Cincinnati, Ohio), Isaac Homer (Portland Timbers; Portland, Ore.), Ulysses Martinez (Portland Timbers; Mt. Angel, Ore.), Morris Mathews (New England Revolution; Cambridge, Mass.), Nico Rei McMillan (Seattle Sounders; Seattle, Wash.), Andre Ramos (LA Galaxy; Los Angeles, Calif.), Bogart Roca (LA Galaxy; Sylmar, Calif.), Casey Walls (San Jose Earthquakes; Mill Valley, Calif.)
MIDFIELDERS (16): Paxten Aaronson (Philadelphia Union; Medford, N.J.), Sebastian Burke (FC Bayern Munich; Raleigh-Durham, N.C.), Javier Casas (Chicago Fire; Addison, Ill.), Caden Clark (Barca Academy; Medina, Minn.), Brian Gutierrez (Chicago Fire; Burbank, Ill.), Dante Huckaby (Philadelphia Union; Morgantown, W. Va.), Martin Killeen (LA Galaxy; Brea, Calif.), Sota Kitahara (Seattle Sounders; Edmonds, Wash.), Daniel Leyva (Seattle Sounders; Seattle, Wash.), Brian Lopez (Weston; Miami, Fla.), Diego Luna (San Jose Earthquakes; Sunnyvale, Calif.), Leonardo Martinez (San Jose Earthquakes; Biola, Calif.), Jack McGlynn (BW Gottschee; Middle Village, N.Y.), Anthony Miron (Real So Cal; Pacoima, Calif.), Nicholas Pariano (Philadelphia Union; Wayne, Pa.), Aidan Wolf (Columbus Crew; Cleveland Heights, Ohio)
FORWARDS (14): Nicolas Bellini (La Roca SC; Lehi, Utah), Andres Cardenas (Weston; Doral, Fla.), Edward Castro (LA Galaxy; Los Angeles, Calif.), Alec Kenison (San Diego Surf; San Diego, Calif.), Tyler Freeman (Sporting KC; Shawnee, Kan.), Selmir Miscic (Philadelphia Union; Royersford, Pa.), Alex Monis (FC United; Naperville, Ill.), Sebastian Nava (LA Galaxy; Wilmington, Calif.), Ricardo Pepi (FC Dallas; McKinney, Texas), Jonathan Perez (LA Galaxy; Pico Rivera, Calif.), Samuel Sarver (Columbus Crew; Beachwood, Ohio), Dante Sealy (FC Dallas; Frisco, Texas), Dantouma Toure (PDA; Trenton, N.J.)