Florida NPL expands with addition of three new clubs in 2019-20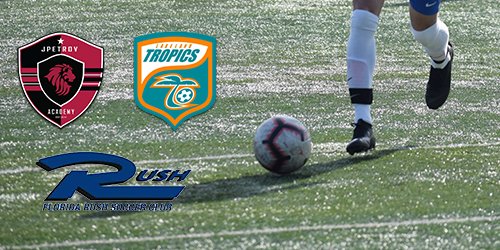 Florida NPL | Floridapremiership.org
(Via US Club Soccer) – As the National Premier Leagues (NPL) continues to grow across the nation ahead of the 2019-20 season, Florida NPL is the latest member league to see an expansion. Florida Rush SC has joined, as well as J Petrov Academy and Lakeland Tropics FC joining the boys' divisions.
"Florida Rush is excited to be a part of the National Premier Leagues," added Florida Rush Technical Director Sean Murphy. "We are looking forward to the 2019-20 season and believe that NPL is an outstanding pathway and development opportunity for both our boys and girls programs."
Established in 2011, the Florida NPL is a veteran of US Club Soccer's NPL, featuring 13-U through 18-U boys and girls age groups. The Florida NPL is part of the Florida Premiership, which includes other programming, such as PDPs and the annual Florida Cup.
The league will be comprised of the following member clubs in 2019-20:
• Chargers SC
• Clay County SC (boys)
• Florida Elite Soccer Academy
• Florida Kraze Krush
• Florida Rush SC
• GPS Florida West
• GPS Orlando
• IMG Academy
• J Petrov Academy (boys)
• Jacksonville Armada FC Youth Academy
• Kendall SC (boys)
• Lakeland Tropics FC (boys)
• Miramar United Elite (Jr. boys)
• Orlando City Youth Soccer (Jr. boys/girls)
• Parkland (boys)
• Pinecrest Premier
• Space Coast United
• Sunrise Soccer (girls)
• Tampa Bay United
• Wellington SC
• West Florida Flames
• Weston FC (girls)
Florida NPL league winners on the girls' side at season's end will advance to the NPL Finals, while the boys regular season champions have the following various postseason pathways via the Elite National Premier League (ENPL):
• 14-U through 17-U: The top two teams in each age group after regular season play advance to the ENPL National Playoff.
• 19-U: The top team in the 19-U age group advances to the ENPL 19-U National Finals.
These three clubs will join their fellow NPL member clubs in being exposed to all of US Club Soccer's offerings, including the upcoming National Cup XVIII Southeast Regional, where teams in 13-U through 18/19-U age groups will attempt to qualify to the National Cup XVIII Finals.
On April 14, the league concluded the inaugural Florida Premiership Showcase League to provide 15-U through 19-U NPL members with more opportunities to be scouted by college coaches. The first-ever showcase league consisted of five divisions, with J Petrov Academy and Clay County SC clinching two age groups, respectively. Florida Kraze Krush claimed the remaining division.