First champions crowned at US Youth Soccer Region III Championships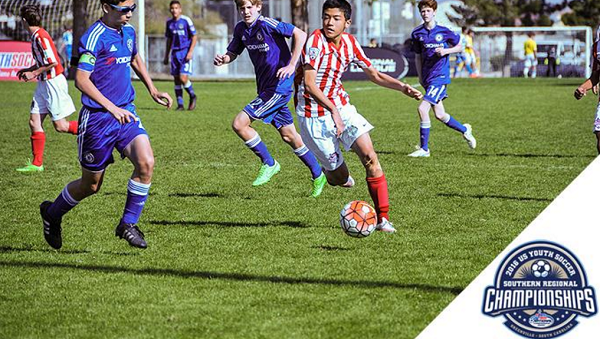 GREENVILLE, S.C. (Via US Youth Soccer) — Determination turned into celebration on Wednesday at the MeSA Soccer Complex in Greenville, S.C., as two teams claimed 2016 US Youth Soccer Region III (South) Championships. By winning the title, the two teams — U-19 Girls CESA (SC) and U-19 Boys FC Florida 96/97 Elite (FL) — have secured a spot in the prestigious US Youth Soccer National Championships, which will be played July 25-31 in Frisco, Texas.
The FC Florida side will have a chance to compete in Frisco for the James P. McGuire Cup — the oldest trophy in youth sports — and head coach Victor J. Sanchez knows what that means for this players.
"I've won a number of championships, but this would be the biggest one of my coaching career yet," Sanchez said of a potential McGuire Cup championship. "And for these young men to be able to achieve that and earn such an accolade would be special and something they'd remember for the rest of their lives."
The remaining Region III Champions will be crowned on Thursday, as finals are played the Under-13 through Under-18 age groups.
2016 US Youth Soccer Region III Championships | Finals
Thursday, June 30
Time
Division
Home
Away
Field
7:45 AM
U13
Girls
Solar Chelsea 03
TX-N
Solar Chelsea Red
TX-N
Field 10
7:45 AM
U13
Boys
02 CASL Academy Juniors
NC
Lonestar 03 Red
TX-S
Field 7
7:45 AM
U18
Girls
Oklahoma FC 98
OK
Tennessee SC 16
TN
Field 2
7:45 AM
U18
Boys
FC Dallas 98 Premier
TX-N
KSA 98 Premier
GA
Field 1
9:30 AM
U17
Girls
CR S Burgundy Rapids
NC
Sunrise Sting 98/99
FL
Field 7
9:30 AM
U17
Boys
CESA 98 Premier
SC
98 CASL Red
NC
Field 10
10:00 AM
U16
Girls
SC United FC 99 Elite
SC
Florida Krush Black
FL
Field 2
10:00 AM
U16
Boys
Andromeda FC 00 Red
TX-N
Concorde Fire 99/00
GA
Field 1
11:45 AM
U15
Girls
Dallas Kicks SC 01
TX-N
OFC 01 Phillips
OK
Field 10
11:45 AM
U15
Boys
Davie United Sharks 00/01 Blue
FL
GSA 01 Premier
GA
Field 7
12:00 PM
U14
Girls
Tennessee SC 20
TN
Florida Elite 01/02
FL
Field 2
12:00 PM
U14
Boys
01 CASL Red North
NC
West Pines United Carrillo
FL
Field 1
Finals Recaps
A pair of second-half goals helped lift CESA (SC) to a 2-0 win over 96 TFCA Alliance (NC) to win the Under-19 Girls title. Neither team managed to take the upper hand in the first half, as the game remained scoreless after the opening 45 minutes. In the 60th minute, Miranda Caroline Weslake netted her seventh goal of the week to put CESA up, 1-0. The South Carolina doubled its advantage in the 75th minute when Kelsey Ann Yeager headed home a cross at the back post — giving CESA some breathing room. The CESA defense continued its strong performance, as it recorded a fourth clean sheet of the week to seal the Region III title.
FC Florida 96/97 Elite (FL) recorded its second 2-0 victory of the week against hometown team CESA 96 Premier (SC) to secure the Under-19 Boys title. As in the first matchup, the teams were very evenly matched and chances popped up at either end of the field. FC Florida grabbed a 12th-minute lead when Bradley Farias found the back of the net. The teams exchanged near-misses just after the hour mark, as CESA twice came close to equalizing the score. The South Carolina side hit a shot just over the bar in the 60th minute, and FC Florida countered with a spectacular bicycle kick attempt that flew just wide of the post. CESA immediately created another opportunity to equalize, but a free kick curled just off the outside of the post. Jacob Montes sealed the 2-0 win for Florida when he gathered a loose ball just outside the 18-yard box and strike a low drive past a diving keeper.
"There are no words to express how happy I am," Sanchez said. "I'm proud of the boys. It has been about them since day one. This has been for them. I'm absolutely ecstatic about their performance and this win in the final against a very good South Carolina team."
Semifinals Recaps
For the second time in three years, Under-15 Girls OFC 01 Phillips (OK) is heading to the Region III Championships final after a 3-0 win on Wednesday against MSC Laker 00/01 Elite (LA). Carsyn Smittle scored in the 17th and 65th minutes to give OFC a 2-0 lead and command of the game. The Oklahoma side fended off MSC efforts to tighten to score, and OFC eventually sealed the game with a Juliet Moncho strike in the final minute. After losing in the 2014 final and falling short in last year's semifinals, OFC is looking to capture its first Region III title on Thursday when it plays 2015 National finalist Dallas Kicks SC 01 (TX-N). The two sides met during the 2015-16 US Youth Soccer National League season and played to a 3-3 draw.
Sunrise Sting 98/99 (FL) will be one of two unbeaten and untied teams playing in the Under-17 Girls final after a 3-1 win over United FA 99 Premier (GA). Haley Mallion put Sunrise up in the 18th minute, but Isabella Dorosy doubled the lead with a 51st-minute goal. Brooke Pirkle immediately responded to pull United FA within 2-1, and the Georgia side continued to push for an equalizer. However, Dorosy added a 72nd-minute insurance goal, and Sunrise held on for the 3-1 victory. The Florida side will meet fellow 5-0-0 team CR S Burgundy Rapids (NC) in the final on Thursday.
Despite facing multiple first-half deficits, Oklahoma FC 98 (OK) managed to fight back and hold on for a 4-3 win over Concorde Fire Central Elite (GA) to advance to Thursday's Under-18 Girls final. Concorde went up in the 13th minute on a Clara Conboy strike, but OFC came back five minutes later and tied the match with a goal from Jaci Jones. The Georgia side took the lead back when Megan Hudgens dribbled into the box and hit her shot around the keeper and inside the near post. Oklahoma once again had an answer, as Ashton England hit home a ball the rebounded off the post — tying the game at 2-2. Laramie Hall netted consecutive goals early in the second half to give OFC a 4-2 advantage, but Hudgens recorded her second tally of the game to pull Concorde within a goal with five minutes to play. However, that's as far as the Georgia side would get, as OFC earned the 4-3 victory. OFC will meet Tennessee SC 16 (TN) in the final, with Tennessee looking to win its fourth Region III Championship in five years.
01 CASL Red North (NC), featuring several players from its semifinal run a year ago, are moving onto the Under-14 Boys final after a 3-1 win over Liverpool 02 Elite (TX-N). The North Texas side got on the scoreboard first, courtesy of Samuel Coad's strike. Shortly after halftime, CASL equalized with a Matthew Stewart goal, and Noah Burnette later found the back of the net to put the North Carolina side in front. CASL gained some breathing room through an own goal in the 61st minute and held on to record the 3-1 semifinal victory. CASL will meet Group B winner West Pines United Carrillo (FL) in the Under-14 Boys final.
Concorde Fire 99/00 (GA) is heading to the Under-16 Boys final after a 3-0 win on Wednesday against MSK Rayados Barcelona (TX-S). In the 18th minute, Concorde's Andrew Donehoo nodded down a corner kick, and Chris Schneider volleyed it past the keeper to put the Georgia side in front. Donehoo later doubled Concorde's advantage when he found the back of the net in first half stoppage time. MSK worked hard it the second half to cut into the deficit, but William Carter added a late insurance goal to cap the Georgia side's 3-0 victory. Concorde will meet Andromeda FC 00 Red (TX-N) in the final after the North Texas side won in its semifinal in a shootout.
Local side CESA 98 Premier (SC) will have a chance to defend its Region III title on Thursday after a 3-0 semifinal win against Solar Chelsea Red 99 (TX-N). It took a while for CESA to break down Solar, but the South Carolina side's Andrew Luzzatti struck in the 44th minute to make it 1-0. Luzzatti doubled the lead shortly after when he found the back of the net for a second time, and Tyson Hichman added a third goal in the 63rd minute to put CESA in firm control of the match. The CESA defense recorded its second clean sheet of the week in the win, and the hometown side will move on to face 98 CASL Red (NC) in the Under-17 Boys final.
Regional winners of the Under-13 through Under-19 age groups earn a berth to the 2016 US Youth Soccer National Championships, which will be played July 25-31 at the Toyota Soccer Center in Frisco, Texas.
The US Youth Soccer National Championships will consist of US Youth Soccer Regional Champions, as well as the US Youth Soccer National League qualifiers in the Under-14 through Under-18 Boys and Girls age groups to complete the field of 96 teams.