Final matchups set at US Youth Soccer Midwest Regional Championships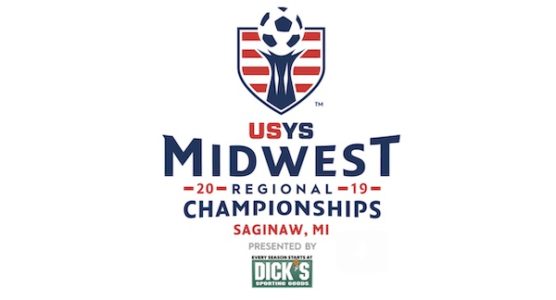 Twitter | Facebook | Instagram | #ROADtoKS
SAGINAW, Mich. — The remaining 28 teams are just one win away from history, as the semifinal round wrapped up Tuesday at the 2019 US Youth Soccer Midwest Regional Championships in Saginaw, Mich.
Winners of Wednesday's 13U through 19U final matches at Saginaw Township Soccer Complex will earn a berth to the 2019 US Youth Soccer National Championships, presented by Dick's Sporting Goods, which will be played July 22-28 at the Overland Park Soccer Complex in Overland Park, Kan.
Host state Michigan leads the way with nine teams in the finals, while Illinois has five and Missouri has four. Minnesota and Wisconsin each have three, and Iowa, Kansas, Ohio North and Ohio South all have one finalist.
Tuesday's semifinals featured numerous even matchups with little separating the teams. Six games went to overtime, with five needing kicks from the mark to decide a winner, while another match saw a game-winner scored in the final minute of regulation.
Iowa Rush 2003 (IA) needed overtime to win its semifinal against SC Waukesha 03 Blue (WI) and advance to the 16U Girls championship match. Iowa coach Daryl Brazeau said the extra time can be nerve-wracking, but his players battled and found a way to advance.
"It's amazing. Being a team from Iowa, you're always kind of the underdog. Coming out here and getting the win, it was a tough one," Brazeau said. "Give Waukesha credit. We went up 2-0. They came back and battled to make it 2-2. We were really on our heels in the end of the second half, but we were able to get the win in the end."
In addition to facing talented and proven opponents, the teams competing on Tuesday also found themselves challenged by the pressure of knowing they were just one step away from competing for the Midwest Regional Championship. Brazeau said the combination of opponent and situation helps produce an opportunity for players to grow.
"We talk all the game about trying to play in meaningful games that stretch our ability both technically and tactically — and mentally, here today," Brazeau said. "We had to overcome the letdown in the second half. To play in a game like this definitely stretches all of our abilities."
The US Youth Soccer National Championships will consist of US Youth Soccer Regional Champions in the 13U through 19U Boys and Girls age groups, as well as the US Youth Soccer National League qualifiers in the 14U through 19U Boys and Girls age groups to complete the field of teams.
See how the teams advanced to the Midwest Regional Championships finals:
13U Boys
After a draw to start its week, KC Fusion Academy 06 (KS) won its next two games to advance out of Group C and face off against Sporting STL Goddard 06 Navy (MO) in the semifinals. Despite going down a man against Sporting STL, KC fought back and eventually advanced to the final via kicks from the mark. Group D winner Michigan Jaguars 06 Green (MI) did not need any extra time in its semifinal, as it produced its largest goal output, along with a clean sheet, to secure a dominant victory and head to the championship match with plenty of momentum.
13U Girls
Michigan Jaguars (MI) have compiled three straight clean sheets and feature an offensive attack led by the age group's top scorer in Amalia Villareal. Their balanced play has allowed the Jaguars to outscore its opponents, 17-to-2, en route to the final, where they will face in-state foe Nationals Union 06 Girls Black (MI). Nationals netted a pair of late goals in their 2-0 semifinal victory. Nationals have conceded just one goal at the Midwest Regionals, which sets up an interesting matchup against the Jaguar's high-scoring offense.
14U Boys
Both 14U Boys semifinals needed kicks from the mark to decide which sides would advance to the championship game. MSC Academy 05/06 (IL) received early goals from Omar Mangato and Reyes Parra in its semifinal, but Chicago Inferno FS 05 (IL) responded to level the score and force overtime. Following the extra periods, MSC Academy came away victorious, 4-2, in kicks from the mark. Nationals Union 05 Black (MI) also had a chance to win its semifinal match against ECU 05 B Maroon (IN) in regulation thanks to an Aleksander Markovski goal. However, ECU scored in the final minute and forced Nationals Union to wait until kicks from the mark to come away with the victory, as it converted four attempts to ECU's three.
14U Girls
Tonka Fusion Elite (MN) has played three games decided by a goal or less, and the Minnesota side has shown an ability to earn the necessary results to keep advancing. After three clean sheets in group play, Tonka needed a late Avery Petty strike — coupled with an earlier Lily Nayar goal — to earn a 2-1 semifinal win against SC Waukesha 05 Blue (WI). Tonka will face Lou Fusz Geerling 05 (MO) in the final, as the Missouri side started the week by winning all three of its games to finish on top of Group B. Lou Fusz earned a 3-0 win in its semifinal to send it to Wednesday's match in good form.
15U Boys
The path to the final for Raiders FC – 2004 (IL) has featured plenty of tight games, as each of its four contests have been decided by a one-goal margin. Most recently, the Illinois side needed a pair of goals from Marco Antonio Valencia to earn a 2-1 win in its semifinal matchup against Midwest United FC 04 Royal (MI). SLSG 04 Elite (MO), which won Group B with two wins and a draw, also played a tight semifinal, as it held on for a 1-0 win against CFJ City 2004 (IL) after receiving a goal from Will Raftery in the game's opening minute.
15U Girls
After winning Group C without conceding a goal and netting the age group's most goals, SC Waukesha 04 Girls Blue (WI) continued its strong play with a dominant win in the semifinals. The Wisconsin side features the top two 15U Girls goal scorers in Zoe Hevey (1st – 5 goals) and Kayla Budish (T-2nd – 4 goals). Sporting St. Louis Red Devils 2004 (MO) will aim to slow down Waukesha in the final, as the Missouri side has recorded a clean sheet in three of its four matches in Saginaw. Sporting secured a 1-0 win over Beadling 2004 South Red (PA-W) in the semifinals on Tuesday thanks to a Maggie Illig goal in the 72nd minute.
16U Boys
With strong defensive efforts, FC United 2003 Pre Academy (IL) has earned a place in Wednesday's final. The Illinois side has scored just once in three of its four games in Saginaw, but three shutouts have allowed FC United to turn that into three wins and a draw. The latest result — Tuesday's 1-0 semifinal win against KCSG Academy 03 (KS) — featured a game-winner from Jake Krueger. The results for Milwaukee Bavarians 2003 (WI) have been even tighter, as it advanced out of Group D with one win and two ties. The Wisconsin side grabbed a two-goal lead in its semifinal against Midwest United FC 03 Royal (MI) on Gabriel Anguiland Jack Bania. After Midwest equalized the score, Bania netted his second goal of the match to put Milwaukee through to the final.
16U Girls
After opening its week in Saginaw with a 4-0 win, Iowa Rush 2003 (IA) has fought through several close games to advance to the final. On Tuesday, Iowa needed overtime to earn a 3-2 win against SC Waukesha 03 Blue (WI), as Brooklyn Woods netted an overtime game-winner — her second goal of the game — to go along with a first-half Natalia Scalestally. Lou Fusz 03 Blue (MO) began its week with a scoreless draw, which was the first of three clean sheets it kept to win Group D. Its semifinal matchup with Nationals Union 03 Red (MI) was a different story, as the Nationals twice answered goals from Lou Fusz's Sarah Foley to level the score. However, a Kasey Neidhardt strike from distance in the final minute gave Lou Fusz the 3-2 victory and sent it to the final.
17U Boys
Galaxy 2002 Boys Blue (IL) and Michigan Jaguars 02 Green (MI) are set to meet in the 17U Boys final, and each team has shown an ability to find the back of net in Saginaw. After an even start to its semifinal match, Galaxy pulled away for a big victory — netting seven goals to match its entire group play scoring output. Meanwhile, Michigan Jaguars 02 Green (MI) built up a four-goal lead in an eventual 4-1 semifinal victory against Midwest United FC 02 Royal (MI). The Jaguars have averaged four goals per match at Regionals and will aim to continue that potent scoring in the final.
17U Girls
Group A winner North Shore United 2002 Blue (WI) has won each of its games by multiple goals, including a 3-0 victory against Nationals Union 02 Black (MI) in the semifinals. North Shore has outscored its opponents, 15-to-2, en route to the final match. After a pair of tight victories to begin group play, Cleveland FC 02 (OH-N) has put together back-to-back strong performances to head to the final match on the heels of two decisive wins. Shelby Sallee paced the Cleveland scorers in Tuesday's victory against LFA United Blue 02 (MO), as she netted her fifth and sixth goals of the tournament, which leads the age group.
With both North Shore and Cleveland FC already qualified for the National Championships via the National League, Nationals Union and LFA United will play on Wednesday to determine the Midwest Regional representative at Nationals.
18U Boys
The Minneapolis United Premier (MN) offensive attack has gotten more productive as the Midwest Regional Championships have gone on, with the Minnesota side most recently securing a come-from-behind 6-3 win in a high-scoring semifinal match against Galaxy 2001 Blue (IL). With a hat trick on Tuesday, Minneapolis's Herbert Endeley now has seven goals to lead the age group. Meanwhile, Michigan Wolves 01 (MI) has showcased a balanced effort on its way to the final. The Wolves scored 12 times while conceding just one goal to win Group B, and the Michigan side continued its strong play with a 2-0 semifinal win against Pacesetter 01 Boys Villa Red (OH-N).
18U Girls
A Sarah Noonan goal in the 65th minute on Tuesday helped Michigan Jaguars 01 Green (MI) to a 1-0 semifinal win against Kentucky Fire Juniors 01 Premier Red (KY). Previously the Jaguars clinched first place in Group C after a pair of victories to open the tournament. Nationals Union 01 Black (MI) earned the opportunity to play the Jaguars in the final, as Nationals came away with a 4-3 (PK) win against North Shore United 01 Blue (WI). Paige Webber and Kaitlin Ducharme put Nationals up by two before Hailey Block pulled North Shore within one before halftime. The Wisconsin side then equalized in the final minute on a Carina Murphy goal to force overtime. Webber scored her second to put Nationals back in front, but Josie Kelderman replied with a North Shore goal late in overtime to force kicks from the mark. Nationals converted three attempts to North Shore's two to put the Michigan side through to the final.
19U Boys
A back-and-forth semifinal between Kingdom SC 00 Red (MI) and Alliance FC IN 00 (IN) saw Kingdom SC earn a 4-3 (PK) victory. After Alliance fought back from two goals down to force overtime, Kingdom took a 110th-minute lead on a Maxwell Keenan strike. However, Caleb Urbanequalized in the final minute of overtime to force kicks from the mark, where Kingdown outlasted Alliance, five conversions to four. While Ohio Premier NL (OH-S) didn't require overtime in its 1-0 win against Toledo Celtics 2000 Black (OH-N), the match still had some drama. With the game scoreless and nearing the final whistle, Noah Boffo netted an 87th-minute game-winner to give Ohio Premier the victory and send it to the final.
19U Girls
Campton United Red (IL) won two games and tied one to finish in first place in Group A. On Tuesday, the Illinois side received goals from Claudia Najera, Celeste Wahlberg and Saydie Holland to secure a 3-0 win against Lou Fusz Elam (MO). In the other semifinal, MapleBrook Fury (MN) continued its strong defensive play with a 1-0 victory against Kentucky Fire Juniors G00 Premier Red (KY). Claire Odmark supplied the game's lone goal, which helped send MapleBrook to the championship game.
With Campton and MapleBrook already qualified for the National Championships via the National League, Lou Fusz and Kentucky Fire Juniors will play on Wednesday to determine the Midwest Regional representative at Nationals.
Daily reports and complete results from the US Youth Soccer Midwest Regional Championships are available on championships.usyouthsoccer.org/Midwest.