FC Virginia announces women's soccer commitments for 2019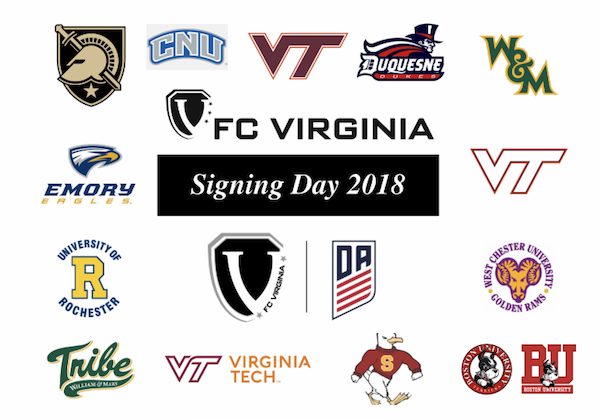 (Via FC Virginia) – FC Virginia has announced the club's women's soccer college commitments for the class of 2019.
These players have committed to some top academic and athletic institutions from around the country. Signing day for women's soccer, previously held in February, has moved up for some of the NCAA divisions. This list will grow as more players finalize their college decision.
"We are extremely proud of these young women on their commitment to play at the next level," said FCV Director Christian Cziommer. "It has been a joy seeing them grow and develop at FC Virginia. And we are excited to see them flourish as student athletes in the college game."
These players will now be joining the more than 150 players that have gone on to play college soccer from FC Virginia.
"There is nothing more rewarding as a coach than being a part of the process as your players accomplish their goals," said FCV Operations Director Cory Hanks. "Watching them progress, seeing them put in the extra work, guiding them as they grow and mature both on and off the field, has been one of the best parts about coaching at FC Virginia. And every one of these kids are products of the developmental system all of our coaches have contributed to and the tireless work they put in."
Class of 2019 – College Commitments:
Sydney Ash – Virginia Tech – FCV U19 DA
Gretchen Bennett – Boston University – FCV 01 United
Savannah Berry – University of Rochester – FCV U19 DA
Cassidy Brown – Virginia Tech – FCV U19 DA
Darrian Burnett – Virginia Tech – FCV U19 DA
Kristen Guiney – Army West Point – FCV U19 DA
Madeleine Hayes – William & – FCV U19 DA
Mallory Pasco – Salisbury – FCV 00 United
Kaitlyn Price – Emory – FCV 00 United
Sarah Philip – West Chester – FCV U19 DA
Kayleigh Shackford – William & Mary – FCV U19 DA
Kristina Skulte – Duquesne – FCV 01 United
Lauren Sproat – Christopher Newport – FCV U19 DA