FC Copa Academy 00 Girls win US Club Soccer NPL Finals title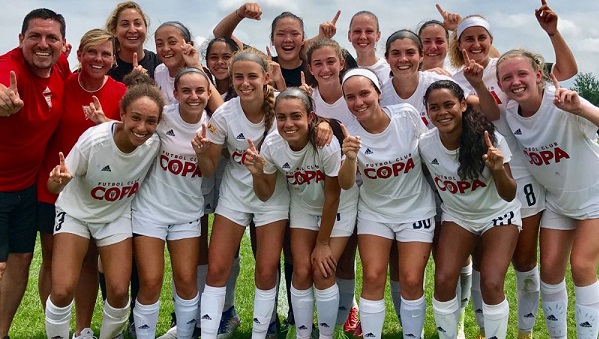 The FC Copa Academy G00 Black have been crowned the 2017 NPL National Champions, becoming the second team in club history to win a National Title.
After a year-long competition, facing countless top-level opponents along the way, the G00 Black finally came away with the Title. For Head Coaches Roberto Aguas and Lori Berman, the journey the team has been through up until this point has been just as enjoyable as the win.
"We are filled with pride today having seen a great and gutsy performance by this group of young ladies," said Head Coach Roberto Aguas. ""For all those players, parents and coaches who have gotten close many times, they know how hard it is to push and battle through until the last whistle in a National Championship run. This group believed every step of the way and today are proud to represent every single member of this great academy."
"It was an honor to watch this remarkable group of young ladies demonstrate incredible passion, resilience and heart these past five days," said Head Coach Lori Berman. "They fought together and played constantly for each other. They were ALL IN! Thank you girls for making us beyond proud!"
GROUP PLAY RECAP
Competing in the NPL National Finals Indiana over Thursday, July 13th through Tuesday, July 17th, the G00 Black dropped their first game against State Cup Champions and the #1 team from Louisiana 4-3. After this disappointing loss, the G00 Black rallied and won their next two group games.
"After losing the first game in a devastating last second counter, they regrouped and rallied off four truly unbelievable matches," said Aguas. "We had a long team meeting on Thursday night after the loss, and talked about believing in themselves and their own incredible abilities, both as individuals and as a team."
On their second day, the G00 Black overtook #3 in MA GPS in impressive fashion, serving the State Cup Champions a 4-1 defeat. On Saturday, July 15th, the G00 Black took their final group game with a 3-1 defeat over the Oceanside Breakers, sealing their spot in the National Semi-Finals. This set up a Semi-Final showdown against #1 in NYE, Quickstrike. On Sunday, July 16th, the G00 Black put on a commanding performance, taking the 6-1 win.
"On Friday, we played with conviction and disrupted a very well-coached GPS team who possesses the ball very well," explained Aguas. "On Saturday, with a spot in the National Semi-Finals on the line, we stepped up to beat #9 from Southern California 3-1. The heart they showed on Sunday's Semi-Final game is beyond belief."
WORDS FROM THE PLAYERS
On Monday, July 17th, the G00 Black finally reached their destination, where they have desired to reach for years on end. The National Championship game, with a chance to take home a National Title on the line. For those players who started with the club at age U12, the magnitude of the moment and their journey up until that point was not lost.
"After seasons of dedication and hard work, our team came to learn that desire and the will to win is what pushed us to be successful," said Captain Gianna Alfano, who has led the team from center back this year.
"This National Championship caps a seven-year-run filled with hard work, sweat, pain and perseverance," said Emma Lombardo, who was a defensive stalwart for Copa, starting at outside back the entire weekend. "I'm so happy and proud to be a part of this great win for our team, my family, and our club."
"To me, winning nationals means everything," said Gina Mae Fahrenholz, the other starting outside back who has been a leader on this team since the age of 12. "We've been working so hard and have dedicated ourselves to the game and to finally accomplish something we once thought was impossible is absolutely incredible. I cannot be more proud of how well everyone stepped up in order to make this happen. It's been an incredible journey for the past seven years and I cannot wait to see what else we can do together.
NATIONAL FINAL MATCH RECAP
Facing off against FC Stars from MA, the G00 Black knew quickly they had a tough game ahead of them for the National Championship. In a game with both sides pouring their hearts out onto the field, each team had many dangerous chances. Keepers Aytana Muschajew (Fairfield University commit) and Lauren Krinsky (University of Delaware commit), who had had a big impact throughout the weekend, came up huge in multiple moments in the National Championship, with each keeper making at least six point blank saves each.
In the 27th minute, Jasmine Colbert found the back of the net to open up scoring for the game. In the following minute, the Stars scored off a FC Copa foul, tying the game at 1-1. After halftime, Jasmine found her twin sister, Jada for the go-ahead goal in the 51st minute to regain the lead, 2-1. The 66th minute saw another sister-to-sister combo, with Jasmine once again finding Jada to bring the lead to 3-1. However, the Stars converted yet another foul on Copa into a goal, bringing the scoreline to 3-2. In the 89th minute, the Stars found the late equalizer to sent the game into overtime.
"Although obviously crushed after the last minute goal in regulation, the girls remained positive and resilient," explained Aguas. "We asked them to continue to believe in themselves, to never give up and to keep fighting."
In the 95th minute, the Stars gave up a penalty, which was taken by midfielder Mya Stolarski. Although the shot was initially deflected, forward Tori Constantin notched the rebound into the back of the net to regain the lead at 4-3. In the final minutes of the second overtime, Jada Colbert found her third of the game to seal the win, 5-3.
"Every single player contributed to this National Championship Title," said Head Coach Lori Berman. "This was the definition of a team effort. We stepped up and supported each other through all the adversity, and came out on top."
The defensive line was solid all weekend- made up of Keepers Muschajew and Krinsky, Center Backs Alfano, Caroline McCaffery and Kat Rebele, and outside backs Fahrenholz and Lombardo. In the midfield, Emma Bedell (Gettysburg University commit), Jada Colbert, Mya Stolarski and Sami Howard brought their team together in every game, connecting passes and getting up and down the field with abandon. Up top, the dangerous offensive line was led by Christina Cernuto (University at Albany commit), Jasmine Colbert, Constantin, Dana Flood (West Chester University commit) and Christine Cataldo-Smith. Players who were unable to attend the NPL National Championship, but played a large role in getting the team to the Title game in the first place, were defender and Monmouth University commit Sam Senatore, midfielder Paige Farrell and midfielder Rhea Banerjee.