Farmingdale United U-19 Girls win ENY State Open Cup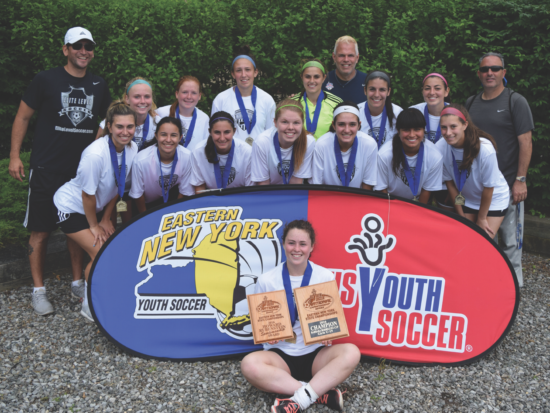 (Via ENYYSA) – Farmingdale United of the Long Island Junior Soccer League (LIJSL) won seven State Open Cups and six in a row but that did not deter another LIJSL team, the Sound Beach Stingrays, from upsetting them, 2-1, in the 2015 Girls-Under-18 State Open Cup final. That set up an enticing rematch last Saturday, June 11 at the Peter Collins Soccer Park in Plainview in the Eastern New York Youth Soccer Association (ENYYSA) Girls-Under-19 final for the Barbara Rodriguez Cup.
Barbara is a Hall of Fame inductee of both the LIJSL and Eastern New York who volunteered as Chairperson of the State Cup for 23 years, from 1992 to 2014, and her daughter Judy Rodriguez was on hand to present the trophy to Farmingdale, 4-0 winners in the rematch. Hope Breslin and Hope Quinonez each scored two goals to end any hope for Sound Beach in the final. Farmingdale keeper Katie Hatziyianis received the shutout in goal.
"Our team had a very good flow in this game and we certainly remembered that Sound Beach beat us last year," explained Farmingdale coach Jaime Gonzalez. "We wanted to finish with a State Cup championship to win in our last year together, in Under-19, as we did in our first year together, as Under-10s."
Farmingdale also added the Howard Rubenstein Sportsmanship Award, as determined by the game officials, to their overflowing trophy case. Now living in Kentucky, Mr. Rubenstein was seemingly involved in every facet of New York soccer for decades and is a member of the Halls of Fame of Eastern New York, the US Amateur Soccer Association and the LIJSL.
Farmingdale will again be representing Eastern New York in the Regional championship, from June 30 to July 5 in Barboursville, West Virginia, and Eastern New York will again help pay for their costs.