Expanded Elite Academy League begins 2021-22 season with 53 clubs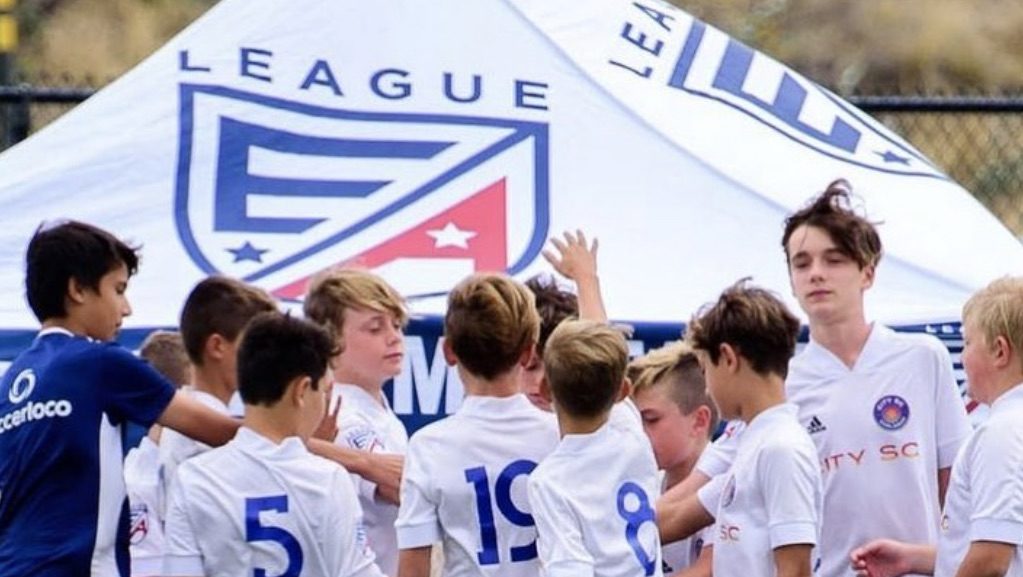 By Adam Schwager
SoccerWire Staff Writer
Entering their second season of competition, the Elite Academy League (EA) has expanded significantly, and added a new national playoffs to conclude the 2021-22 campaign. After starting small in their first season, the all-boys league has gone nationwide for season two.
Here's everything you need to know about the EA's second season.
Competition Format
The inaugural Elite Academy season featured two conferences with 22 total clubs. This season, the EA has expanded to six conferences which encompass 53 clubs across the country. Many of these clubs also have teams playing at the ECNL or MLS NEXT level. For some, the EA will serve as a de-facto proving ground for their MLS NEXT platform.
Members are split into the Northwest NorCal, Northwest Pacific, Midwest, Mid-America, Southwest and Southwest Desert conferences. Each conference consists of U13-U19 competitive teams, while the Southwest Conference has additional teams at the U11-U12 levels.
Throughout the season, every team will play in 14+ conference games and at least three showcase games. For the U13-U14 age groups, teams will participate in a Regional Showcase that consists of three additional games. For the U15-U19 levels, teams will participate in two National Showcases, adding six games to their competitive schedules. All conference games and showcases games will contribute to the team's conference standings to qualify for the National Championship.
National Championship
This season, all U13-U19 teams are competing to earn a spot in the EA's inaugural National Championship, to be held June 2-5, 2022 in Dallas, TX.
Each age group will consist of 16 qualifiers, with at least two coming from each conference. Each of the six conference winners and runners-up will qualify for the tournament automatically, with the third place team from the two largest conferences — the Southwest and the Midwest — also qualifying. The final teams will be the two third-place teams from the other four conferences with the highest points per game throughout the season.
Teams will be seeded 1-16, with the conference winners taking 1-6, conference runner-ups taking 7-12, Southwest and Midwest three-seeds taking 13-14 and the wild cards taking 15-16. Within each tier teams will be organized by points per game earned during the season.
From there, teams will be seeded in a double-elimination bracket with the winners advancing to the next round and the losers playing consolation games. All teams are guaranteed at least three games, with the finalists playing four.
Membership
Listed below is a full EA Conference Alignment Map along with a comprehensive listing of all 53 clubs participating in the 2021-22 Elite Academy season.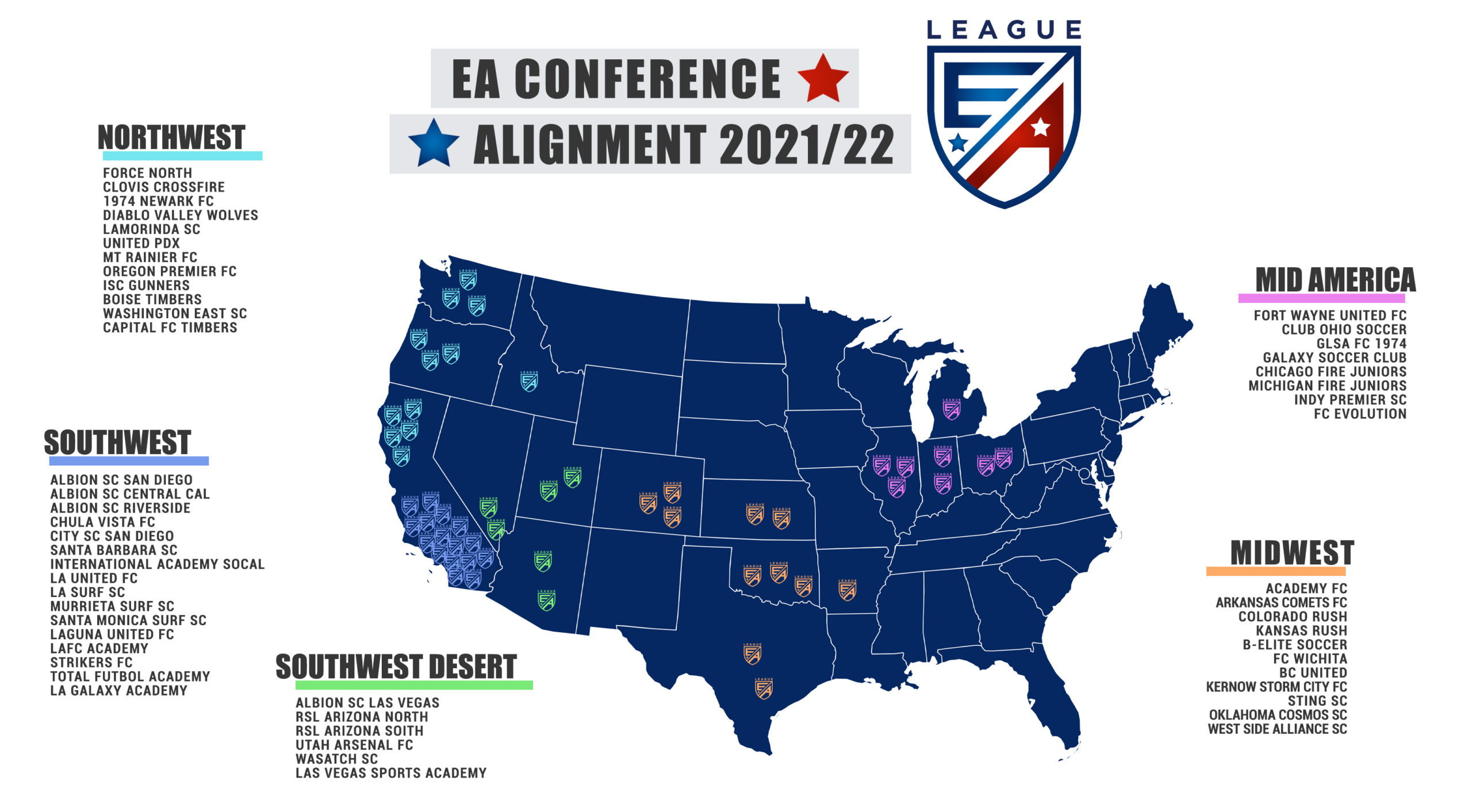 Mid-America Conference
| | |
| --- | --- |
| Club | Location |
| Fort Wayne United FC | Fort Wayne, IN |
| Club Ohio Soccer | Dublin, OH |
| GLSA FC 1974 | Libertyville, IL |
| Galaxy Soccer Club | Naperville, IL |
| Chicago Fire Juniors | Chicago, IL |
| Michigan Fire Juniors | Hudsonville, MI |
| Indy Premier SC | Fishers, IN |
| FC Evolution | Cleveland, OH |
Midwest Conference
| | |
| --- | --- |
| Club | Location |
| Academy FC | Tulsa, OK |
| Arkansas Comets FC | Springdale, AR |
| Colorado Rush | Littleton, CO |
| Kansas Rush | Olathe, KS |
| B-Elite Soccer | Denver, CO |
| FC Wichita  | Wichita, KS |
| BC United | Boulder, CO |
| Kernow Storm City FC | Waxahachie, TX |
| Sting SC | Dallas, TX |
| Oklahoma Cosmos | Oklahoma City, OK |
| West Side Alliance SC | Sand Springs, OK |
Southwest Desert Conference
| | |
| --- | --- |
| Club | Location |
| Albion SC Las Vegas | Las Vegas, NV |
| RSL Arizona North | Phoenix, AZ |
| RSL Arizona South | Chandler, AZ |
| Utah Arsenal FC | Lehi, UT |
| Wasatch SC | Layton, UT |
| Las Vegas Sports Academy | Las Vegas, NV |
Southwest Conference
| | |
| --- | --- |
| Club | Location |
| Albion SC San Diego | San Diego, CA |
| Albion SC Central Cal | Bakersfield, CA |
| Albion SC Riverside | Riverside, CA |
| Chula Vista FC | Chula Vista, CA |
| City SC San Diego | San Diego, CA |
| Santa Barbara SC | Santa Barbara, CA |
| International Academy SoCal | Irvine, CA |
| LA United FC | Los Angeles, CA |
| LA Surf SC | Los Angeles, CA |
| Murrieta Surf SC | Murrieta, CA |
| Santa Monica Surf SC | Santa Monica, CA |
| Laguna United FC | Laguna, CA |
| LAFC Academy | Los Angeles, CA |
| Strikers FC | Irvine, CA |
| Total Futbol Academy | Los Angeles, CA |
| LA Galaxy Academy | Los Angeles, CA |
Northwest Nor Cal Conference
| | |
| --- | --- |
| Club | Location |
| 1974 Newark FC | Newark, CA |
| Clovis Crossfire | Clovis, CA |
| Diablo Valley Wolves | Concord, CA |
| Force North | San Mateo, CA |
| Lamorinda SC | Moraga, CA |
Northwest Pacific Conference
| | |
| --- | --- |
| Club | Location |
| United PDX | Tigard, OR |
| Mt. Rainier FC | Buckley, WA |
| Oregon Premier FC | West Linn, OR |
| ISC Gunners | Issaquah, WA |
| Boise Timbers | Boise, ID |
| Washington East SC | Spokane, WA |
| Capital FC Timbers | Salem, OR |