USWNT: "This time it makes sense for me," says Jill Ellis of coaching post
Jill Ellis has been here before.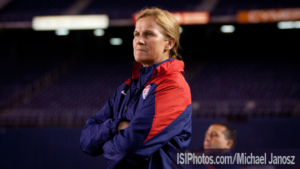 She led the U.S. Women's National Team on an interim basis in 2012 after Pia Sundhage departed the head coaching post for the same job with the Swedish women's national team.
Unlike last time, Ellis is ready to take the position if offered.
"This time it would make sense for me," Ellis told SoccerWire.com this week. "I think a little bit my circumstances have changed, but yeah, I'm interested in the position, interested in having the conversation about being the next national team coach."
Ellis pulled herself out of the running before Tom Sermanni was hired in 2013. The decision was based on focusing on family and needing a break from a hectic schedule.
"Since I've been with UCLA, I've always had almost two jobs. I was the U-20 coach, the U-21 coach. I was Pia's assistant in 2008 so I was on the road for 200 plus days, Pia's assistant in 2012 and a scout in 2011," she explained.
"It just had been a really long time and I have a young daughter, and I just really thought I'm going to kind of sit this one out and just focus on my family. So I just told them I wasn't interested in pursuing it. They went and did their search and hired a coach."
Despite citing having two jobs as a reason not to take the responsibility of the full-time national coach the last time it was vacant, Ellis still holds her role as the women's program's development director.
[ +READ: Sources: Ellis, Gustavsson leading candidates for USWNT coaching vacancy ]
"Between myself and April Heinrichs – April is the technical director – we're kind of brought in to establish leadership in our program, and leadership outside. Inside the program I oversee the U-17s, U-15s and U-14s, the scouting and the training centers. April has the U-18s, U-20s and U-23s," said Ellis.
Heinrichs and Ellis also "integrate that whole group, philosophy, messaging, style of play, that sort of stuff. Hire coaches and manage that."
However, lately her focus has been more on the USWNT than her Development Director duties. Full-time coaches at the younger age groups helps keep things ticking over. Ellis, along with assistants Omid Namazi and Paul Rogers have been scouting to prepare for the upcoming friendlies.
While the U.S. Soccer Federation and President Sunil Gulati are taking a similar approach to the process that landed Sermanni, it has left Ellis with an uncertain future with her role with the USWNT. She noted that conversations with Gulati took place earlier, but says she has yet to sit down with USSF's president as the process takes its course.
A decision on a new coach appears to be forthcoming, though. Sources told SoccerWire.com last week that Ellis and former USWNT assistant Tony Gustavsson are the federation's finalists for the job.
[ +READ: Double duty: Should the USWNT job be handed to an NWSL coach?]
"I don't know what my future is with this team at this point. It was just, 'Take it until Canada,'" said Ellis.
That friendly against the Yanks' biggest rivals takes place Thursday in Winnipeg (8 p.m. ET, broadcast on ESPN3, ESPNW.com).
Whether she becomes the head coach on a full-time basis or she remains in the interim role until another coach is eventually hired, Ellis knows one thing is key.
"I know the reality of it is whether you're the interim or as the head coach, you're expected to win and get results, so you just know that and it's part of what you do in U.S. Soccer," she said.
Despite an uncertain future, she has been able to put that side of the interim job to the back of her mind.
"I've been able to compartmentalize and say, 'Focus on this, get them ready,' and you always remember the team is the priority," Ellis said.
Right now her focus is on maximizing the players' time together, establishing a lineup and building chemistry, with 35 training days until qualifying for the 2015 Women's World Cup begins.
With so many attacking talents at her disposal, Ellis plans to continue to line up the USWNT  in a 4-3-3 formation. She noted that with the U.S. player pool heavily loaded with forwards, it makes sense to have three in the starting 11. Ellis also pointed out that there is more depth at the back as well.
[ +Find more of SoccerWire's USWNT coverage here ]
With a background in youth development, Ellis plans to continue to call younger players up. With a good mix of younger players given chances under Sermanni, Ellis praised her predecessor's role in freshening up the squad.
"Tom being out there in LA, he'd come out to watch the U-23s or the U-20s, so he was exposed to these players. It was a good step on his part to bring in these younger players and give them opportunities. It needed to happen. The game continues to move forward and I said today, this is such a great balance of youth and experience," she said.
Like many, Ellis was caught off-guard by Sermanni's dismissal.
"I was unaware, obviously there was some concerns," said Ellis. "Decisions were made and it wasn't in my control, but he's a wonderful guy and I do wish him the very best."
The interim USWNT coach has chatted with Sermanni several times since his departure, and cited their previous office-space proximity in building a strong relationship.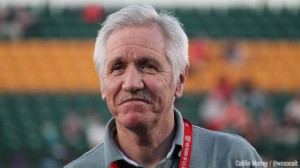 "He's an amazing human being. I've gotten to know him, our offices were like two doors down," she said.
Ellis was thrown right into the fray, coaching the U.S. to a 3-0 win against China five days after Sermanni's firing.
"The great thing is that I know this group so well. I wouldn't say it was a seamless transition, obviously the situation with Tom was challenging, but they're a very professional group. So it was just getting them ready, preparing, pre-game, just doing the things that I've done and we do," Ellis recalled.
Could that familiarity tip the balance in her favor? She certainly has experience with these players and shouldn't face the "cultural differences" that were brought to the fore when Sermanni was dismissed.
"Other than Abby [Wambach] and Christie Rampone, I think, I've literally coached every single player here in a youth national team environment," she said. "When I had the U-21 team I had Carli Lloyd, Heather O'Reilly and with the U-20 team I had Crystal Dunn, so I have a lot of familiarity and a good relationship."