Eight affiliate youth clubs is just the start for NYCFC, says Reyna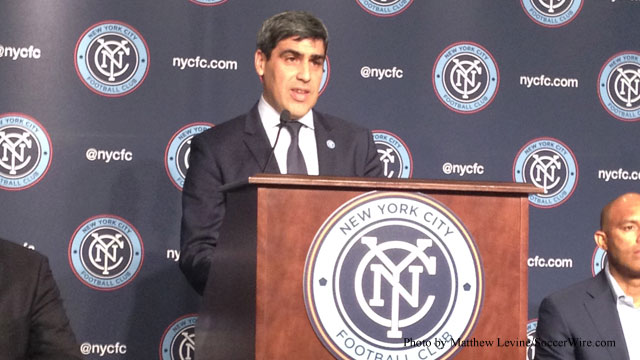 NEW YORK — With NYCFC officially confirming their occupancy at Yankee Stadium for the time being and thus taking up the headlines, the club's other announcement, made on Friday, has been lost in the shuffle. But it might eventually prove just as influential over the long term.
The club has partnered with eight youth clubs in and around the five boroughs of New York City, continuing a dominant theme of the bold new club's short existence. The list includes Blau-Weiss Gottschee, Downtown United Soccer Club, Manhattan Soccer Club, Metropolitan Oval, New York Soccer Club, South Bronx United, Staten Island United and World Class FC. Each of those clubs are well recognized in the New York and Tri-state area, continually producing quality players.
[ +READ: Soccer diamond: Yankee Stadium officially welcomes new tenants ]
"We are honored to now have the professional expertise of New York City FC and their staff, whose resources and instruction on-and-off the pitch will be invaluable to our kids," said Ben Boehm, youth director at Blau-Weiss Gottschee, in one of eight like-minded statements made by representatives of the affiliate clubs in an NYCFC press release. Notably, Boehm's club was once the youth academy arm of the New York Cosmos, a relationship which ended in acrimony and litigation in 2011 after barely a year of existence.
NYCFC Director of Football Operations Claudio Reyna is no stranger to developing young players. He served as U.S. Soccer's youth technical director from 2010-2013 before taking his role with NYCFC.
He plans to bring a similar focus to the expansion club.
"My role is not just the first team, it's also the youth and development of players, the coaches, the way we want to play and also develop these players off the field is as important," he told SoccerWire.com.
"It's something that I care about and I'll be having my eyes on the players' development, because eventually we do want to bring some of the young players to the first team. It's a little bit of a ways, but we'll get that going."
Reyna played an instrumental role in finding the right youth clubs to partner with NYCFC.
"It was through my experiences and speaking to many different clubs throughout the area. We wanted to have some clubs that were like-minded in development. We wanted clubs spread out in locations that made sense for us as well," said Reyna.
"More than anything it was the people that I met at each club that were really committed to being partners with us and linking with us and really working with us."
[ +READ: SoccerWire Q&A: NYCFC's Claudio Reyna on youth national teams, technical development, Tab Ramos ]
With the affiliations Reyna believes NYCFC, who begin MLS play in 2015, can help more established youth clubs become better as well as those that aren't as far along.
However, it's not just the eight recently announced affiliates that Reyna hopes to impact. In fact, he says the recent announcement is just the beginning.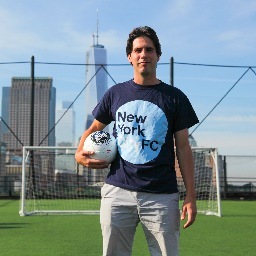 "It's also important that it's not only going to be the clubs and leagues that we have relationships [with], this is really just the first step of our club's relationship with the New York soccer community," he said.
Paul Jefferies, former director at Downtown United, was named NYCFC's "Director of Community Development." He will be tasked with connecting the MLS expansion side – co-owned by the New York Yankees and uber-wealthy English club Manchester City – to the communities of the five boroughs.
"He's going to be connecting with all of the communities, all of the leagues, anyone that has a soccer role, influential in New York City we want to make sure we have relationships with," said Reyna. "He already has that from his previous job and we want to bring those relationships into our club."
The connection the professional club hopes to build is evident. Members of South Bronx United were in attendance at Yankee Stadium on Monday after the club's playing-arrangement announcement. They got to share a lunch with Reyna and head coach Jason Kreis.
NYCFC will also open their training doors to the affiliate clubs, and share both their methodologies and those of Manchester City as well.
[ +READ: In Major League Soccer, attacking flair is imported ]
"One of the main things we want to focus on is having an open relationship and they can develop as well and supporting them. Supporting their coaches and ultimately their players, giving them a clear pathway and inspiring them as well," said Reyna.
He hopes that inspiration leads players from the affiliations to turn out for NYCFC's academy and one day suit up in the (likely) sky-blue kits of the professional squad.
"Any young player who is at one of these clubs, they get the opportunity in five, six, seven years to potentially play at our academy and one day dream of playing for NYCFC," Reyna said.
Some of the youth players may just get a little taste of that dream on the converted Yankee Stadium pitch. Although the professional club won't be hosting any tournaments for the youth sides at their temporary home, they may still get to play on it.
"We certainly want to do some events here, where they'll be able to come before a game and potentially play before one of our games," said Reyna.