Ed Simonello named Eastern NY Girls Recreational Coach of the Year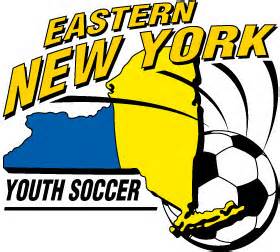 (Via ENYYSA) – The Eastern New York Youth Soccer Association (ENYYSA) has announced that Ed Simonello of Our Lady Help of Christians (OLHC) Soccer Club is being honored as the 2016 Girls Recreational Coach of the Year.
Three people from the Staten Island Youth Soccer League (SIYSL) nominated Ed.
OLHC Director Liz Morano wrote, "Coach Eddie understands that the goal of youth soccer is to teach children the rules of this wonderful sport, to teach children that ever so important life skill called playing as a team and to have fun while doing both. Coach Eddie understands that while winning is fun, learning how to be a good loser is just as important…Coach Eddie plays all his kids. Equally. Without favoritism. Regardless of skill level. Every game…Coach Eddie is there when you need him. Coach a team without any of his children on it – not a problem. Cover another team because their coach can't make a game – sure thing. Participate in a club fundraiser – whatever you need me to do. Support a club community service project – whatever it takes."
Team parent Dr. Faye Dilgen wrote, "I have known Ed as my son's soccer coach for the last six years. During this time, we have found Ed to be enthusiastic, professional, as well as kind and mentoring to his team. Ed has terrific soccer skills, but more importantly, he is a great teacher and very patient. I can recommend Ed highly for this award, as does my son Teague."
Another team parent, Eileen Chipura, wrote, "Because of a change in age regulations, my daughter was moved to Ed's team for two years. Starting a new team as a young teen is not easy but Ed welcomed her with open arms and encouraged her to do her best. She was so happy to be playing and her confidence grew while on his team. His caring for the players was exceptional!…Ed is the coach that all parents would like for their children. He encourages the players to show good sportsmanship, to be healthy and not to focus on the final score. The players always came away with a win because their self-esteem had been cultivated and their love of soccer grew with his teaching."
Ed will be formally honored by Eastern New York at our Holiday Party on Sunday, December 4 at Marina del Rey in the Bronx.