ECNL Texas event abandoned after record snowfall in Ft. Worth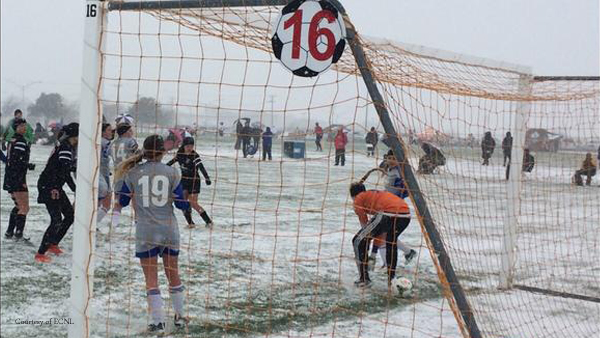 The Elite Clubs National League headed south for the ECNL Texas showcase event over the weekend, expecting to avoid the snowstorms and cold temperatures that have dogged the Northeast in recent weeks.
However, things did not quite go to plan at the Rolling Hills Soccer Park in Ft. Worth.
Record snowfall meant that instead of three games in three days outdoors over the weekend, a few teams only played one, while others did not play any.
+READ: ECNL Texas event disrupted by snow as winter storm blasts across Ft. Worth
Games kicked off as scheduled on Friday morning at 9 and 9:30 a.m. with plenty of snow falling on the fields, but they were all played to a conclusion in the Under-15s to U-18s age groups as planned. One notable result in the U-15s category was Sockers FC's 5-0 win over CASL, while there were also victories for TSC Hurricane, Solar Chelsea SC and Orlando City in that same age group.
Meanwhile, in the U-16s there were wins for Challenge SC, East Meadow SC and Texas Rush, while the NC Fusion and the Utah Avalanche played out a 1-1 draw. The U-17s age group had a number of early games kick off as planned, with GSA one of the big winner as they took a 5-0 victory over Eagles SC. Finally, the U-18s had just one early game, with the Dallas Texans beating Connecticut FC 6-2.
However, even before those games began, the weather forced the cancelation of all games that kicked off at 11 a.m. or later. Snow had been falling almost constantly, and with forecasts providing little hope of any respite, the decision was taken at 8:25 a.m. that all subsequent games on Friday would be canceled.
At the same time, ECNL officials said that they anticipated Saturday's scheduled games to be delayed for approximately three hours as crews from the City of Fort Worth government worked to clear the fields. Unfortunately, the snow continued overnight almost unabated, so in the interests of player safety all games that day were canceled, with the promise that Sunday's fixtures would go ahead without ice on the fields.
Instead, teams who made the trip south were invited to play five-a-side pickup games at the Real Soccer Center in Carrollton, Texas, on a first-come, first-served basis. Given the circumstances, it was the best possible solution as it allowed players from a number of teams to get some competitive action on the field, albeit one of reduced size indoors.
In spite of previous statements that Sunday's play would be uninterrupted, the poor weather continued through the night and left the fields at Rolling Hills covered in snow and ice. That meant that once again teams were forced indoors at the Real Soccer Center, with no play possible outside for the second full day in a row.
+READ: ECNL leaders, USYS national champs highlight Jefferson Cup U-15 Girls Championship Division
It was an unsatisfactory way for one of the ECNL's showcase events to conclude, especially with teams traveling from as far afield as Connecticut, Oregon and Wisconsin to play. However, due to circumstances beyond anyone's control, the event was wrecked by poor weather and record snowfall that affected a large portion of north Texas.
Attention now switches to the full resumption of league play next weekend, with the next showcase event set to be held in San Diego for all five age groups on April 10-12.
ECNL commissioner Sarah Kate Noftsinger did not respond to a request for comment for this article.