ECNL Texas event disrupted by snow as winter storm blasts across Ft. Worth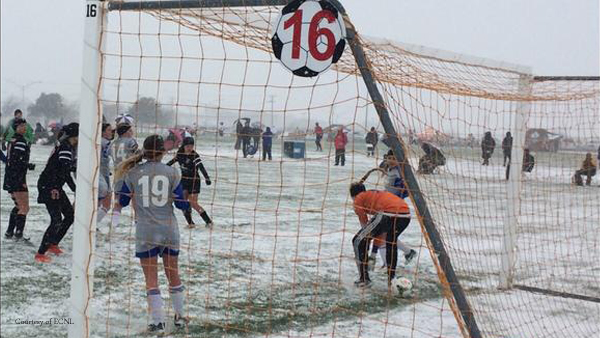 The Elite Clubs National League is holding one of its major showcase events in Ft. Worth, Texas this weekend, a locale where winters are generally mild compared to other parts of the country.
But in Texas they say if you don't like the weather, just wait a few minutes and it'll change…and sure enough, the Dallas-Ft. Worth MetroPlex has been socked with a nasty snowstorm just in time for this weekend's high-profile matches at the Rolling Hills complex.
@TheSoccerWire travel conditions in/around Ft Worth "less than ideal" #OrangeBall #ECNLTX pic.twitter.com/KxChDfWg80

— Eric Hunsaker (@filmcore) February 27, 2015
The event has gathered some 130 ECNL teams from across the country to play two games apiece vs. out-of-region opponents in front of hundreds of NCAA and U.S. Soccer scouts. And while the league's official Twitter account sounded a note of resolution and determination at the beginning of the first day…
We play for the love of the game. Sun, snow or rain…. bring it on. #ECNLTX Day 1 about to get underway. pic.twitter.com/XDRfkOpvHU

— ECNL (@theECNL) February 27, 2015
…as the snow kept falling, conditions became untenable, despite the bravery and dedication of many players ready to continue no matter what.
Some adults expressed their frustration about the situation, with important games needing to take place in truly rugged weather:
Great conditions to play big games in! pic.twitter.com/gPo16Tsk1I — Terry Foley (@Terry_Foley) February 27, 2015
And in the end, ECNL officials felt they had little choice but to call off the rest of Friday's scheduled matches before lunchtime.
Weather update: All Friday games kicking off at 11am or later are canceled. We will provide an update regarding Saturday this evening.

— ECNL (@theECNL) February 27, 2015