ECNL Mid-Atlantic Conference Recap: October 22-23, 2016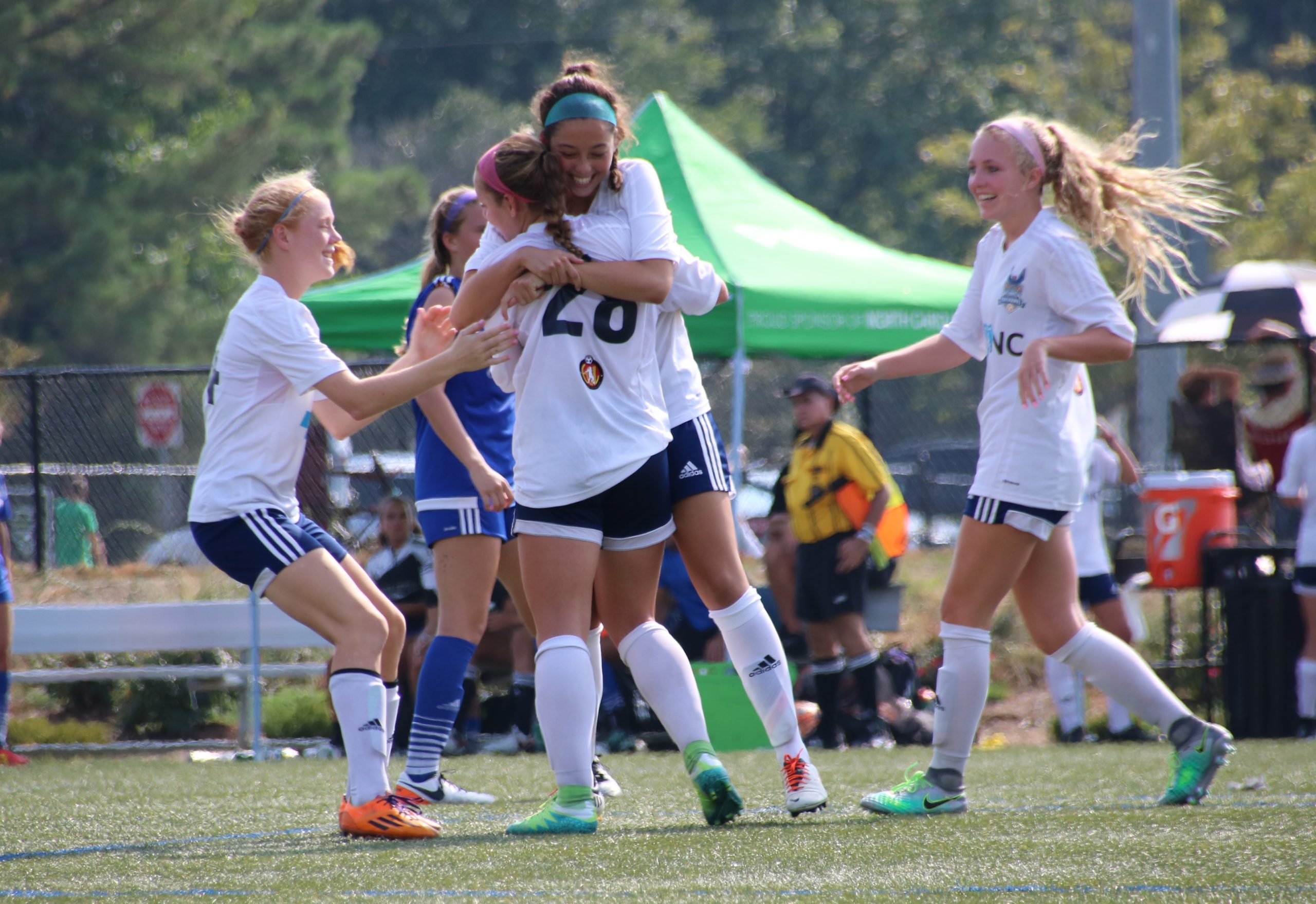 ECNL Mid-Atlantic Conference clubs Maryland United FC, Bethesda SC, FC Virginia, McLean Youth Soccer, Richmond United, CASL, NC Fusion, Indiana Fire, Ohio Premier, Ohio Elite and Internationals SC were all in action over the weekend.
Continue reading for a recap of the action.
+Full ECNL Schedule
+NCAA Women's Soccer Commitment Announcements: October 2016
U-14
Ohio Premier (3-1-1) edged out in-state opponent Internationals SC 2-1 on Saturday, as midfielder Gabriela Rotolo scored one goal and assisted Hailie Clark on the other to spearhead the attack. Premier has now won three straight matches since beginning the season with a loss and a draw.
Bethesda SC (2-3-2) earned four of six possible points on the weekend, defeating Ohio Elite 3-1 on Saturday before playing Indiana Fire to a scoreless draw on Sunday at Wootton High School.
Maryland United FC (2-3-2) played tough defense in 0-0 and 1-1 draws against Indiana Fire and Ohio Elite SA. Goalkeeper Caroline Duffy and the back line limited their opponents to a total of one goal over the course of two games, while Alayna Lynchard assisted Tahirah Turnage on United's goal against Ohio Elite. United is now unbeaten in its last three matches.
Results
Saturday, October 22
Maryland United FC 0, Indiana Fire 0
Ohio Premier 2, Internationals SC 1
Bethesda SC 3, Ohio Elite SA 1
Sunday, October 23
Maryland United FC 1, Ohio Elite SA 1
Bethesda SC 0, Indiana Fire 0
U-15
Richmond United (1-4-2) had a strong weekend, following up its first win of the season on Saturday with a draw on Sunday. United blanked FC Virginia 1-0, then played McLean to a 1-1 tie as United's Caley Shriner and McLean's Jordan Felton exchanged goals.
FC Virginia (3-3-1) bounced back from Saturday's loss with a hard fought win over CASL, prevailing 2-1. Carleigh Frilles and defender Clara Belle Looney found the net for FCV in the win, and Carrie McIntire added an assist.
CASL (3-2-2) split a pair on the weekend, earning 2-0 shutout win over McLean on Saturday prior to its loss to FCV. Adison May and Olivia Neal provided the scoring in the victory.
+Read: ECNL Mid-Atlantic Conference Recap – October 15-16, 2016
Results
Saturday, October 22
CASL 2, McLean Youth Soccer 0
Charlotte Soccer Academy 1, NC Fusion 1
Richmond United 1, FC Virginia 0
Sunday, October 23
FC Virginia 2, CASL 1
Richmond United 1, McLean Youth Soccer 1
U-16
McLean Youth Soccer (6-0-1) had a dominant two-game set, remaining unbeaten following 4-1 and 5-0 routs of CASL and Richmond United. Angela Caloia netted four goals over the course of the weekend to lead the scoring. Leyah Hall-Robinson was a tremendously effective playmaker throughout the two games, racking up two goals and three assists. Julia Leas (1 goal, 2 assists) and Nora O'Connor (2 goals) each had a hand in multiple scores as well. Goalkeeper Cayla White and the back line notched their fourth clean sheet through the first seven matches of the season.
Charlotte Soccer Academy (3-1-2) continued its strong start to the season, overpowering NC Fusion 4-0 on Saturday. Laughlin Ryan netted two goals and assisted another in the victory, while Robin Jackson also found the net and Faith Adams tallied an assist. Meanwhile, the Charlotte back line earned its third clean sheet through the season's first six matches.
FC Virginia (4-1-2) split two decisions on a road trip, defeating Richmond United 2-0 and falling 1-0 to CASL. Defender Olivia Migli scored one goal and assisted Ellis Wheeler on the other in Saturday's win over Richmond. Another defender, Nicole Sellers, provided the assist on Migli's goal, while goalkeeper Ella Gantman recorded the clean sheet between the posts.
Results
Saturday, October 22
Charlotte Soccer Academy 4, NC Fusion 0
McLean Youth Soccer 4, CASL 1
FC Virginia 2, Richmond United 0
Sunday, October 23
CASL 1, FC Virginia 0
McLean Youth Soccer 5, Richmond United 0
U-17
McLean Youth Soccer (6-0-0) remains perfect following a 1-0 shutout of CASL on the road, behind a goal from Aleigh Gambone and another shutout effort by goalkeeper Jordan Silkowitz and the back line. It was McLean's third shutout through six games in a season where the defense has conceded a total of three goals so far.
[player_box id=45502 leftright=right]
FC Virginia (4-2-1) edged Richmond United 3-2 on Saturday at West Creek, using a balanced attack with goals coming from Kayleigh Shackford, Renee Kohler and Victoria Powell. Richmond United's star forward Jordan Canniff, fresh off her FIFA U-17 Women's World Cup appearance with the U.S. National Team, netted both of Richmond's goals off assists from Gabrielle Criscione and Patricia Ward.
[player_box id=63519 leftright=right]
CASL (4-2-1) rebounded from Saturday's loss to McLean with a 3-1 win over FC Virginia on Sunday. Emily Moxley fed a cross to Emmy Duerr for CASL's first score against FCV, before Maggie Pierce led Lexi Strickland inside for the second and Tori Hansen sent one over the top to Izzy Brown for the final goal.
+Read: U.S. U-18 Women's National Team defeats France 3-1
Results
Saturday, October 22
McLean Youth Soccer 1, CASL 0
FC Virginia 3, Richmond United 2
Sunday, October 23
CASL 3, FC Virginia 1
U-18
CASL (5-1-1) extended its current unbeaten streak to four, playing McLean to a scoreless draw on Saturday before the attack got rolling in a 5-1 victory over FCV on Sunday. Brianna Pinto, Natasha Turner, Remi Swartz and Sydney Spruill each found the net, as Morgan Nanni and Spruill recorded assists.
[player_box id=43839 leftright=right]
Richmond United (3-3-1) did not allow a single goal over the course of two matches, playing FC Virginia to a scoreless draw before defeating McLean 1-0 on Sunday. Goalkeeper Jennifer Liston recorded the clean sheets behind United's tough back line, as Caroline McGonegal netted the game-winner against McLean.
+Read: SoccerWire.com Best 11 Players for September 2016
Results
Saturday, October 22
CASL 0, McLean Youth Soccer 0
Richmond United 0, FC Virginia 0
Sunday, October 23
CASL 5, FC Virginia 1
Richmond United 1, McLean Youth Soccer 0