ECNL Finals: National champions overcome heat, fatigue, spirited opposition in Richmond
By Charles Boehm
RICHMOND, Va. – The eight teams vying for national championships at the West Creek complex on Monday, the fifth and last day of the Elite Clubs National League's finals week, had reached the ultimate stage of an arduous, year-long road and climbed to the top of an extremely competitive league.
And with pressure, fatigue and the oppressive conditions of a Mid-Atlantic heat wave bearing down on them, the final day of their season offered up a few more challenges before they could get their hands on a prized trophy.
PDA (N.J.) kicked off the day with a comprehensive 3-0 defeat of Dallas Sting in the Under-17 title game, followed by a U-15 championship win for Eclipse Select SC (Ill.) thanks to a 2-0 defeat of Real Colorado.
And as the mercury continued to soar in the early afternoon, Sereno (Ariz.) edged Slammers FC (Calif.) in a penalty-kick shootout to become U-16 champs after a tense 0-0 draw in regulation time, while De Anza Force (Calif.) U-14s closed out the day with an impressive 3-1 win over PDA to take top honors in the ECNL's youngest division.
In each game, there were screams of joy on one side and heartbroken tears on the other. And for the most part, the most successful teams were those who kept control of the ball – and thus took control of the tempo.
"We figured that if we keep the ball, we'd take their legs. We felt that if we took their legs, we'd take their will to compete," said PDA U-17s coach Mike O'Neill after his team's relentless pressure and smart use of possession left a strong, athletic Sting side frustrated and fatigued. "So we felt as long as we kept the ball – and if we lost it, the mentality was to win it back right away. And if we couldn't, we'd organize and then take it from there.
"It all comes down to us keeping it," added O'Neill, whose club also won the overall ECNL club championship. "That was our best defense – keeping the ball."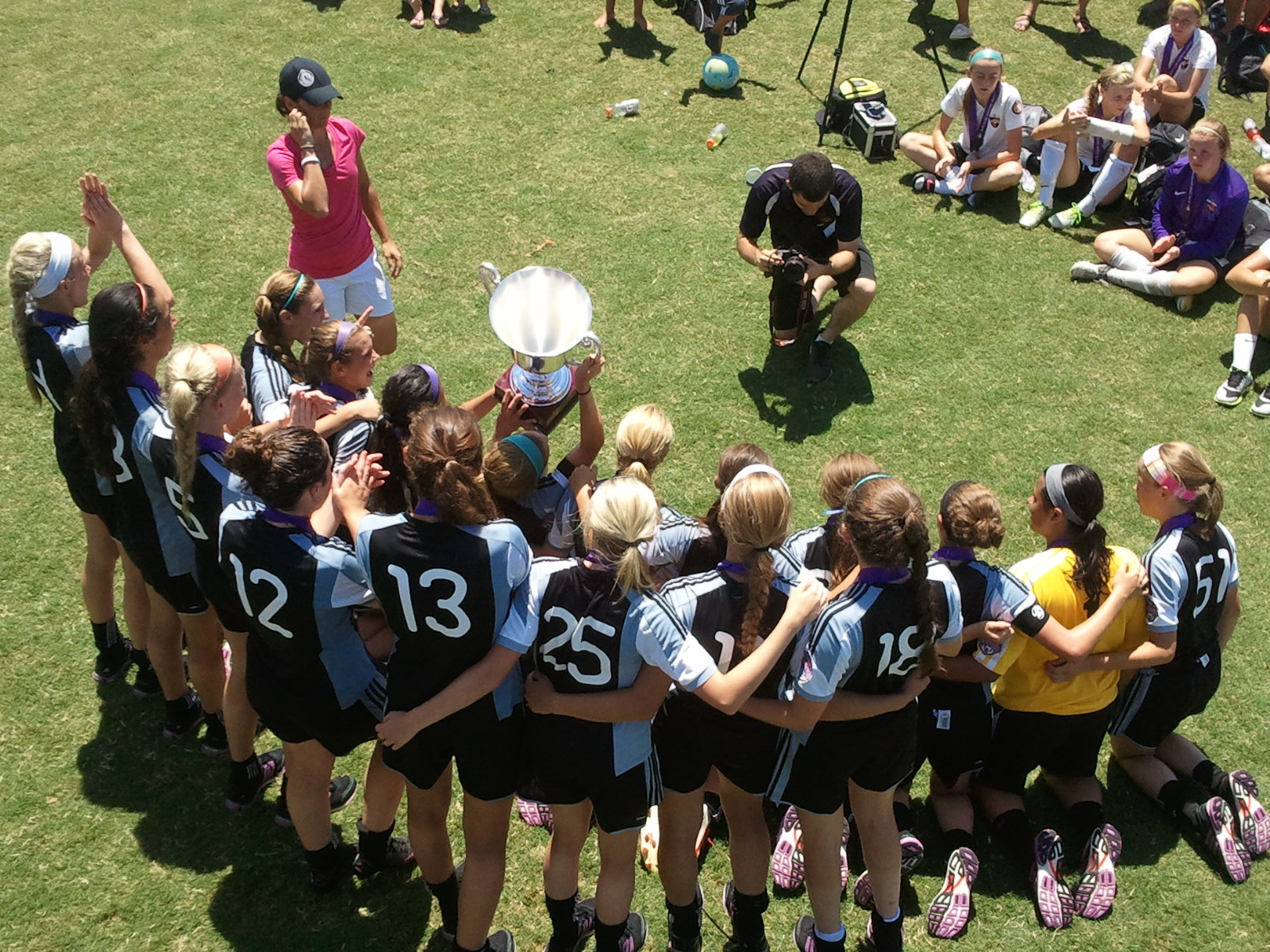 In the case of the U-16s final, a finely balanced matchup and some desperate goal-line defending kept the game scoreless though 100 minutes of play before Sereno held their nerve with a 2-0 shootout win to pull off what has to be considered an upset over Slammers, a SoCal powerhouse who won last year's overall ECNL club championship.
"[With] tired legs, there wasn't much of a midfield – it was get it to our forwards, get it to their forwards and see what happened. Both sides were going at it – credit to both sides in this heat and these conditions on the fourth game [of the week]," said Sereno coach Paul Taylor. "A lot of credit to the Slammers, but a lot of credit to a [Sereno] team that came in a little under the radar a little bit – nobody fancied them, nobody really rated them and they've continued to progress and play some good, attractive soccer.
"And they've got a great work ethic which gives them an opportunity to win any game they're in. And the togetherness of the squad is fantastic."
Alluding to his homeland's checkered history with spot kicks in major international tournaments, Taylor wryly gave his team all the credit for their PKs success.
"We practiced as best we can but being English, it's not my forte, you know what I mean? So I try and stay away from it," he said. "But they kept their nerves and like anybody, it's a crapshoot when it comes to that. Fortunately [goalkeeper Jalen Tompkins] pulled off a couple of good saves.
"I think fate was shining on us a little bit today. And I think sometimes you do that – with a little bit of luck and a little bit of hard work, it comes together."
After the first two days of the ECNL National Finals encountered heavy rain and fields so wet that Friday's and Sunday's matches had to be moved to artificial-turf fields at the River City Sportsplex, the final two days featured scorching sunshine and draining humidity.
It underlined the importance of this year's new insertion of a rest day at the event's halfway point, one of several tweaks the ECNL has made to the events system which determines its top prizes.
"At the end of the day a lot of the times the teams that win that are the deepest teams, not necessarily the best teams," noted league president and Wisconsin Eclipse coach Christian Lavers. "So we thought it was important when we set this up, that we put in a day off somewhere so that players can have a time to rest and recover. Because what you want at the end is the best teams going through, and you want your final to be the best possible display of soccer.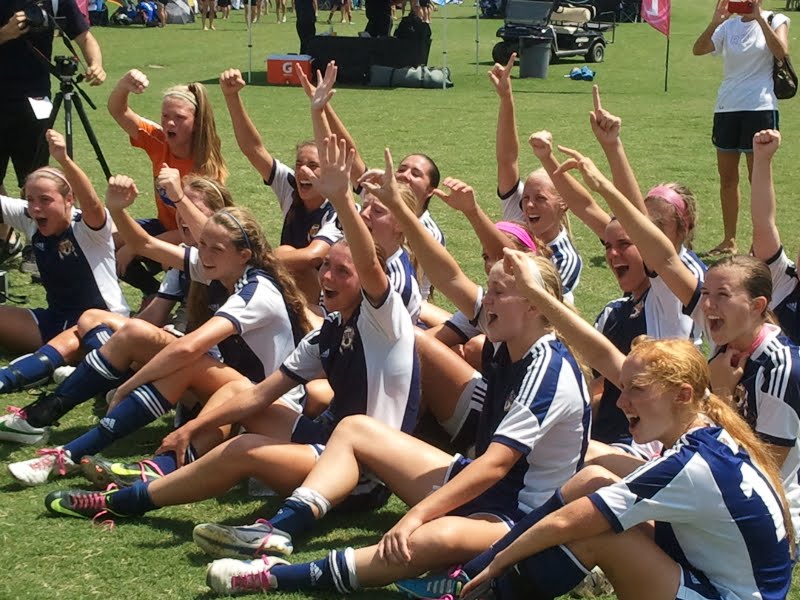 "It's still not perfect with four games in five days, but it's at least a step in the right direction."
The ECNL has also shown a spirit of bold experimentation with constant adjustments to its competition format, the addition of a U-23 division and the division of its championship stage into two events, with a "National Playoff" in Colorado last month determining which select teams would vie for national honors this week in Richmond.
"By splitting it to two events, you're allowing a national champion to be crowned after playing eight games instead of just four," league commissioner Sarah Kate Noftsinger explained to Soccerwire.com. "So you're also allowing more people to compete throughout the year and to come into a playoff event with the chance to actually win a national championship instead of it getting to be May and not have a chance to win a title.
"So this year there were 64 teams that really had a chance to come in and win a national championship at the start of the playoff."