ECNL celebrates 65 alumni who competed in 2021 College Cup Final Four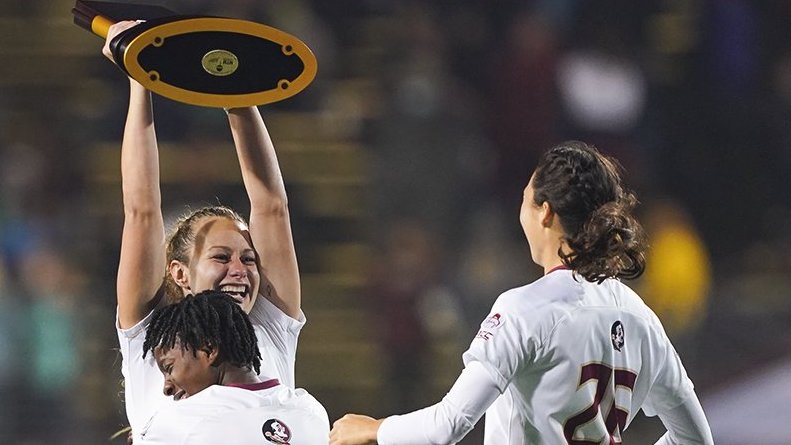 RICHMOND, Va. – On Monday night, Florida State captured the school's third NCAA Division I Women's College Cup Championship in penalty kicks, doing so with a roster filled with ECNL alumni.
Nine ECNL alumni saw their NCAA college soccer dreams come true with the 0-0 (4-3) FSU victory against BYU, and with the win, marked the 10th consecutive season the trophy-raising team featured ECNL alums.
With no score in 120 minutes of gameplay, the match was decided by penalty kicks, where former ECNL stars shined. Florida State's Cristina Roque (Florida Krush) made two saves in the penalty shootout, while Jaelin Howell (Real Colorado), a Hermann Trophy favorite, netted a goal for the Seminoles to help secure the win. For her incredible play both in the National Championship and throughout the Women's College Cup, Roque was named the Defensive Most Outstanding Player for the tournament.
In total, more than 65 ECNL alumni competed across the College Cup Final Four teams– Florida State, BYU, Rutgers and Santa Clara.
"Congratulations to Florida State for their national title and to all the incredible ECNL alumni who continue to lead their team to the pinnacle of collegiate soccer," said Jen Winnagle, ECNL Chief Operations Officer and Girls Commissioner. "The accomplishment of reaching the Final Four is something these players will remember forever. We are proud to have been a part of their soccer journey."
Below is the list of alumni who played for ECNL clubs and suited up in the Women's College Cup.
BYU
| | |
| --- | --- |
| Mikayla Colohan (Utah Avalanche) | Kelsey Hoopes (Mustang SC) |
| Bella Folino (West Coast FC) | Ellie Maughan (La Roca FC) |
| Paola Garcia (La Roca FC) | Olivia Smith (Boise Thorns) |
| Josie Guinn (Sporting CA Arsenal FC) | Daviana Vaka (Utah Avalanche) |
| Brooke Hale (Mustang SC) | Laveni Vaka (Utah Avalanche) |
| Ruby Hladek (So Cal Blues) | |
Florida State
| | |
| --- | --- |
| Lauren Flynn (McLean YSA) | Megan Morgan (FC Prime) |
| Amelia Horton (Sporting Blue Valley) | Jenna Nighswonger (Slammers FC) |
| Jaelin Howell (Real Colorado) | Kirsten Pavlisko (Florida Elite SA) |
| Kristina Lynch (Indiana Fire Juniors) | Cristina Roque (Florida Krush) |
| Emily Madril (FC Nova) | Kaitlyn Zipay (Florida Krush) |
| Gianna Mitchell (FC Stars) | |
Rutgers
| | |
| --- | --- |
| Amirah Ali (PDA) | Allison Lowrey (PDA) |
| Kassidy Banks (PDA) | Allison Lynch (PDA) |
| Nicole Binkley (PDA) | Emily Mason (PDA) |
| Kylie Daigle (PDA) | Meagan McClelland (PDA) |
| Faith Dobosiewicz (PDA) | Emma Misal (Penn Fusion SA) |
| Becci Fluchel (PDA) | Gabby Provenzano (PDA) |
| Gia Girman (PDA) | Giana Romano (PDA) |
| Shea Holland (PDA) | Courtney Ruedt (PDA) |
| Emma Huntzinger (Match Fit Academy) | Emily Sapienza (NC Courage) |
| Abby Jonathan (PDA) | Frankie Tagliaferri (PDA) |
| Cameron Kennett (PDA) | Riley Tiernan (PDA) |
| Sam Kroeger (World Class FC) | Grace Walter (PDA) |
| Adriana Kuryla (PDA) | |
Santa Clara
| | |
| --- | --- |
| Colby Barnett (So Cal Blues) | Diana Morales (De Anza Force) |
| Rachel Bastone (So Cal Blues) | Marlee Nicolos (San Juan SC) |
| Marisa Bubnis (So Cal Blues) | Sistine Noel (MVLA) |
| Izzy D'Aquila (So Cal Blues) | Isabella Panaccione (MVLA) |
| Addie Follett (Real Colorado) | Emma Reeves (San Diego Surf) |
| Kylie Foutch (Crossfire Premier) | Karly Reeves (San Diego Surf) |
| Ellie Glenn (Tophat SC) | Skyler Smith (So Cal Blues) |
| Alex Loera (Colorado Storm) | Nicole Sweeney (MVLA) |
| Vanessa Mejia (Pleasanton Rage) | Kelsey Turnbow (SC Del Sol) |
| Sally Menti (Crossfire Premier) | Eden White (FC Portland) |
| Lucy Mitchell (Concorde Fire) | Lauren Zontos (MVLA) |