ECNL Boys National Finals tickets punched and Regional League champs crowned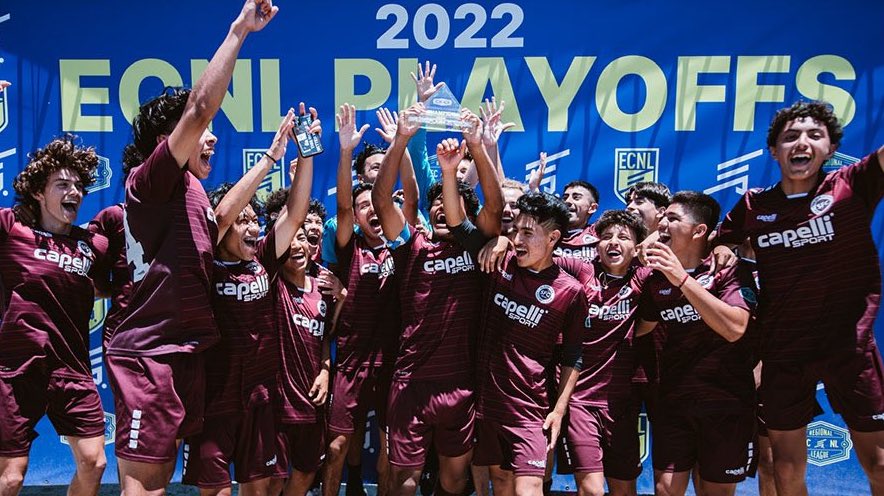 Friday was the final day of the ECNL Boys National Playoffs, setting up one of the most exciting days of the season. Not only did teams punch their tickets to St. Louis for the ECNL Boys National Finals in St. Louis, but the league also handed out Regional League Championship trophies at every age group.
Check out all the matchups below to see who will be playing in St. Louis for the coveted ECNL National Championship Trophy as well as which teams were crowned Regional League Champions.
*All teams advancing to St. Louis are in bold*
Champions League
U13
Crossfire Premier vs. Davis Legacy
San Diego Surf vs. SC Surf
Seattle United vs. STA
Legends FC vs. CESA
Sporting California Arsenal FC vs. Pateadores
Rio Rapids vs. NTH-NASA
Pipeline SC vs. GSA
Eastside FC vs. Richmond United
U14
Utah Avalanche vs. Florida Kraze
SDSC Surf vs. Santa Rosa United
SUSA Albertson vs. World Class FC
SLSG – MO vs. Heat FC
OK Energy FC vs. Seattle United
Beach FC vs. NTH-NASA
Dallas Texans Academy vs. DKSC
Charlotte SA vs. LAFC So Cal
U15
La Roca vs. Dallas Texans Academy
Pipeline SC vs. UFA
Arlington Soccer vs. DKSC
FC Dallas vs. Nationals SC
NTH-NASA vs. Legends FC
Louisville City Academy vs. SC Surf
GSA vs. Heat FC
San Diego Surf vs. Tennessee SC
U16
Pipeline SC vs. Houston Dynamo Youth
Arlington Soccer vs. Marin FC
Eclipse Select SC vs. Legends FC
FC Dallas vs. Charlotte Independence Pro
CESA vs. Tulsa SC
Real Colorado vs. Pateadores
Nationals SC vs. Heat FC
OK Energy FC vs. West Coast FC
U17
South Carolina United vs. FC Golden State East
Match Fit Academy vs. Richmond United
Miramar United vs. Pipeline SC
Dallas Texans Academy vs. Charlotte SA
Sporting Delaware vs. NCFC Youth Academy
CESA vs. Pateadores
San Diego Surf vs. NTH-NASA
Penn Fusion vs. FC Dallas
Regional League Champions
U13: Richmond Strikers
U14: Beach FC
U15: Stafford Soccer
U16: Solar SC
U17: Slammers FC
U18/19: Albion Hurricanes