ECNL Boys launches Heartland Conference, featuring seven clubs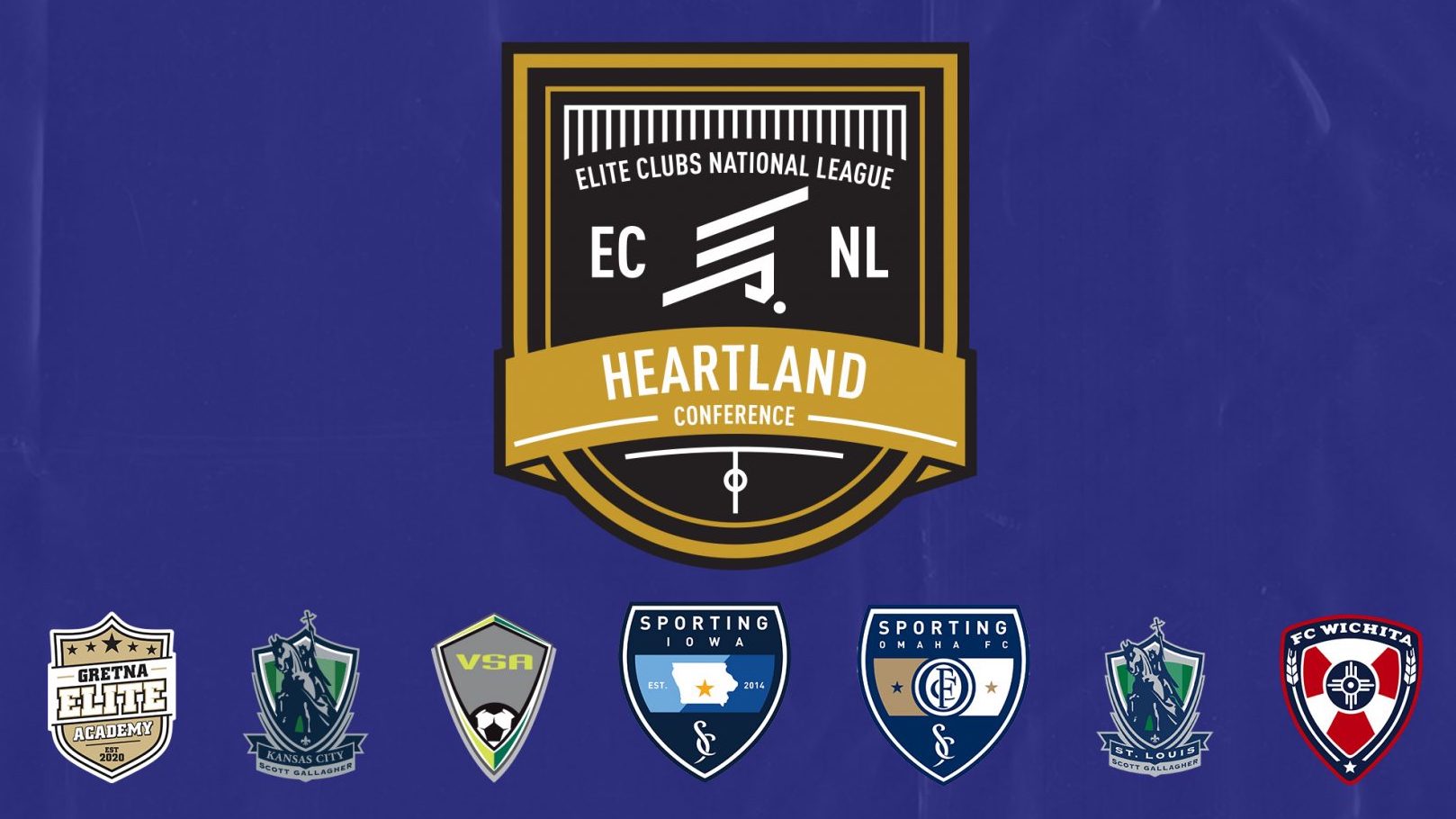 RICHMOND, VA – The ECNL Boys announced the creation of the Heartland Conference ahead of the 2021-22 season.
The conference will include current ECNL Midwest Conference club St. Louis Scott Gallagher – IL, and will welcome new clubs FC Wichita, Gretna Elite Academy, Kansas City Scott Gallagher, Sporting Iowa, Sporting Omaha FC, St. Louis Scott Gallagher – MO and Vision Soccer Academy into the league.
"It is extremely exciting to announce the formation of the new Heartland Conference for ECNL Boys," said ECNL Boys Commissioner Jason Kutney. "As our league has developed significantly over the past few years, interest in the ECNL has grown in this central zone of the country.  We continue to build out a league platform that serves clubs in meaningful ways, through Conference competition, Regional Leagues, National Events, and player identification programming like the Super Cup.  Welcoming these clubs into the ECNL marks an important step forward, elevating the competitive level of the league and providing the best resources to more players."
FC Wichita
Wichita, KS
Based in Wichita, Kansas, FC Wichita provides soccer options for players of every level. From the beginner, to the academy, to the college, and even to the professional player, the organization's pathway has been quickly forged since 2013 and is represented in various leagues around the world including the MLS. At its core, FC Wichita believes out-of-state competitions and travel are key to developing players to the best of their abilities against other regional and national soccer powerhouses.
"It's exciting that our Academy teams will play a great schedule of competitive games both in our region and nationally against the top-quality competition of the ECNL Boys," said Blake Shumaker, Chief Executive Officer. "We're proud to help provide this investment to Wichita."
Gretna Elite Academy
Omaha, NE
Established just in 2020 with the merging of Elite Boys Academy and Gretna Soccer Club, Gretna Elite Academy was founded to empower members, strengthen families and enrich the Omaha and Lincoln communities by providing an unparalleled experience for all levels, needs and ability. With the vision to be a player-centered club offering the best developmental platform and growth environment in the state of Nebraska, Gretna Elite Academy joins the ECNL to continue their already impressive resume in youth soccer.
"We are incredibly excited to be part of the Heartland Conference," said Chris Dunford, Gretna Elite Academy ECNL Boys Technical Director. "First and foremost, we would like to thank ECNL Boys Commissioner Jason Kutney for his tireless work in making this conference a reality. We are thrilled to provide our membership with the best development platform for boy's competitive soccer in this country. The ECNL has shown a tremendous ability to establish itself as the leader in youth competitive soccer. We are eagerly waiting for the start of the 2021-22 season and look forward to working alongside the seven other amazing clubs within the conference."
Kansas City Scott Gallagher
Kansas City, MO
Founded in 2005, Kansas City Scott Gallagher consisted of just six girls teams and 65 players. Fast forward 15 years and KCSG has ballooned to more than 100 teams and more than 1,400 players between the boys and girls side. Through its programs, KCSG has trained, mentored and developed more than 100 local youth to earn athletic opportunities at the NCAA Division I, II, III, NAIA, or Junior College levels.
"KCSG is thankful for the opportunity to be part of such a great platform like ECNL," said Jeff Davis, Boys Director of Coaching. "This is a special opportunity for our players, parents, and the KCSG Staff, to help grow the ECNL brand in the Midwest through the Heartland Conference. We look forward to participating and working with all the clubs in the best league in the country."
Sporting Iowa
Des Moines, IA
Sporting Iowa was established in 2014 through the merger of multiple Iowa clubs, and is a Sporting KC Academy affiliate. Sporting Iowa emphasizes player development and maximizing opportunities for youth soccer players in Iowa through participation in local, regional and national events, a philosophy continued and emboldened by joining the ECNL.
"Sporting Iowa is extremely excited to join the newly formed ECNL Boys Heartland Conference," said Executive Director John Sheridan. "This new conference will further enhance the opportunities and pathways we constantly search for to amplify the experience for our players. Having the ability to play against the very best opposition, in the region and country, will be great for players in Iowa. We look forward to utilizing the high-quality competition, recruitment platform, club connections, and travel events the ECNL provides".
Sporting Omaha FC
Omaha, NE
Sporting Omaha FC is a full-service youth soccer club that offers all levels of play from 4 to 19 years of age. Sporting Omaha FC aims to develop complete soccer players with key core values which the club believes provides its players the best opportunity to succeed at their next level, whether that is high school, college, professional soccer or life outside competitive sports.
"Sporting Omaha considers it a privilege to be part of the ECNL," said Ryan Kruse, Boys Director of Coaching. "Having the chance to participate in such a high-level, national platform is an incredible opportunity for our club. The overall exposure and the premier competition level that the ECNL brings will provide our boys' program the missing piece of a proper developmental pathway. We are eager and anxious to kick-off in the new Heartland Conference."
St. Louis Scott Gallagher – MO
St. Louis, MO
St. Louis Scott Gallagher was founded in 2007 with the mission to bring the best talent in the United States' original soccer capital under one badge. Since its inception, SLSG has emerged as a national leader in youth soccer, further highlighted by its hire of former USMNT player and MLS All-Star Brad Davis as the organization's president. Building on a proud history of on-field success and a historic soccer culture, the organization has worked tirelessly to fulfill its mission: to be the best club in the country; a club that positively impacts the development of its players on and off the field and positively impacts its community.
"St. Louis Scott Gallagher is incredibly excited about adding our Missouri ELITE teams to the Boys ECNL platform," Davis said. "This will give us two programs in the platform which provides us with the ability to give more players the ability to grow and develop. ECNL has proven themselves as one of the leaders in youth soccer across the country. Their structure, organization and club talent pool is something we are looking forward to being a part of. We want to thank the ECNL for this opportunity and we look forward to getting started in the Heartland Conference for the 2021-22 season."
Vision Soccer Academy
Des Moines, IA
Vision Soccer Academy was founded in 1996, establishing soccer roots throughout the Des Moines metro area. With programs for players from 3 -19 years of age with varying skill levels, VSA aspires to be a club that supports participation, encourages excellence, develops each player's individual abilities and creates an atmosphere of fun and community.
"Joining the ECNL is a great step for both VSA and the state of Iowa," said Chris McGill, Vision Soccer Academy Technical Director. "As a club, we are constantly seeking competition platforms that align with our players' and coaches' passion for the game. ECNL is a league that provides the highest level of competition for our very best. We are excited about creating new pathways that we hope will lead to new opportunities now and into the future."